The care factor for rugby in Oz is lower than the bar at a Lilliputian limbo competition. No one loves a loser.
Richard Nixon had just lost the 1962 California gubernatorial election when he uttered the famous line: "You don't have Nixon to kick around any more".
As yet more Super Rugby pummelings are piled upon ritual Bledisloe Cup humiliations, it might not be be long before Kiwis don't have Australian rugby to kick around any more.
We would like to say this is because Australian rugby is on the verge of a glorious renaissance during which memories of the abject performances, diminished public interest and financial decay of the past decade are swept away in an astonishing blur of Wallabies gold.
We would also like to say that cancer can be cured with a hot water bottle and the long-term solution to global warming is to take off your sweater and apply more sunscreen.
Unfortunately, the idea that Australian rugby is about to rise from its deathbed and start doing cartwheels could not seem further from the truth if it was a Trump tweet.
There is, most obviously, a little thing called the scoreboard. No Australian Super Rugby franchise has beaten a New Zealand team since 2016; a streak all the more depressing because one of the teams inflicting this misery is the Blues. Meanwhile, bookies are giving shorter odds on the Washington Generals beating the Harlem Globetrotters than on the Wallabies springing a surprise in this year's Bledisloe Cup.
It would be wrong to say all Australians are renowned front-runners who only maintain an interest in sport until there is the slightest chance we might lose. Terry, Jacko and Jessica are not like this at all.
As for the other 24.129 million of us, the routine slaughter of Australian rugby teams in the face of unfriendly Kiwi fire has meant the care factor for the game is now lower than the bar at a Lilliputian limbo competition.
Beyond that most obvious reason — no one loves a loser — the reasons for Australia's diminished interest in what we now call "the game they play in Twizel" are manifold.
Most significantly, Australian rugby is losing its core constituency. That is, the private school boys and big-end-of-town wheelers dealers whose love and devotion for the sport was once such that, very occasionally, they turned up at a Waratahs game.
How this decline was allowed to occur after the home 2003 World Cup when the Wallabies were for one of the rare times "Australia's Team" — at least until Jonny Wilkinson drove a dropped goal through their hearts — is a tale of mismanagement, neglect and blinkered vision that makes Lehman Brothers seem like a first rate business model.
Australian rugby's steep decline is not due to noxious greed but the smug belief the game would prosper in a fiercely competitive market where the battle for corporate dollars, spectators, TV eyeballs and first choice athletes is red hot because, ummm, "It's rugby!"
This even before changes to the rules made rugby barely distinguishable from sumo wrestling to the already large rugby-resistant portion of the Australian viewing public.
Add the exclusive pay TV deal for Super Rugby that funded the competition, but also ensured a lack of exposure that now sees it attract the kind of viewing figures you might once have expected for lawn bowls or ping-pong. Inevitable given only 25 per cent of Australians have subscription TV.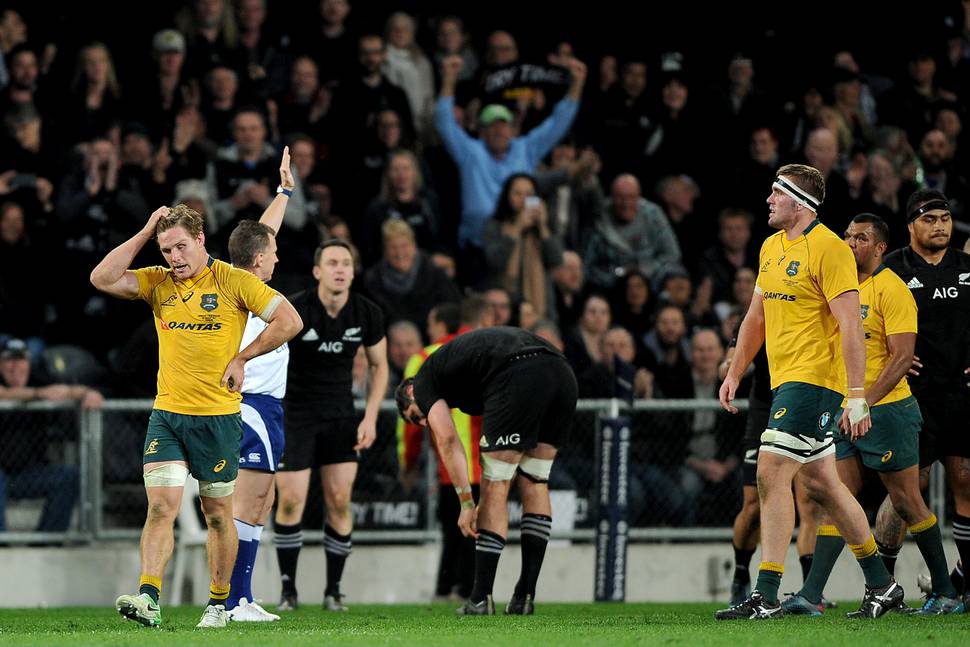 Then there is Australia's geographical sporting divide that gave rugby only a tenuous grip on the country's sporting consciousness even at its peak, with half the country afflicted by a mania for Australian Rules football that barely allows media oxygen for any other code.
So in spoilt-for-footy-choice Australia, the Wallabies could not afford to become even mediocre.
And to quote that renowned first-five Oscar Wilde, "To lose one Bledisloe Cup might be considered unfortunate, to lose 15 in a row looks like carelessness".
To some degree, a wave of mostly Polynesian talent and some decent coaching have papered over the cracks by allowing the Wallabies to remain competitive despite the game's general malaise, most obviously while reaching the 2015 World Cup final.
Which, as always, is where the All Blacks stepped in and highlighted New Zealand's villainous role in the made-for-TV drama "Who killed Australian rugby?"
Well, Kiwis, you did, one horrible Super Rugby and Bledisloe Cup slaughter at a time.
And while your very un-Anzac-like behaviour might make you happy now — and, most likely, for another 40 or 50 years — you should be careful what you wish for. The time will come when you've kicked Australian rugby so hard, you won't have it to kick around any more.
Alternatively, like "Tricky Dicky" Nixon, the Wallabies will rise again through means fair and foul to wreak their revenge.
And you'll only have yourselves to blame.
Richard Hinds is an Australian broadcaster and sportswriter and a columnist for the Weekend Herald.
To get the day's top sports stories in your inbox, sign up to our newsletter here