Tristan Thompson was back on home turf last night, and he was hardly given a hero's welcome.
The Cleveland Cavaliers player was booed by the crowd at Quickens Loans Area as he was taken off the bench for a game against the New York Knicks.
Thompson has been in headlines after getting captured on video cheating on his very pregnant girlfriend Khloe Kardashian with multiple women.
Thompson, who was spotted making out with a woman in New York over the weekend, is now back in the same city as Khloe.
The NBA star appeared indifferent to the sex tape and cheating allegations swirling around him as he strode on to the court and chatted with his teammates during the pre-game warm-up, the Daily Mail reports.
Kardashian, 33, is due to give birth any day now, while also dealing with the fact that her longtime boyfriend cheated on her with multiple women.
A woman by the name of Stephanie is also claiming now that she is pregnant, possibly with Thompson's child.
The power forward was not on the starting line-up for the Wednesday game against the New York Knicks, but was put into the game during a commercial break.
Thompson, 27, replaced LeBron James at the end of the first quarter during a time out, which means his name was not announced to the stadium as he entered the game.
But the boos could be clearly heard as Thompson's face was shown on the big screen, and when he got called for personal fouls.
'Offensive foul on Tristan Thompson, dude is cheating everywhere,' one fan joked on Twitter.
Courtside, Cavs fans were chatting about Thompson's alleged indiscretions and sharing pictures of him making out with different women in nightclubs in New York and DC that were released this week.
Others were laughing over clips of a sex tape, allegedly involving Thompson and Stephanie, which was posted on social media.
Even the commentators couldn't help but touch on the scandal, with one noting that Thompson had 'recently been in the headlines'.
Many other basketball - and Kardashian - fans had plenty to say on Twitter as they watched Thompson play.
'If I was at the Cavs game tonight I would buy so much food just to throw it at Tristan Thompson,' one woman wrote.
'The Cavs need to be giving solely Tristan Thompson updates. No one's here for the score of the game,' another added.
Far more decided to take aim at Thompson's skills on the court.
'I gotta say, Tristan Thompson looks unphased by this fiasco (sic). He still can't score and stinks overall at basketball,' a fan joked.
'Hard to play well when you're thinking about the cheating you've been doing lmaoo #TristanThompson,' another added.
'Instead of being called double T he should be double L cuz he lost his woman and can't play basketball to save his life,' one Twitter user quipped.
'Tristan Thompson is getting paid 16 million dollars a year to average 5.7 points and 6.6 rebounds a game this season...He played Khloe and the Cavs,' another added.
The Knicks ultimately defeated the Cavs 110-98.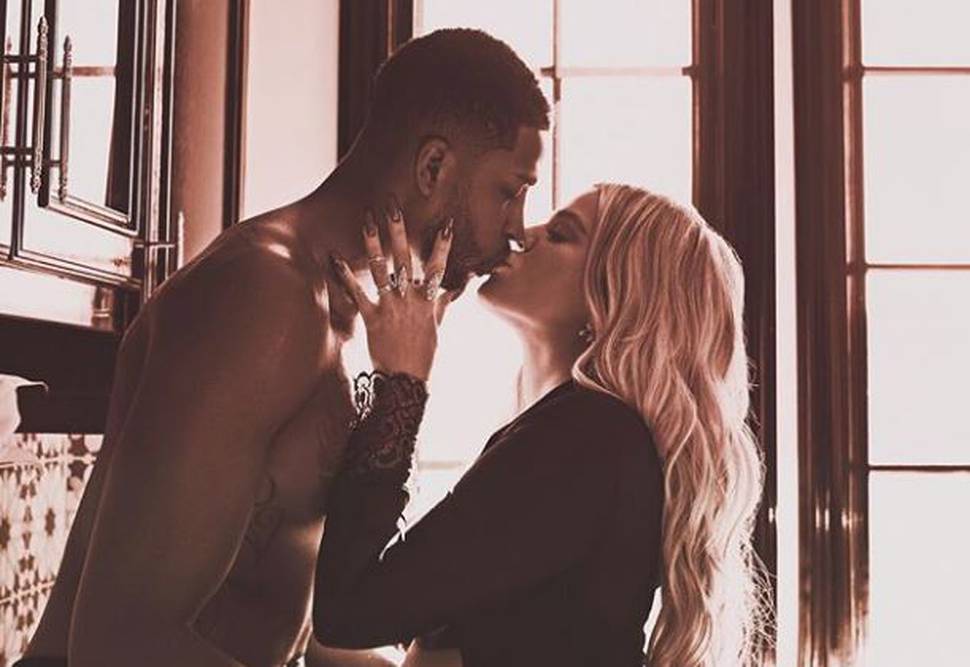 With James playing less than 10 minutes of the game to rest up for the play-offs, and both Kevin Love and Kyle Korver out with injuries, the Ohio team struggled.
The Cleveland team trailed the Knicks for most of the night, despite the fact they have crushed the New York team in the last 12 out of 13 match-ups.
Wednesday night's loss means the Cavs will be knocked to a fourth seed in the playoffs.
Meanwhile, a woman who was seen on surveillance video locking lips with Tristan Thompson at a DC hookah lounge in October said she had no idea Khloe was pregnant.
Sources close to the woman, identified only as Marie, told TMZ that she was given the impression Thompson's relationship with Khloe was casual.
Marie said she ended her fling with the NBA player after she learned Thompson had been dating Kardashian for a year and was expecting a baby with her.
Sources told the outlet that Marie, who is a mother herself, did not want to be a homewrecker.
Surveillance video surfaced Tuesday night of Thompson at a hookah lounge in Washington, DC with two women. The video is from October when Kardashian was about three months pregnant.
In the footage, Thompson is seen sitting on a couch with the two women. The athlete appears to kiss Marie, who is sitting on the left, and grabs her hand.
Thompson also puts his face in the second woman's chest as she laughs. Marie then reaches over and rubs her hand across Thompson's crotch.
Not much is known about Marie except that she has celebrity friends. Last month, she was seen partying with Chris Brown in Miami.
The video, filmed while the group was outside on a balcony, drew criticism when Brown was seen grabbing a woman's neck. Brown said he was just playing around. TMZ reports that Marie also said the incident was nothing but horseplay.
Kardashian and Thompson have remained silent on the cheating scandal, but one woman who is claiming she also had an affair with Thompson has been speaking out on social media.
It has since been reported that Khloe may be welcoming her daughter sooner than expected.
The reality star is reportedly experiencing early contractions, which were brought on after she saw a video of her longtime beau cheating on her with another women over the weekend, according to TMZ.
Khloe's entire family is now flying out to Cleveland to be by her side, with Kim and Kourtney coming in from the Turks and Caicos and the rest of the clan jetting east from Los Angeles.
Kris Jenner is due to arrive on Wednesday, having been the first to get on a plane after hearing the news.
A baby doctor is already on standby in Ohio.
Khloe is said to be desperate to get away from the father of her child, but is trapped in Cleveland.
'Khloé shipped everything to Cleveland. She was fully moved in there,' an insider explained to US Weekly.
'She was planning on raising the baby there full-time and making that her and her daughter's home. Now she just wants to get the hell out of Cleveland, but she can't fly.'
While the family have yet to make a public statement about Thompson's alleged affairs, they have all unfollowed him on Instagram.