"I want him to tell me how he's going to knock me out," Anthony Joshua asks the interviewer sitting between himself and Joseph Parker. "What round do you want?", replies Parker.
And so goes the back and forth between the two heavyweights in their Gloves are Off interview which was shot in January and is currently screening on Sky Sports UK.
The face-to-face between the two protagonists who will meet in Cardiff on April 1 NZT has become a traditional fixture for Sky, a major backer of Joshua's, but rarely has he been as subdued as he is in this one against Parker.
Joshua appears to have enormous respect for Parker (just as he had for Wladmir Klitschko before his epic win over the former champion at Wembley in April last year), due to the New Zealand-Samoan's upbringing and particularly his amateur background, and it will have grown after this performance.
A stoney-faced Parker doesn't concede a centimetre in the 15-minute face-off, an attitude he will need to take to the ring with him in front of a sold-out crowd of 80,000 at the Principality Stadium.
The 26-year-old Parker has a comeback for everything his 28-year-old opponent says. It would have been understandable if he had looked a little uncertain at times under the bright lights in front of the similarly undefeated Joshua, but there is none of that and all credit to him.
"This fight's exciting," Parker says. "He's a young champion, I'm a young champion. There are belts on the line. Come March 31 I'm going to chase him around; my goal is to beat him up and knock him out. That's what I want to do."
Joshua: "I'm not going to let him catch me. I don't think he's got enough power in those hands to detonate on my chin and knock me out. And when I'm standing there and coming back, I want to see how he unfolds."
Parker: "He doesn't move as well as I do. The way to beat him will be speed and movement. I don't think he can catch me."
Joshua: "He says I've got a glass chin, I want to see if he's got the power to detonate on it.
Parker: "Oh trust me, I've got the power."
Joshua: "Are you gong to knock me out?"
Parker: "Yeah, of course I am."
Joshua: "I may not be as durable, but I can definitely take a punch, and get up and keep going, and get the win."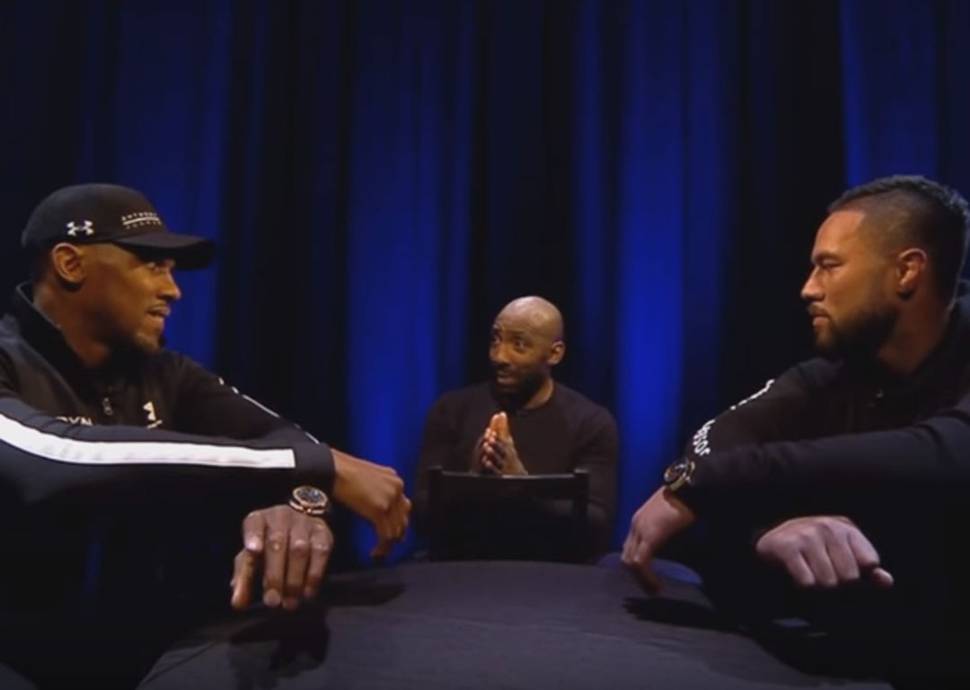 Joshua, ranked the top heavyweight in the world by the influential Ring magazine (who rate Parker as the "dark horse" of the division), is an Olympic gold medallist, and has won all 20 of his professional fights by knockout.
And yet, after only taking up the sport at the age of 18, he has always appeared conscious of his lack of a long amateur background. In the ring after he knocked out Klitschko, he told the crowd: "I'm not perfect, but I'm trying."
His concession that he's not as durable as Parker appears a significant one and he listens carefully as Parker tells interviewer Johnny Nelson, a former cruiserweight, his brief life story.
Parker: "I was born in New Zealand. I'm a New Zealand-Samoan. My parents were both born in Samoa and came to New Zealand for a brighter future. My dad is named after Jack Dempsey, so his name's Dempsey. He has a passion for the sport and he introduced myself and my younger brother to it.
"At a young age, about four or five, we started hitting pads. At the age of 12 I had my first amateur fight. I won that. At the age of 16 I started travelling the world representing my country and from then on I thought I could turn this into a profession because I love the sport so much."
Asked about Parker's strength's, Joshua says: "His background… he's solid because of where his parents have come from, that's something you can't take away. For a man who was boxing since [age] five, I give you credit because that's experience that you can't take away. It's just a clash of the titans – JP against AJ, AJ against JP, let's rock and roll."
Parker is asked how Joshua's many British fans would react to a defeat: "I think it would be very hard for them to handle it, or even accept it," he says, adding: "A defeat will only make him better and he can bounce back from it."
Joshua: "It will kill me, I don't want to lose, I don't want to lose."
At the end the pair are asked if they will shake hands. They do, with Parker saying: "Good luck and may the best champion win."
A psychological round one to Parker.