A pair of Super Bowl-winning brothers are two of the American football players behind the Tongan-American consortium trying to buy the Warriors.
The Herald understands Ma'ake and Chris Kemoeatu, who won the NFL championship with the Baltimore Ravens and Pittsburgh Steelers respectively, are part of the syndicate headed by Hawaiian politician Richard Fale.
Aside from their wide-ranging football exploits, the duo also made headlines four years ago when older brother Ma'ake, 39, donated one of his kidneys to Chris, 35, who needed a transplant after long-running kidney issues.
The transplant, which meant both had to give up their sporting careers, captured the public imagination in the United States.
The Kemoeatu brothers were born in Tonga, but moved to Oahu, Hawaii, with their family when young. They attended Kahuku High School, which has become famous for the number of NFL players it churns out.
Ma'ake played 136 NFL games from 2002 to 2012. After graduating from the University of Utah, he was picked up by the Ravens, completing four seasons with the Baltimore club. That was followed by stints at the Carolina Panthers (2006-08) and Washington Redskins (2010) before a year's hiatus due to various injuries. He then made a memorable return to Baltimore as a 33-year-old, which was capped by a Super Bowl ring after the Ravens beat the 49ers 34-31 in 2012.
Younger brother Chris also studied at the University of Utah and was a sixth round draft pick by the Pittsburgh Steelers in 2005.
He spent seven seasons with the Steelers, a period that coincided with one of the most successful periods in Pittsburgh history. He helped them to Super Bowl victories in his rookie year (defeating Seattle Seahawks) and 2008 (over Arizona Cardinals).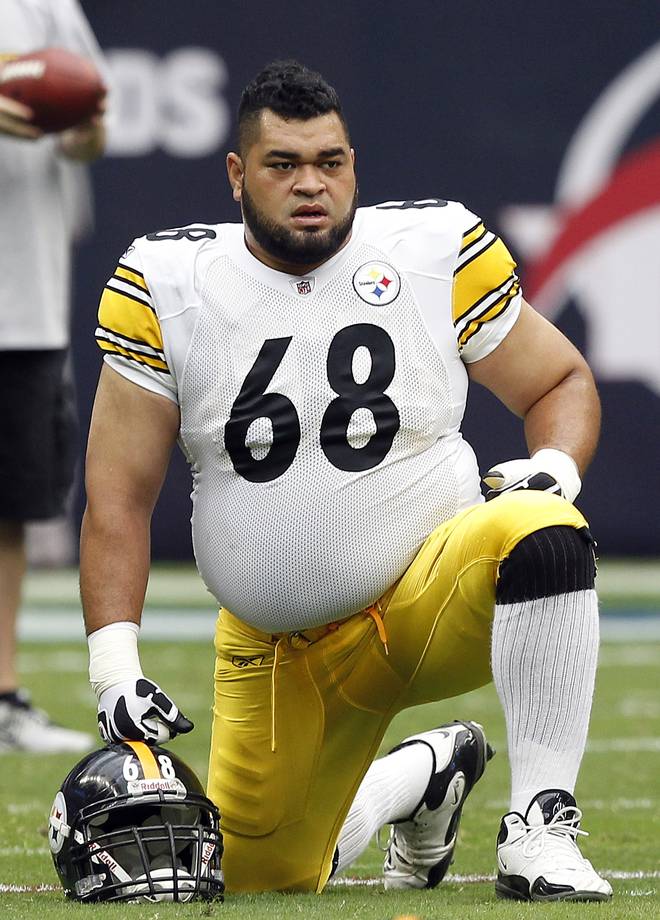 Chris made a third Super Bowl appearance in 2011, when the Steelers lost 35-21 to the Green Bay Packers.
He then retired, after battling kidney problems since he was a teenager. When he was told he needed a transplant, Ma'ake — who is the oldest of seven siblings — immediately stepped up, even though it would mean a probable end to his own football career.
"I'm the oldest of seven kids and it's my responsibility to take care of the rest," he told American media at the time. "If my siblings need blood, it will be my blood. If they need a kidney, it will be my kidney. We both stopped our careers for this, but I'd have done it even if I was a rookie with the Ravens. I have to lead by example."
It wasn't without complications. Just before the scheduled surgery, doctors doing routine tests on Chris discovered heart problems, and he had to have a quadruple coronary bypass instead. After recovering, he also had to undergo dialysis to prepare for the kidney transplant.
Both men arrived in hospital weighing close to 160kg and Ma'ake's kidney (around 13cm in length) was described by the surgeon as one of the biggest he had seen, the size of a "small football".
The younger Kemoeatu was also embroiled in controversy in 2015, when his lawyer filed a suit against the Steelers. Like most players in the NFL,
Chris had received numerous injections of Toradol, a highly powerful anti-inflammatory prescription drug used as a painkiller.
His lawyer alleged the club injected Chris without disclosing the possible long-term repercussions and also despite knowing he had a protein leak from his kidney when he joined.
The lawsuit claimed that the use of the drug had accelerated Chris' kidney issues.
Since retiring, the Kemoeatu brothers have been active with their business and foundation interests.
They have brought the Sonic fast food drive-in chain to Hawaii, have three other companies registered in their names and also run a charitable foundation.