His has been one of the stories of the Pyeongchang Games, but for veteran figure skater Adam Rippon the road to Olympic glory has been anything but a fairytale.
The 28-year-old American, who's grabbed the headlines over the past few days for his criticism of US Vice President Mike Pence, has revealed his decades-long battle with his body and the extremes he would go to for weight-loss.
Read more:
Olympic superstar's sick texts revealed
Wanted: host city for 2026 Winter Olympics
Day 6: Thornbury best of the Kiwis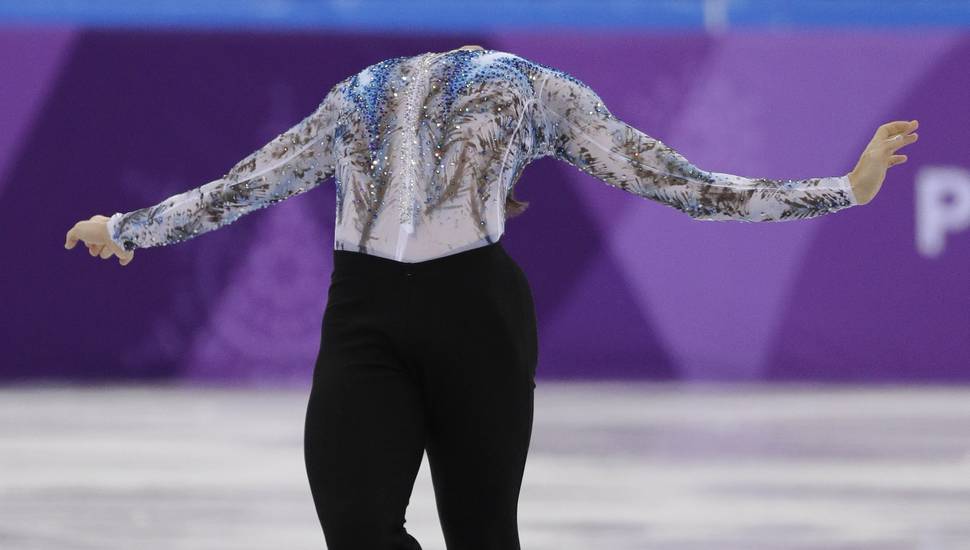 Speaking to the New York Times shortly after claiming the bronze medal in the team competition on Tuesday, Rippon said his daily diet consisted mostly of three slices of whole grain bread and I Can't Believe It's Not Butter spread just two short years ago.
He would supplement these "meals" with three cups of coffee daily - enough to keep his weight at just over 60kg.
"It makes me dizzy now to think about it," Rippon told the Times.
The 1.70m, (now) 68kg Rippon wanted to mould his body to mimic the physiques of fellow figure skaters Nathan Chen and Vincent Zhou.
"I looked around and saw my competitors, they're all doing these quads, and at the same time they're a head shorter than me, they're 10 years younger than me and they're the size of one of my legs," Rippon said.
It started when he was just 10 years old when a coach said he would never execute extreme jumps because of his "heavy bottom", Rippon's mother Kelly revealed in an earlier interview.
Rippon's battle with his body intensified when he moved to Southern California in 2012 to train with Rafael Arutyunyan.
"I'd do a few days having my three pieces of bread and then finish the whole loaf of bread and have 3000 calories," Rippon told the Times.
He also recalled telling his coach: "'Rafael, this is what I'm eating.' And he said, 'I know. It's really hard.'"
Breaking his left foot last year forced the skater to re-evaluate his quiet starvation.
"I think I had a stress fracture before I broke my foot," he said. "I think that was absolutely because I was not getting enough nutrients."
After making the cut for the 2018 Games, Rippon "treated" himself to a salad with creamy Caesar dressing, the Times reported.
"I don't feel any guilt eating this. But there is a part of me that's thinking, 'How nice. I'm treating myself to creamy dressing.'"
Rippon, who is openly gay, insisted he has no interest in "picking a fight" with Pence, who was chosen by the White House to lead the US delegation at the Games.
Pence has been considered an opponent of the LGBT community after he signed the Religious Freedom Restoration Act as governor of Indiana, AP reported.
Critics of the legislation claim it encourages discrimination against gay people.
"I don't think he has a real concept of reality," Rippon told USA Today.
"To stand by some of the things that Donald Trump has said and for Mike Pence to say he's a devout Christian man is completely contradictory.
"If he's OK with what's being said about people and Americans and foreigners and about different countries that are being called 'shitholes,' I think he should really go to church."
Rippon's criticism of Pence drew a sharp rebuke from his press secretary, Alyssa Farah, who called some of his statements "totally false" and that they had "no basis in fact."
On Monday, Rippon told reporters on a conference call that the quick response from Pence's office surprised him, but he was glad his concerns as an athlete and American citizen had been heard.
"Obviously yes, it surprised me. It surprised me a lot," he said, "but I'm glad. I'm glad my voice has been kind of heard. I mean, I was surprised, but I don't think it was a bad thing."