Anthony Joshua shot down the "glass chin" claims aimed his way as Joseph Parker's camp battled to maintained their bravado before the heavyweight unification fight in Cardiff.
WBA/IBF champion Joshua was composed and convincing at the London press conference, where the respective managers sparred over pre-fight noise from the Parker camp which has included claims Joshua has a weak chin.
Joshua's manager Eddie Hearn accused Parker's manager David Higgins of backing down over those claims, while Joshua accused Higgins of indulging in "publicity stunts".
The 28-year-old Joshua recalled the three times he had suffered knockdowns, telling the Parker camp: "A lot of people who have spoke about me getting dropped have used it as a publicity stunt, used it as a PR stunt...you are using it as well. It's a marketability strategy."
Joshua said he had be recalled late to the Great Britain team and was "very unfit" when he was dropped in the European championships - "I didn't get dropped, I was stopped."
He said a lack of experience had led to him being dropped by David Price, who he described as "a puncher".
The third occasion was against Wladimir Klitschko, when Joshua rose to win the title fight at Wembley.
"It will take more than a human to stop me from where I'm destined to be," Joshua proclaimed.
Hearn also weighed in, challenging Higgins to repeat claims about Joshua "face to face".
"...when you're five feet away from him...don't let your bum deceive you".
Read more: Joseph Parker reveals he was paralysed for three days
Hearn rubbished the claims that Joshua was mentally weaker than Parker, pointing to his Olympic gold medal, and "getting up off the floor" to stop Klitschko in front of a massive audience.
The British promoter said Higgins had watered down his initial claims, saying now that Joshua "might" have some mental weaknesses.
Hearn said: "I appreciate you trying to build the fight...but do you truly believe you are going to win?
"You can't say one thing and get here and say another. You don't really believe. I heard you all saying someone is getting knocked out in this fight, either me or him. It's not the same feeling on this side of the table. We win this fight."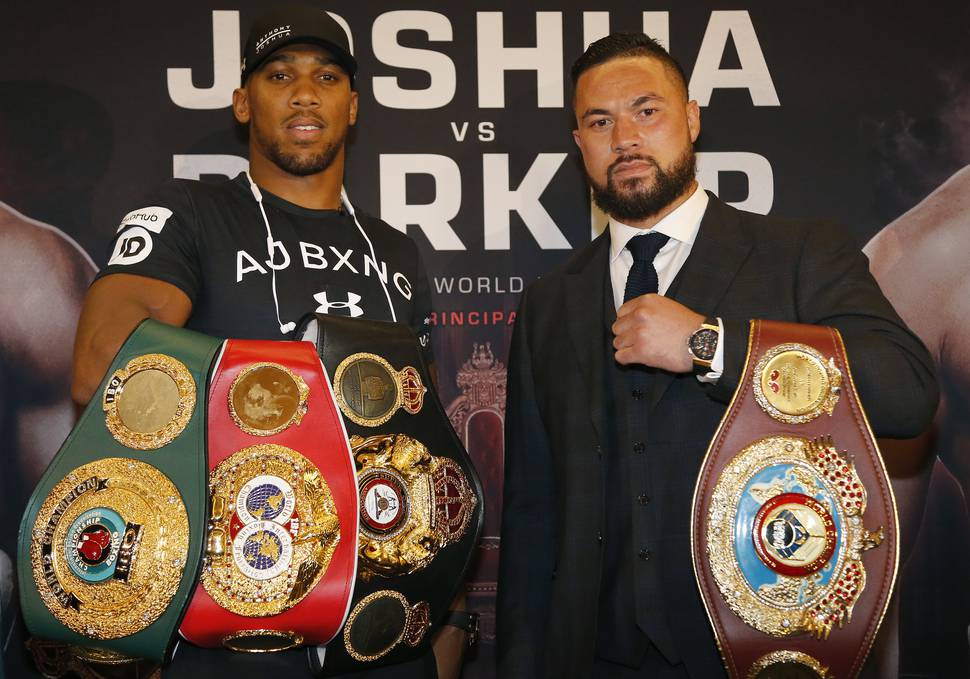 Higgins claimed the Parker camp was "shocked" at the claims they have made against Joshua having caused such a commotion.
"I have immense respect for Joshua as does our team from his beginnings, to turn your life around to achieve was he has is a great role mode." said Higgins.
"(but) inmost countries it is customary in sport to analyse strengths and weaknesses of opponents - it's not personal. What shocked us is that in English boxing apparently that is not customary to do that."
Higgins said he had "killed a few birds with one stone" by promoting the fight and Parker by pointing out Joshua's frailties.
"Boxing people will go hang on a minute, Joseph has a bit quicker hand speed, definitely has a better chin, and I would add is mentally tougher," Higgins said.
"Both fighters come forward...one has never been dropped and the other has. I'm not saying it is a glass jaw but is questionable."
He said Joshua was "rattled a touch" but added:"Maybe I'm wrong but that's the beauty of boxing."
WBO champion Parker told the conference: "We're a team, I back my promoter. I feel I have better speed, better movement. I wasn't able to display it in my last few fights. It's time to show what I can do in a ring.
"I feel he (Joshua) is a good fighter, has a lot of support, does a lot of good things - some not that good when he's fighting."