Don't panic South Africa — amongst the supposed rubble lies a team that is still good enough to win the World Cup.
Throw in the World Cup draw, with South Africa in the All Blacks' pool, and they are positioned okay to make the final although it's hard to describe pool companions Italy as easy beats after the debacle involving Japan in 2015.
There is a lot of justified concern over the Springboks' state and fall to a sixth ranking after a defeat to weakened Wales, but the world rating system is not a reliable guide to World Cup prospects. As an Australian cricket selector once said, if numbers revealed everything then selectors would be redundant.
The top ranking reflects the All Blacks' advantage, yes. The rest is the usual muddle created by the inability of basic mathematics to reflect the complexities of the real world.
Coach Allister Coetzee is being bombarded from many sides for what is being described as bizarre comments about the season, but there is some truth to what he is trying to get across.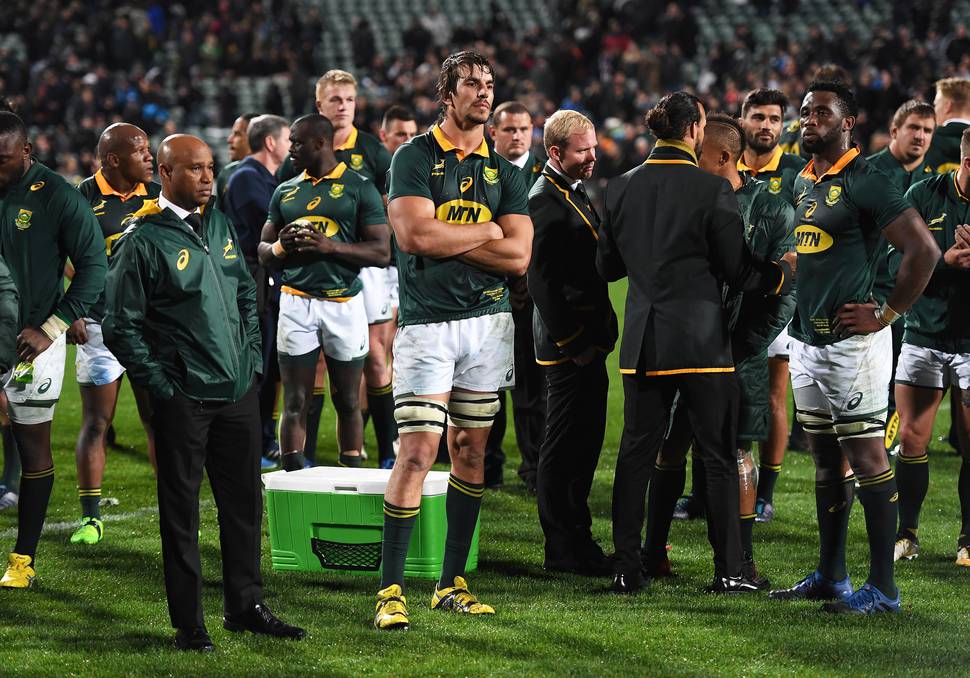 this year after their pathetic drubbing at Albany certainly backs up his claim there is pride and character in the squad.
That is not to say the Springboks are completely on track to re-claim the Webb Ellis Cup, last won in 2007.
But the supposed and understandable despair in the supporters' ranks is more result orientated, at the expense of realising they can piece together a World Cup team based around amazing power in the most important area.
The main strength is the tight five which may be the best in the world right now. Tactics, including from the All Blacks, tend to become narrower in the World Cup with teams scared of risking that tournament ending play meaning a greater reliance on the forwards.
Remember that the Springboks' forward runners smashed the All Blacks up in Cape Town during a heartbreaking loss this season. Just as significantly, they were giving the All Blacks an early pounding at Albany, something which the staggering 0 - 57 defeat tends to obscure.
Hooker Malcolm Marx in particular is a dynamic colossus who could become one of the game's greats.
As good as the All Black locking combo of Brodie Retallick and Sam Whitelock is, and they are superb, South Africa can match them in everything but finesse with Eben Etzebeth, Lood de Jager and Pieter-Steph du Toit.
In depth, South Africa may actually have a slight advantage.
It is one heck of a tight five, one which can certainly challenge and better the likes of New Zealand and England.
And to judge both the leadership, cohesiveness and loose forward quality on 2017 is redundant, because the fabulous if slightly underpowered Warren Whiteley was largely missing.
There is a landslide of opinion that Coetzee must join the rapidly lengthening line of former Springboks coaches.
Maybe so, and coach-in-waiting Rassie Erasmus is already looking at getting bullocking No 8 Duane Vermeulen back from Europe according to reports today.
Under the World Cup pressure, and with a scratchy build up, South Africa will revert to type in the tournament, throwing out any pretence at inventive back play.
You can bank on that. They don't have a Rieko Ioane or Beauden Barrett — but then again who else does — and would have to win the hard way. But that is how World Cups are won.
They also have players overseas who offer options and the chance to upgrade the backline including JP Pietersen and Willie le Roux.
Remember Cape Town — that's the game which really counts when looking at the 'Boks in World Cup terms.
It is easy to understand if doom and gloom has indeed descended around South African rugby, although some of their writers can certainly see the positives.
Looking at Marx and the Fabulous Tight Five, you can see why they spot glimmers of real hope.