Kiwi poker player William Han has taken home $51,000 after winning the Festival of Poker main event at Sky City casino in Auckland tonight.
Han, a 25-year old network technician from Auckland, beat Henry Xu (second for $32,850) when play turned two-handed, to claim the title following 23 hours of play over three days.
86 poker players put up $1650 to enter Auckland's marquee tournament, while 45 players entered for $825 (playing on Day 1a where they started with half a stack), generating a prize pool of $164,250.
Han moved to New Zealand from South Korea when he was one, and has been playing poker seriously for the last five years, mostly online. He had one other notable win in 2012 when he took down the ANZPT $330 deepstack tournament for $11,320.
After progressing to day two of the tournament with an average chip stack, Han got lucky on the final table bubble to run up a huge stack.
"I was fortunate enough to win with ace king against aces on day two of the tournament," said Han. "That was toward the end of day two, just before the final table and I wasn't all-in but it was worth probably 60-70% of my stack. The flop came KKQ and I was very happy."
Han was familiar with the skillful play of Auckland local Xu, who qualified from the half-price buy-in on day one, and said the key hand of the tournament was when their two big stacks clashed.
"The biggest hand was against the chip leader at the final table. At one point (Henry Xu) had more than half the chips in play and I was the second biggest stack and I was lucky enough to double up through him.
"Play was four handed and I raised under the gun with ace king, and Henry was in the big blind and he three-bet. I called and the flop came Q74 with two diamonds. Henry bet and I called. The turn brought in two flush draws and I called his turn bet. The river was an ace, which missed both flush draws and he checked and I moved all in. He spent a long time thinking about the decision but eventually called before mucking his hand when he saw my ace king.
"I had about 30-40 big blinds at the time so that was huge."
Han credited table awareness and patience as the key to succeeding in long, live tournaments along with the courage to go for the win.
"My strategy through the tournament was just to be very patient and the biggest key for me was being flexible and observant but dynamic when I needed to be.
"I was one of two big stacks heading into the final table and there were a lot of short and average stacks. I was fortunate enough to double up, often, and it went well from there.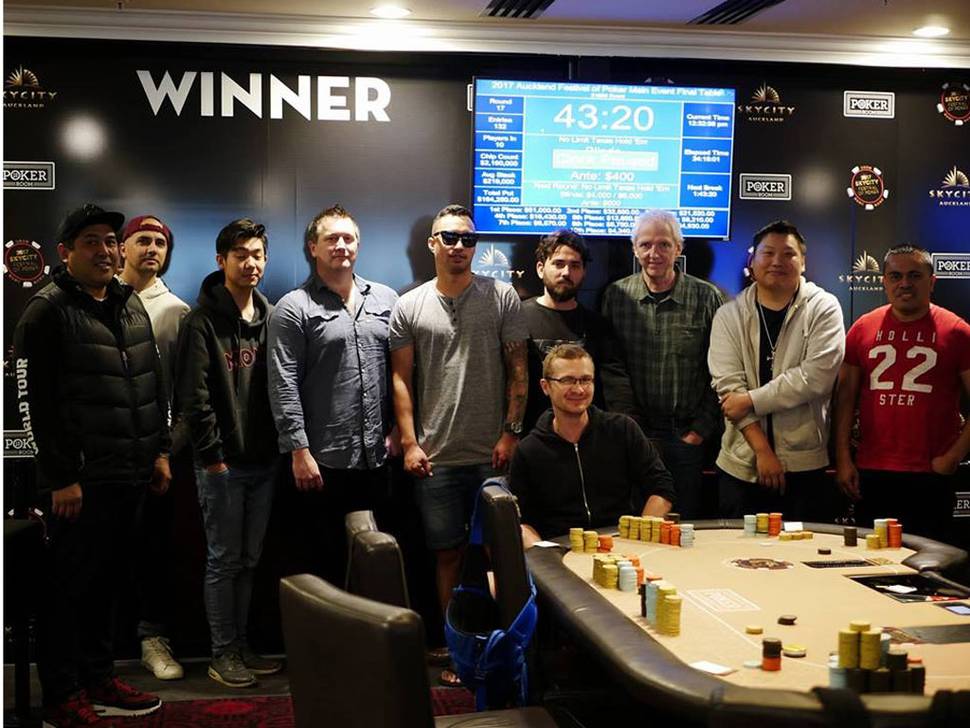 "I was definitely playing the final table to win, I wouldn't have been satisfied with an eighth or seventh, and used my stack to apply some pressure.
Han is recently married and said he wouldn't be doing anything too adventurous with his winnings, and will likely put them into savings.
"I think the first thing I will do is have a quick nap, then maybe take the wife out for a nice dinner."
Final table results:
1 William Han $51000.00
2 Henry Xu $32850.00
3 Jamie Sadlier $21520.00
4 Geo Tislevoll $16430.00
5 Trent Adams $12650.00
6 Te Rangi Matenga $8210.00
7 Phillip Willcocks $6570.00
8 Radoslav Kopec $5750.00
9 Steve Smith $4930.00
10 Johnny Rakich $4340.00