By Gareth A Davies
Floyd Mayweather has called Conor McGregor a "dirty" fighter having watched videos of the Irishman in sparring and claimed he is taking the biggest risk in their match-up because of his unbeaten record.
"I'm taking the biggest risk, but it is a big reward for both," said Mayweather, unbeaten as a world champion in five weight divisions over the last 20 years.
"I have the 49-0 record. If you have lost before it's OK, but if you are 49-0, as I am, everything is on the line." McGregor has lost three of his 24 mixed martial arts contests. This will be his first professional boxing match, one expected to draw five million pay per view buys and shatter all records as the richest fight in history, potentially grossing over US$700million ($960million).
But Mayweather believes the UFC's Irish mixed martial arts star will employ potentially underhand tactics when they face off in Las Vegas in their mega-fight next Sunday.
And the richest boxer in history reiterated that this really will be his very last fight, after which he intends to tighten up his business interests for his family for "generations to come".
Mayweather watched clips of McGregor in training against former two-weight world champion Paulie Malignaggi. "I see a lot of rabbit punches behind the head, grappling, wrestling, illegal shots," Mayweather said on an international media conference call.
"Some may call that a KO [over Malignaggi], but it doesn't matter as it is just in the gym. What counts is in the ring. Paulie has retired and he is now commentating and travelling around the world. McGregor is active and hard in training.
"But the ref will be fair on both sides, I want him to be even. I want us to have a good solid fight."
McGregor will receive severe financial penalties - contractually - if he employs anything beyond the skills of boxing.
McGregor has hired retired referee Joe Cortez to oversee his sparring, and that was not lost on Mayweather, who said he did not see Cortez stepping in when he might have in the sparring.
"I truly believe Robert Byrd is going to do his job, his job is to keep the bout clean," Mayweather added. "We are going to have a hell of a fight. Like I have said, I am coming straight ahead.
"McGregor had referee Joe Cortez in his training camp but I still see him being extremely dirty. But my job is not to referee the fight, I am going to do my job. I am not worried about the outcome, I am more worried about excitement."
Mayweather had also said in recent television interviews that he may be prepared to fight McGregor in a rematch, perhaps even in a mixed martial arts fight, but was insistent that this will be his final fight.
"I thought Andre Berto [in September 2015] was going to be my last weigh-in, last training camp, my last everything," Mayweather explained.
"But you just never know what can happen and we are here with this big event. This is my last one, ladies and gentlemen."
• Conor McGregor believes a Nevada State Athletic Commission decision to allow 8oz gloves for the mega-fight with Floyd Mayweather will play into his hands when they clash in Las Vegas next Sunday.
McGregor says it will be his greater power with the smaller gloves versus Mayweather's faster hand speed. The Irishman, set to make upwards of US$80million ($110million) for the fight, also played down any racist undertones to the bout and has used the boxing world's dismissal of his chances of beating Mayweather as "deep motivation".
"I'm very happy with how the Nevada State Athletic Commission handled it. It was handled fairly and they listened to both requests," said McGregor.
Nevada rules have stipulated since 2006 that boxing matches between fighters over 67kg must see the use of 10oz gloves.
However, both McGregor and Mayweather submitted formal requests to the commission asking for it to issue a waiver for their fight, which is being fought at 70kg.
The commissioners voted unanimously in favour of the request on Thursday, with the appointment in the same sitting session of Robert Byrd as referee and Burt Clements, Dave Moretti and Guido Cavalleri as judges.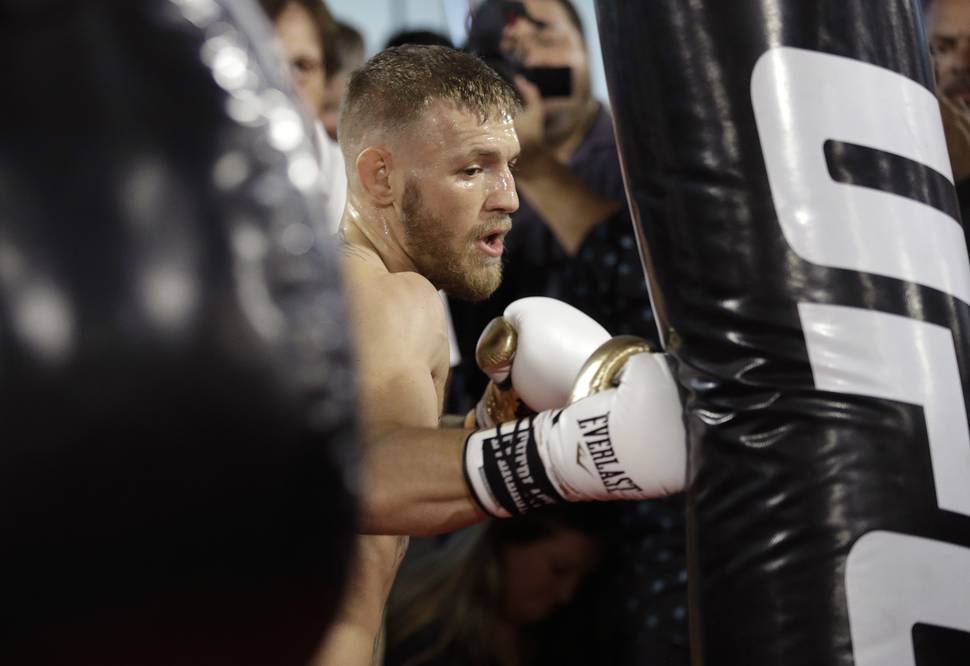 "Overall their approach to the decision, judges and referee was fair throughout, with them taking into consideration both fighters' requests," McGregor added.
The gloves simply intensify the challenge, he believes.
"I think that's it in a nutshell. You have pros and cons on both sides," he said.
"Both athletes were asking for it, and me, I'm coming up in ounces from what I am used to. Hey, look what I fight with. I fight in 4oz fingerless gloves. It benefits both of us in certain ways."
McGregor added that he is motivated by being written off by the boxing world. "It's certainly motivating. The disrespect of my skill-set. I look at people and their minds are closed. 'It's a set way and there's no other way'.
"If that was the case we'd never have reached across the waters and searched for other lands, and never have gone into space.
"When I hear their disrespect, I use it as motivation and I look forward to going in and educating them. I get it. I'm coming in, I understand where it's at, I'm just looking forward to proving what I'm saying and earning my respect in this game also."
McGregor also ruled out any racial element in next weekend's contest, after Mayweather had accused him of racism at the Wembley Arena press conference.
"I was upset that Floyd tried to bring that in, he and his people truly know that it's not from me.
"I'm not saying that there aren't people on both sides that have this mindset where it's black versus white, but it's certainly something I do not condone. This is athlete versus athlete, two athletes in their prime physical condition taking part in an amazing event.
"I'm disappointed to hear the way it's sometimes been portrayed, but it's just the nature of the game with the way things are going on in the world at the moment. All I can do is stay focused and look to put on a great performance for the fans who are supporting this event as a whole."