Emirates Team NZ helmsman and sailing superstar Peter Burling carries the hopes of New Zealand on his shoulders. But, as Dana Johannsen reports from Bermuda, if he's feeling the pressure to bring the America's Cup home, he's not showing it.

Richard Burling wasn't quite sure what to make of his son's artwork.
At the end of the school year, the students at Welcome Bay Primary School in Tauranga trotted home with their drawings memorialised in a calendar, serving as a year-long reminder of their artistic gifts, or limitations.
Most of the kids had drawn self-portraits, depictions of their families, their animals, or their homes.
Nine-year-old Peter Burling had drawn an 18-foot skiff.
It brought his father both pride and a hint of amusement. As a keen sailor himself, he was chuffed young Peter appeared to have developed a minor obsession with yachts. But he was slightly perturbed by a glaring design flaw. "The bowsprit was as long as the boat itself," says Burling snr, chuckling.
If the designers at Emirates Team New Zealand had seen Burling's early plans, they might have had cause to question the young helmsman's presence in the design offices. That the 26-year-old has taken it upon himself to attend every design meeting has been quietly noted by some in the team, who are impressed by Burling's desire to understand the thought process behind even the most minute design details on the highly complex America's Cup Class catamarans.
Newstalk ZB's Mike Hosking caught up with Sir Russell Coutts to discuss the America's Cup, and in particular Team NZ's efforts spearheaded by Peter Burling.
"It's his baby, that boat," says Burling's mum, Heather, nodding in the direction of Team New Zealand's sleek 50ft catamaran they hope will carry the Kiwi crew to victory over Oracle Team USA in the coming weeks.
Such a feat rests as much in the hands of the prodigiously talented helmsman as it does in the curve of the foils and twist in the wingsail.
If that thought is weighing heavily on Burling, you wouldn't know it.
His cool, calm demeanour throughout what has been a testing, and, surely, an emotionally draining, Challenger series has confounded many. The commentators have often remarked on Burling's apparent relaxed state at the helm, joking he looks asleep at the wheel.
The most humorous example of Burling's understated approach came in the team's first day back racing after the devastating capsize during the Challenger semifinals (more on that later).
Nerves were frayed in the New Zealand camp heading into the day - the boat looked like it was all back in one piece, but, as the commentators continued to point out, who could know what little systems gremlins might emerge during racing?
It looked as though those fears would be realised when, in the pre-start of the first of three races that day, Team NZ stopped dead suddenly after their port daggerboard became lodged down. Unable to get up on their foils, Team NZ were stuck deep in the start box as their opponents, Ben Ainslie Racing, tore off down the first reach.
Cue the onboard audio on the New Zealand boat:
"Yeah, nah, it's not working," was Burling's delightfully Kiwi explanation of the event, before the crew were able to wind up the daggerboard, and set about overhauling the 450m headstart they had given BAR.
Compare that to Ainslie's response three days earlier, when the British had a problem with their wingsail, prompting them to crash down off their foils in the opening race.
"What's happening!? They're killing us, they're absolutely killing us," Ainslie screamed at his team.
A couple of international journalists attempted to get to the bottom of Burling's laid back approach at the press conference soon after the Kiwi team wrapped up the Louis Vuitton challenger series earlier this week.
"Peter, you are 26, but you act like you are 52, have you really not felt any pressure during the week?" asked a veteran Italian yachting reporter.
His question elicited a couple of Burling's now standard "full credit" lines, which have become the source of much mirth among journalists and sailing blogsters.
"I think, you know, it's full credit to our team as well - we've got great coaches in Ray Davies and Murray Jones who can guide us through, and also a lot of guys analysing what we do and giving us feedback on how we can improve."
Another journalist tried again: "Don't you ever get nervous?"
Again, Burling deflected the question, referring once more to his team, and how excited they are by the challenge of being in the Cup match.
Perhaps Burling's mum can shed light on his preternatural composure?
"We've watched Peter sailing since he was tiny, and that's how he sails, nothing really seems to rattle him, he just gets on with it," she says.
"He doesn't really do highs, but he doesn't do lows either. If he has a shit race, he just moves past it and on to the next race."
Before Bermuda, Burling was known as one half of New Zealand sailing's most revered double act alongside Blair Tuke. Over the past four years the Kiwi pair have formed an indomitable combination, winning every major regatta in the 49er, culminating in Olympic gold in Rio last year to add to the silver they won as a still-raw combination in London.
In Tuke, the more introverted Burling had found the perfect foil.
"Blair's the kind of guy, he bounds up to my dad [Peter's grandfather] looks him in the eye and shakes his hand - you know, super-polite, warm and engaging. From that moment on my dad would lie down in a puddle for him - he's just got that persona," says Heather.
"Because Pete's been sailing with Blair since he was 17, through his formative years, I think that has been really great for him and helped him develop his confidence."
Over the past eight years the pair have become so intertwined they're almost referred to as a single entity - PeterandBlair, BurlingandTuke.
At this America's Cup, Burling has been forced into the spotlight alone. While Tuke - the team's foil trimmer - performs a vital role on the New Zealand boat, essentially keeping it flying, Burling has been cast as the unlikely frontman for the syndicate.
It wasn't through design - at least not Team New Zealand's. Glenn Ashby, the team's wing trimmer and sole surviving crew member from the 34th Cup match, was appointed skipper for this campaign.
But in the lead-up to the event the media duties that have traditionally landed with the skipper of each boat, became the "helmsman press conferences".
Some have wondered whether it was a deliberate ploy to unsettle Burling, a rookie when it comes to the America's Cup game. If it was, it doesn't appear to have worked.
Through good race days and bad race days and disastrous race days, Burling has fronted the press conferences with the same mutinous hair and look of bemused detachment.
He has sat by as Oracle skipper and infamous Kiwi-baiter Jimmy Spithill has fired pre-prepared barbs at Team New Zealand management, and has gleefully rubbed Burling's perpetually sunburnt nose in his own errors.
For someone who has come straight out of an Olympic sailing environment, where the lofty ideals of fair play are held up as being just as important as the competition itself, the mind games and petty politics of the America's Cup must be an eye-opener.
At the Rio Olympics, Burling and Tuke won admirers for not only their supreme sailing ability, but also their sportsmanship. On the opening day of racing in the 49er fleet, the Kiwis were trailing a Danish crew heading into the final mark rounding, before, inexplicably, the Danes continued on beyond the mark.
Burling and Tuke immediately started yelling and waving at them to let their rivals know they were headed the wrong way.
"If he has a shit race, he just moves past it and on to the next race."
How does a guy so uncomfortable with capitalising on a rival's error like that mesh with the America's Cup world?
He simplifies the equation. Burling has found his happy place hurtling around the Great Sound at great speed, and in the words of his mother, "he doesn't care about all that other stuff that comes along with it".
Since taking the tiller of his first boat at age 6, Burling has always had the same goal in mind -- he just wants to go fast.
Thinking it would be a good way to keep young Peter and his older brother Scott occupied and teach them good life skills, the Burling family bought a $200 "piece of crap" for the kids to muck around in.
"We had no ambitions of raising an Olympian or anything like that," says Heather.
"We live in Welcome Bay, so we would just go down to the estuary and the boys would tear around in their Optimist."
Jelly Tip, the clunky old wooden Optimist, soon became Burling's own, when Scott insisted on a bigger, faster boat, upgrading to the P-class.
"The guy who sold us the P-class probably changed our lives, because he said 'go to the yacht club, there's lots of kids there leaning to sail', so we turned up at the yacht club with the kids and their junk boats," says Heather.
"And Peter just got good, really, really fast."
Heather, who has put herself in charge of managing her son's Wikipedia page, rattles off his accomplishments from memory -- no easy feat when Burling has seven world titles, two Olympic medals and countless other accolades to his name.
At 9 he was attending his first Optimist nationals. By 11 he was on the podium at nationals and off to his first world championships. At 13, he had teamed up with Carl Evans in the 420.
At 15, the pair had won their first world championship title.
At 16, Evans and Burling were being pushed into the 470 class and encouraged to have a crack at the qualifying for the Beijing Olympics. A year later, at just 17, they were on the start line of their first Olympic Games.
Then came the move to the 49er, a high-performance skiff, and the beginning of the highly successful partnership with Tuke.
"He always had that natural courage and he always had a natural determination. I remember a P-class regatta and he'd rubbed the skin off the back of his legs from his hiking strap. From [his ankles to the mid-calf] it was raw, oozing. It would have hurt like hell, but he stuck out every race," says Heather.
That determination is matched with a highly analytical mind and natural curiosity about the ways things work.
If they weren't on the water, the Burling boys - encouraged by Richard, who put his teaching career on hold to be a stay-at-home dad while Heather, a doctor, established her practice in Tauranga -- were forever tinkering in the shed. They'd build things, then promptly demolish them and start again.
"Peter used to make land yachts with wing sails on them," says Richard, who considers himself to be "practical with these things as well".
"He must have been 12 or 13 at that stage - he built this model, but it was too powerful, so he got the jigsaw out and cut a third of the wingsail off and put adjusters on for light weather.
"He's always been a fix-it typeof person. At the 420 worlds - the one they won -- they broke one of the trapeze wires that they hang off, so they only had one. So he just threw it around the other side of the boat, and fixed it up there," says Richard, marvelling at his son's presence of mind in the heat of competition.
Andy Maloney on the Oracle mind games
Burling was two years into an engineering degree before sailing took over his life.
His mother doesn't expect he'll return to it any time soon - it's unlikely Burling will find the time to squeeze in another two years of study while he concentrates on getting his "PhD in sailing".
"He's the kind of guy that if you were stranded on a desert island you'd want to be with Pete because he'd figure out how to build a shelter and how to find food and how to get out of there - he's got that immense practicality to him," says Heather.
That practicality shone through in the squalls on the Great Sound last week as Team NZ's boat, and campaign, teetered on the brink.
After the catamaran was righted, and Burling was freed from the cockpit, which had been suspended some 15m in the air, he immediately went to survey the wreckage.
While most of the Team NZ crew came ashore, some in need of medical attention, Burling stayed with the boat for an hour, helping oversee the recovery as it was painstakingly nursed back to shore by the chase boats.
Fronting a press conference soon after he came to shore, Burling declared it would not be the end of the New Zealand campaign.
"As a group of New Zealanders we are incredibly resilient," he said.
The pressure was on Burling to live up to his own spin.
The youngster copped some harsh criticism from several quarters for the handling error that led to the dramatic crash -- though it must be noted that none came from those who have actually been at the helm of the high-powered catamarans.
Richard doesn't believe his son would have been rattled by the incident.
"He wouldn't have told us if he was," he said.
"I know he would have been frustrated because he knew it was so much work for the team and everyone back in the shed, and potentially could have cost them a couple of points as well if they had to race the next day.
"But the thing with him is, all through his career, it doesn't matter if he gets an OCS, or a first or middle or last, it doesn't seem to make any difference to the next race."
It was no surprise to Richard that two days later Burling -- barefoot, as we have become accustomed to seeing him around the Team NZ base -- strode confidently to the rebuilt boat as though it was any other race day and, after that pre-start hiccup, set about wrapping up the series against the Brits. It's that type of fearlessness that makes Team NZ boss Grant Dalton comfortable they have the right man at the helm to bring the Cup back to New Zealand.
"He commutes to work on a Thundercat, which is an out-of-control, rubber boat with a 50-horsepower engine that they leap all the way home on," says Dalton.
"It's that can-do, devil-may-care attitude, and they can win."
Dalton came under fire for how Burling's elevation was handled, after what should have been a straightforward succession plan from skipper Dean Barker became a messy public spat between the long-serving skipper and combative team boss.
Though there was an outpouring of sympathy for Barker, no one would doubt now that it was the right call.
Dalton said the energy Burling brought to an organisation still licking its wounds after the capitulation in San Francisco helped reinvigorate the team.
"One of the things about Pete is he lives and breathes sailing. He doesn't have six kids and a mortgage, he just wants to be fast and doesn't want to compromise."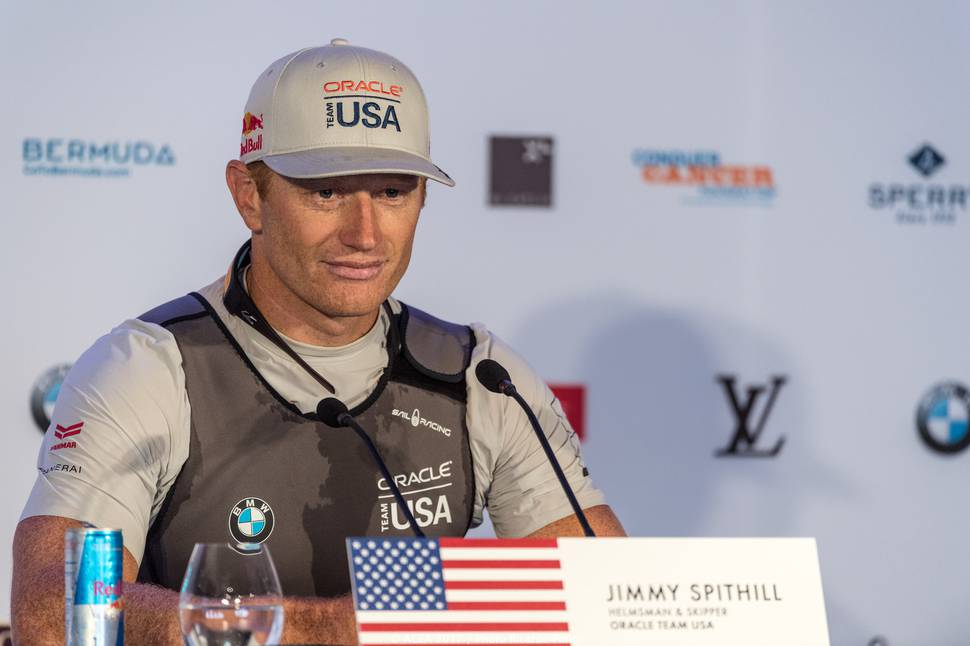 The Jimmy riddle
Who is Jimmy Spithill?
He's arguably the Aussie Kiwis love to hate the most.
A proven winner who loves to run off at the mouth, take pot-shots at Team NZ and to top it all off, is brother-in-arms with our America's Cup villain Sir Russell Coutts.
As helmsman of Oracle, he is the experienced campaigner, going directly up against Kiwi newcomer Peter Burling.
Spithill, 37, has won the America's Cup twice (2010 and 2013 Oracle Team USA).
He was just 19 when named skipper of the Young Australia challenge for the 2000 America's Cup in Auckland.
It made the brash Sydneysider the youngest skipper in America's Cup history.
Then, the syndicate stayed in hostels, used mountain bikes to get around central Auckland and a rusty barge doubled as their waterfront base -- a far cry from the set-up of cashed-up syndicates.
Spithill been dubbed "Pit-Bull" and "James Pitbull" by some opponents and yachting fans for his dogged determination, aggressive tactics and never-say-die attitude.
Who can forget his taunt at a 2013 America's Cup press conference when Team NZ took a massive lead - and later choked: "I think the question is, imagine if these guys lost from here, what an upset that would be.
"They've almost got it in the bag, so that's my motivation."
He was back at it when he welcomed New Zealand reporters to Bermuda.
"First of all it's great to see all you Kiwi media back here in the press conference room, I miss you guys.
"I'm certainly looking forward to the days ahead."
This year, Spithill has again tried to stir the pot - claiming he has a "leak" inside the New Zealand camp.
"Both times we've raced Team New Zealand they have made some pretty fundamental mistakes ... at the start line today and obviously at the top mark again."
All you need to know
Team NZ and Oracle Team USA will face off for the Auld Mug once again. Here's all you need to know about the America's Cup clash.
When does the America's Cup final start?
Tomorrow NZ time. We have racing on Sunday and Monday mornings from 5am. (Saturday and Sunday in Bermuda). There are two races set down for both days.
How will it work?
It's first to seven wins (not five as in the Challenger final) so we won't have an America's Cup victor after the first two days. After Sunday and Monday's racing, there is a five-day break then we have further racing the following Sunday and Monday.
Why the five-day break?
If you enjoy a conspiracy theory, you might suggest Oracle want the time up their sleeve to further analyse the Kiwis or to improve their boat. Whoops, did we say that? In between, a Youth America's Cup will be raced. The break does give Team NZ a chance to test new equipment they believe can give them extra speed.
What's the weather forecast?
There's a 40 per cent chance the breeze will be below 12 knots for the entire finals regatta. Team NZ have looked strong in light winds.
How come Oracle Team USA starts with an advantage?
The Americans won the round robin challenger series ahead of the Kiwis. The winner takes a point into the Cup final proper. Yes, it's controversial that Oracle even competed in the round robin but the Kiwis had their chance there to gain the advantage. Effectively, Team NZ needs to win eight races to win.
Who's the favourite?
That has to be Oracle no matter how parochial Kiwi fans are feeling. Jimmy Spithill is a proven performer and their boat looked good in the round robin Challenger series.
How do I follow the final?
Sky TV has live coverage from 5am with delayed free-to-air cover on Prime from 6.30am. Otherwise follow our popular live blog on nzherald.co.nz from 5am all race days as well as listening to the voice of yachting Peter Montgomery and expert match racer Chris Steele and their live call of the races on Radio Sport and Newstalk ZB.
Peter Burling, 26
•Emirates Team NZ helmsman
•Started sailing in Tauranga aged 6
•Holder of 13 world titles - the first won at age 16
Attended first Olympics at age 17, has won one gold and one silver medal
•Did two years of an engineering degree, now on hold as he does his "PhD in sailing"Watch video of the racing at nzherald.co.nz