Team NZ - and perhaps the strong Bermuda winds - claimed their first victims of the America's Cup challenger playoffs.
Ben Ainslie Racing was forced to withdraw from the opening race of their head-to-head semifinal match-up, after a breakage in their wing early in the contest, gifting Emirates Team New Zealand the race.
Soon afterwards, they also conceded their second scheduled encounter of the day, unable to fix the damage in time. Team NZ were required to start the second race, using it as a solo practice opportunity, and now hold a 2-0 lead in the first-to-five-wins format.
Racing in 10-20 knot winds, higher than most previous days on the Great Sound, the British were expected to be more competitive than in lighter winds.
They pressured the Kiwis in the start box and the two ACC boats crossed the start-line together, but Team NZ hit 44 knots to the first mark - the fastest speed recorded so far this regatta - to establish control early.
At the second gate, the margin was still just six seconds, but BAR came off the foils as the boats split directions, with Ainslie heard to cry "Oh my God!" soon after. He phoned in his withdrawal almost immediately, with damage initially diagnosed as a broken camber arm.
"It's pretty serious," Ainslie confirmed. "We haven't had a failure like this before on our wing.
"Ultimately, we'll have to switch wings and whether we can get ourselves out for the second race, it's highly unlikely.
"Given we're in a playoff against New Zealand, in the first two races, it's obviously not what any of us want, but we're just going to have to deal with it. We'll be doing everything we can to get back out for the next race.
"It's a tough one for the team, but it's a technical sport. Sometimes you have failures like this and you just have to take it on the chin.
"In those situations, it's tempting to keep ploughing on and ignore it, but It was a pretty loud bang and we knew something fundamental was wrong. Thankfully, we did strop or we would have had three or four bits of wing hanging around our ears right now."
Team NZ had been looking forward to taking their game to a new level, having emerged from last week's qualifier series as top seeds and chosen BAR as their semifinal opponents.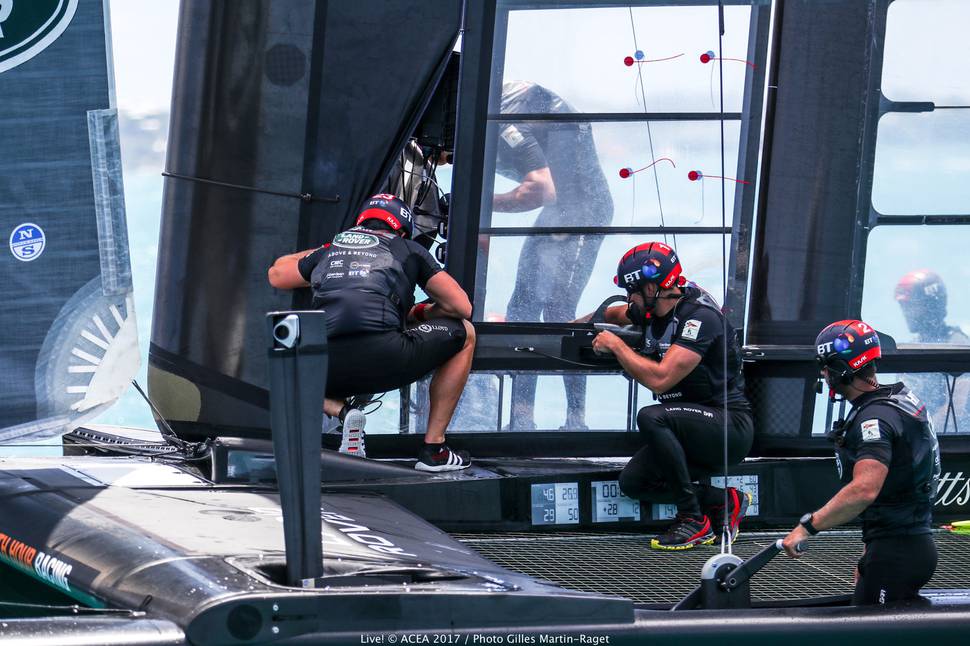 "We were really happy with how we prepared this morning and had a really good pre-start to lead at mark one - all we were trying to do is make our life nice and easy - and we sailed well downwind," he said.
"It's a bit of a shame that those guys had damage, because it was shaping up as a good race.
"When we noticed those guys stop, we definitely made sure we were trying to look after the gear, so we don't have any issues. All these boats are built right on the edge and today is a beautiful day for sailing, but in 20 knots, the structure and stuff get really loaded."
Organisers had forecast winds near the upper limit of the racing range this week, but today's winds are still well short of that 25-knot threshold, so there is p[otentially more speed and more stress on boats to come.
In the other semifinal, former TNZ skipper Dean Barker and Team Japan achieved their first win of the regatta over Artemis Racing (Sweden) to gain the initiative in their playoff match-up.
The Swedes led around the second mark, but when the two boats converged from the split up the third leg, Japan had seized the advantage and sailed away to extend that margin to 23 seconds at the finish.
Word on the street in Bermuda is that the Japanese have reached speeds approaching 50 knots in practice and they certainly showed they had raised their performance for the occasion.
But Sweden clawed a win back in their second encounter, benefitting from "the shift from God" (as Barker described it later), tacking expertly from the left boundary and crossing ahead near the end of the fifth leg upwind, after Japan had won the start and seemed in control early.
"I don't think there's much in [boat speed between the two boats], to be honest" observed Team Sweden skipper Nathan Outteridge afterwards.
"We though we had a click of extra pace on the reach in that first race, but once you get around mark one, there's really nothing in it between these two boats - it's more about where you position these boats around the course."
Today's results
SF 1 R1: Emirates Team New Zealand beat Land Rover BAR by withdrawal (NZ 1-0)
SF 2 R1: SoftBank Team Japan beat Artemis Racing by 23 secs (Japan 1-0)
SF 1 R2: Emirates Team New Zealand beat Land Rover BAR by walkover (NZ 2-0)
SF 2 R2: Artemis Racing beat SoftBank Team Japan by 29 secs (Tied 1-1)