Michael Brown chose to avoid the ponytail and Jaguar pitfalls of the mid-forties man and instead embarked on one of the country's most difficult bike races to combat the perils of middle age. Six months after beginning preparations, he reflects on a life-changing experience.
A number of people have asked me if I have been cured of my midlife crisis, now the Pioneer mountain bike race is over.
It's not something I can answer very easily because it's hard to define a crisis but, if anything, it might be worse than ever.
The Pioneer, a seven-day race from Christchurch to Queenstown via the Southern Alps, was awesome, amazing and spectacular and, without doubt, the hardest thing I have ever done physically.
I loved it. The problem now is that it's over. I feel like there's a void in my life, like a child has moved out of home. It was something I thought about constantly from the time I committed to it five months out from the event; some might say obsessively so. All of a sudden, it was over.
Olympic athletes often struggle when they return from the Games in the same way professional sportspeople battle with retirement. Something that defined them was suddenly missing.
In no way am I comparing myself to an elite athlete but it felt like this on my own level, and I was a bit flat about it all.
I had a coach and a nutritionist (I was even drinking beetroot shots) and was making regular visits to a sports masseuse to iron out the kinks. I saw more sunrises in those five months than I had ever seen in my life and had started to enjoy that time of day when previously I was Captain Grumpy if someone woke me up before 7am.
, trying to
and had started to
Many have said to me I must have been sick of the sight of a bike. Actually, I can't get enough and need more, especially as it is all still so new after buying my first proper bike only last year.
Former Olympic sailing bronze medallist John Cutler knows exactly what this is like. The 54-year-old, who was third in the Finn at the 1988 Seoul Olympics and who participated in five America's Cups, also rode the Pioneer.
He's been riding for nearly 20 years and the sport is now a big part of what defines him.
"I'm sure my wife would say I'm obsessive about it," admits Cutler, who rides as much as 250km a week. "But it's one or two hours a day that's just for you.
"It's also very social. I ride with a bunch of people of a similar age and we often go for a coffee afterwards. And the wives, kids or dog might come along afterwards, too. If I was slogging around on my own, I don't think I would do it."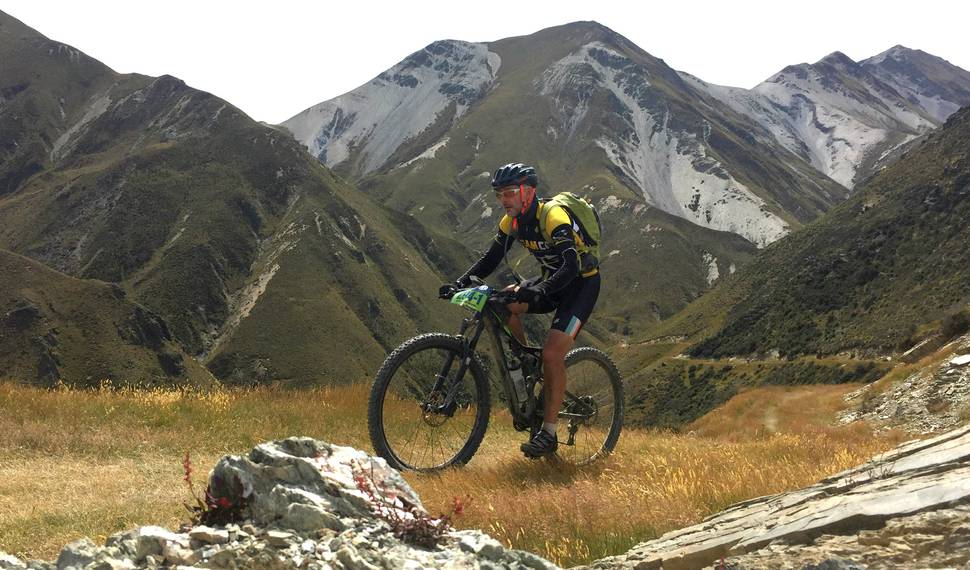 Cutler doesn't think he had a midlife crisis - although admits he once bought a sports car - and feels the concept is hard to define.
"Is it a crisis or a change of focus as you reinvent yourself or put effort into something different?"
A midlife crisis is defined by the Concise Oxford Dictionary as "an emotional crisis of self-confidence that can occur in early middle age".
It typically hits at 43 (I'm 43) and tell-tale signs include buying an expensive bike and taking up triathlons or extreme sport (tick), quitting your job (tick) and starting to take vitamin pills (tick).
I'm in no hurry to go to music festivals (although we took the kids to Justin Bieber recently), look up medical symptoms on the internet (that would make me even more paranoid) or get a hair transplant (apparently bald men are smart, dominant and just plain sexy).
A mid-life crisis sounds a lot like me. And not.
An up hill battle for man
The scenery was spectacular during the Pioneer. It was one of the main things that attracted me to the event in the first place and it didn't disappoint.
We were allowed to ride over more than 50 high country sheep stations and, while some of the climbs were unrideable at times as we tackled gradients regularly over 25 percent (even the elites sometimes got off to walk), big mountains meant big scenery.
I already knew it, but New Zealand is such a special place.
Almost as impressive as the scenery, however, was witnessing people push themselves beyond their limits. This was particularly apparent on day 5 from Lake Ohau to Lake Hawea, a 112km behemoth that also included more than 3500m of climbing.
The day started badly for Lisa Payne when she struggled to keep her breakfast down and ended with her on a drip.
The 48-year-old from Rotorua is a reformed smoker and drinker who completed her first ironman in 2005 and is now an experienced adventure racer. But she's often struggled with her nutrition as her gut wages a battle with the rest of her body.
She spent time in an ambulance early in the run during her second ironman but soon flipped the doors open to finish the event.
"What has happened in the past is that if I have really pushed it, I will vomit and then feel fine and carry on," Payne explains. "In my head that day [on the Pioneer] I just felt it was temporary and I would come right. I think that pain is 60-70 percent in the head and you can push it aside and continue."
But it didn't come right. After 96km, only 4km from the summit of the big climb of the day up Grandview, the decision was made to seek medical attention. She could barely stand upright, and it would have been dangerous to attempt the 1000m descent down the rocky and steep trail to Lake Hawea.
"I realised that I was feeling stuff [that day] that I hadn't felt before, like my heart, and I knew it was dangerous," she says.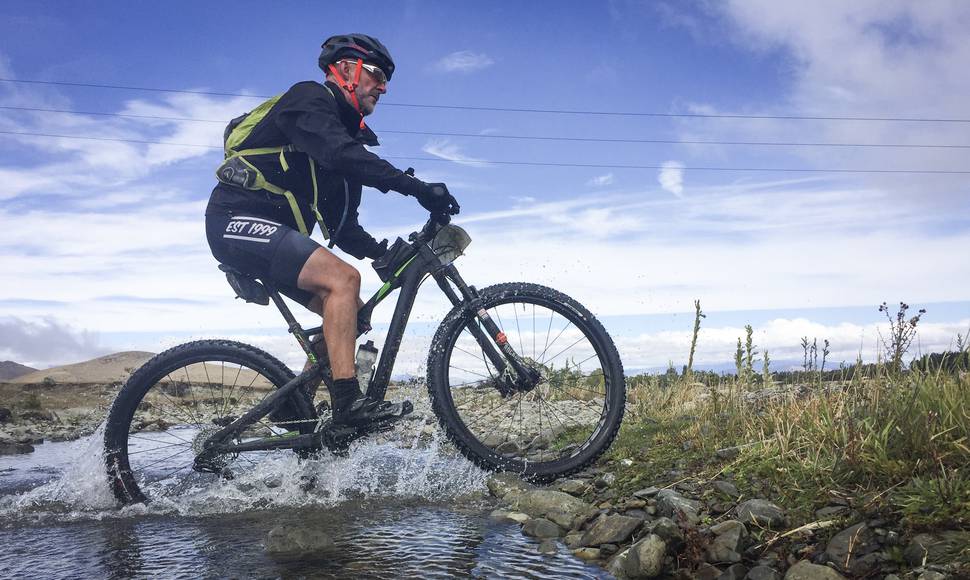 Payne wasn't the only one who was struggling. It's called the Queen Stage - possibly because she reigns over the riders - and some didn't even attempt the ride and others missed the cutoff.
A Filipino pair, though, wouldn't be defeated, no matter how poorly one felt. One half of the team was strong and, at times, walked both bikes up a slope, placed them on the ground and galloped back down the hill to push his partner up the track.
It was a remarkable illustration of willpower.
"I just want him to get to the end," Deo Encarnacion said at the time. "If we do, he owes me a big steak dinner."
His partner was well done.
'Acceptance doesn't come easily'
Sir Edmund Hillary found that, as he stood on top of Mt Everest, he was working out a route up another mountain.
"It showed me that, even though I was standing on top of the world, it wasn't the end of everything," he recalled. "I was still looking beyond to other interesting challenges."
That's what many have said to me. I might have conquered my Everest but it didn't have to be the last mountain I climbed.
It's a philosophy Payne lives by. She's already done the GodZone, a five-day non-stop race around Queenstown, since the Pioneer and followed that up with the Whai Ora Spirited Women adventure race.
"It sounds like you've got the post-event blues," she said to me. "Plan another event. When you have a goal, even if it's not a big hairy one like the Pioneer, you have a reason. It's certainly motivating."
Psychotherapist Kyle MacDonald agrees, as long as the reasons are the right ones.
"It's trying to figure out, is it a healthy desire, to challenge yourself and see how far you can push yourself, or are you trying to avoid something else?" he explained. "Is there something going on in your life, like relationship issues, grief, loss or change? If there is, it's something you need to address. Otherwise, there's nothing wrong with jumping into the next challenge.
"Happiness and satisfaction tends to come if you can deal with change well and accept how much time you have left on the planet. If you can, then there are plenty of things you can throw yourself into."
But that's the issue with a midlife crisis. Acceptance doesn't come easily.
As MacDonald goes on to explain, "a cure is a difficult concept in therapy, because you don't cure yourself from being human".
We all have our issues and foilbles - some are more obvious than others - and different ways of dealing with things.
I'm not 'cured' and it might be some time before I can say that affliction has passed - a midlife crisis typically hangs around for between three and 10 years in males - but I have discovered ways of controlling my 'disease'.
It typically involves two wheels and some lycra. Yes, I now have a whole drawer of the stuff, but I still haven't shaved my legs. My crisis is not that deep.