A guy I know bought a sports car earlier this year. It's one of those black ones and goes really fast, apparently. I bought a road bike. And then a mountain bike. Both are black. They don't go that fast, although that seems to be improving as the motor gets through a few more miles.
My name is Michael and I am a Mamil (middle-aged man in lycra). It has been a few hours since my last ride.
It took me some time to accept my mamilism. After all, I didn't buy my first lycra outfit until earlier this month. Maybe I was in denial but there was something fun about turning up to bunch rides with baggy shorts and running shirts and seeing the disapproving glances from fellow cyclists. I stopped short of shaving my legs, despite the urgings of the girl at the local bike shop. There has to be a limit.
The legs would look ghastly anyway. I have an unsightly varicose vein that looks like a mountain range jutting out of thick native forest. It's not my only ailment.
I've broken about 10 bones, some more than once, have a heart murmur and an irregular heartbeat, my knees hurt constantly from multiple football injuries, I suffer regular back pain, my neck aches and I have a hernia that will need surgery at some stage.
It's little surprise I'm going through a mid-life crisis.
A mid-life crisis is defined by the Concise Oxford Dictionary as "an emotional crisis of self-confidence that can occur in early middle age".
Apparently it will hit at 43 (I'm 42), will last between three and 10 years (two-five years for women) and typical signs include going to music festivals, looking up old boyfriends or girlfriends on Facebook, dyeing your hair or getting a hair transplant, starting to take vitamin pills, thinking about quitting your job and leading a simpler existence, looking up medical symptoms on the internet, buying an expensive bike and taking up triathlons or extreme sport.
I'm not convinced I'm going through a crisis but others laugh when I say that. I don't get the joke.
My obsession, if that's the right word, with getting fit started at the local swimming pool. I used to swim a bit as a kid (I raced against Danyon Loader but he showed a little more talent than me) so joined an adult swim squad at the pool where my kids learn to swim.
I then started borrowing The Wife's road bike and would get annoyed when she wanted to use it.
So I bought my own.
It seemed natural, then, to compete in a couple of triathlons. The first was the People's Triathlon down at Mission Bay when I cramped badly coming off the bike and hobbled around the run like a deranged seal.
The second was Xterra at Blue Lake near Rotorua, when I borrowed The Wife's mountain bike and forgot to adjust the seat height and rode with my knees almost banging into my ears. I still beat my mates home, and that's all that really mattered, to finish in the middle of the pack for my age group. Interestingly, I would have won the 30-34 years race.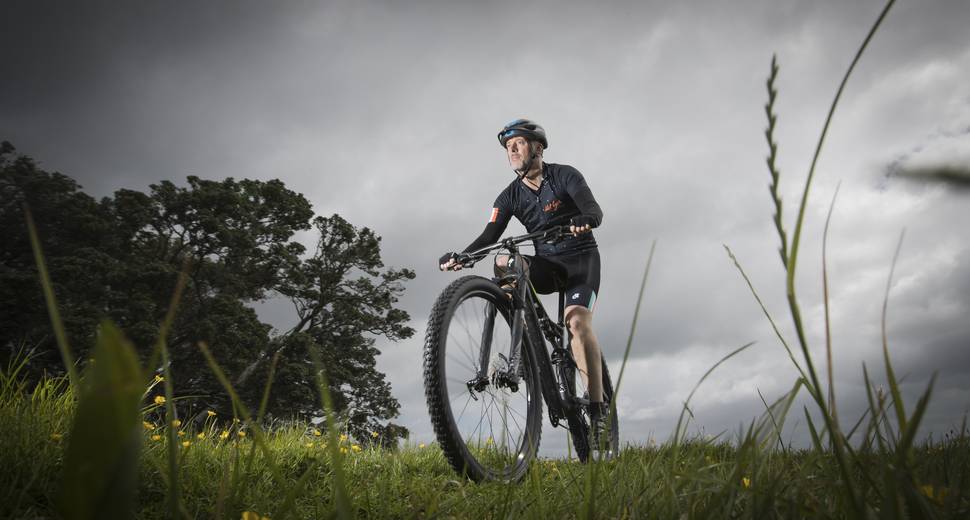 I figured I deserved to buy a new mountain bike as a reward.
Now I've entered the Pioneer, a seven-day mountain bike race from Christchurch to Queenstown that traverses 549km and involves 15,824m of climbing. That's like riding a bike up Mt Everest twice.
Did I mention I was going through a mid-life crisis?

The Who guitarist Pete Townsend famously said in 1965: "I hope I die before I get old." He's now 71.
I'd like to know if he still holds that view because, contrary to popular opinion that suggests people become increasingly miserable as they age, it's not actually the case.
Multiple studies show in general, people become happier as they head towards old age.
We're mostly happy as kids but from about 18 become gradually less contented, hitting the lowest point in our 40s. But as we enter our 50s, the U-shaped curve takes hold again, so much so that by the time we enter our 60s we are likely to be the happiest we have ever been. The upward curve doesn't continue indefinitely and happiness dips again in the last couple of years of one's life.
Other studies show individuals make their biggest decisions, whether it's having an affair or running a marathon, at the ages of 29, 39, 49 and so on - the year before a major milestone birthday.
"It's also often the first time people start to think about their mortality," psychotherapist Kyle MacDonald says of those in their 40s. "People in their 20s often think they are invincible, immortal. But for those in their 40s their back often hurts getting out of bed, they're taking cholesterol pills and their parents are either infirm or passing. You have a limited time on the planet so it's a case of trying to make the most of it.
"It's often around the time when you have done all the striving stuff. You have the car, the house, the wife, the kids - all the things you're told you should have in your life. You get there and you're not as happy as you thought you would be."
A lot of that, for me, comes down to time as well as Father Time.
Our youngest started school in July so the kids are better equipped to look after themselves. The past eight years have been a blur of nappies, feeding, whining and sleep deprivation and the demands at work have increased exponentially.
It's time to do something for me.
Dr Mark Fulcher, who has been team doctor or medical director for the 2008 and 2012 New Zealand Olympic teams, the All Whites and Football Ferns, various rugby teams and the Silver Ferns, is in a similar position.
The 40-year-old sport and exercise physician, whose claim to fame is being the shortest goalkeeper ever in a Fifa tournament, is on a daily mission. "I tried playing football at 38 again and just couldn't relate to any of the guys so I gravitated to other sports," he says.
He thought of taking up triathlons but didn't really like the swimming or biking so focused on running.
"I was away with the Silver Ferns about two years ago and realised I hadn't done anything for about 18 months, maybe one run a month. So I just started running.
"At the end of the tour I realised I had run every day and I googled running every day and there was a thing online. To be considered a runner, you just need to do a mile every day.
"My addiction is running every day. I have done that for two years. A mile is nothing. Even on your worst day, you can squeeze in eight minutes to run a mile.
"I have run in airports, I have run in jeans after a few beers because I had forgotten a run. It seems stupid but if I broke the streak now I would be really pissed off. I just needed to do it. It's the only time I have that is truly to myself every day.
"If nothing else, it completely clears my head and, for most days, I run for more than a mile. I'm now trying to get my half-marathon time down."
The benefits of exercise, both physically and mentally, are well known. And even though pursuits like triathlons and cycling are individual sports, they are surprisingly social.
The fact there are age-group races also feeds a competitive urge. It is one of the reasons there has been an increase of 6.1 per cent in the number of people participating in biking - both cycling and mountain biking- since 1997.
Statistics from the Sport NZ 2013/14 Active New Zealand Survey reveal biking (24.8 per cent) is the third-most popular activity in the country behind walking (60 per cent) and swimming (30.2 per cent). Unsurprisingly, men aged 40-54 make up the largest group of participants. I'm guessing they will also make up the largest group doing the Pioneer.
Matt Williams rode in last year's inaugural Pioneer. When asked if he would do it again, he replied: "Never say never, but I'm struggling to say yes."
The 46-year-old has participated in dozens of endurance events but has only once withdrawn from a race. He wanted to withdraw from the Pioneer.
"My background was very much road riding," he says. "In training for the Pioneer, I had this view that to get from Christchurch to Queenstown it probably wouldn't be possible to do it over the Southern Alps.
"There were some days when we hooked out of the tent village and there was a perfectly good road going one way and then I looked over and everyone was riding their bikes over this massive mountain. Even the goats would have turned around. That basically continued all the way to Queenstown."
The lowest point for Williams came on day five, the famed Queen Stage from Lake Ohau to Lake Hawea over the Ben Ohau range, which is 112km long and involves 3578m of climbing. Riders needed to make a cut-off point in a certain time for safety reasons and, even if he made it, Williams had decided he would pull out. Everything hurt, but most particularly his back.
"About 10km before the cut off, I told myself that if I made it, I was calling it quits," he says. "I had done my dash. I got to the cut-off by about 20 minutes. I threw my bike down, threw my helmet and bag down and sat down. There was a chap from Hamilton, a doctor or surgeon, and he gave me a bit of a pep talk and we got moving again.
"It wasn't what he said, it was what he did. He could have kept on riding. He came and sat next to me and I guess, being a doctor, had a very good bedside manner."
Eleven hours after starting that morning, Williams rolled into Hawea Station, the base for the night.
"I would have been absolutely gutted if I had pulled out. Out of 11 ironmans, 33 marathons and 40 half ironmans, I think I have pulled out of one half ironman. I would have felt like a total fool. Pioneer isn't something I would talk about."
In truth, I don't really know what I have got myself in for.
I know it's going to be challenging and will hurt but sometimes naivety is a good thing. I love the outdoors and want to prove, mostly to myself, that I can do something like this.
My riding partner, Herald photographer Greg Bowker, is similar and is a sucker for an adventure.
I don't think I'm going through a mid-life crisis. It feels more like a need to get active again, to see what other things life has to offer. And I can't afford the sports car anyway.
The Pioneer
February 5-11, 2017
For more information see thepioneer.co.nz