Catches win matches, and might also help make a career.
Under pressure New Zealand opener Tom Latham produced a truly great moment in sport during the Hamilton test match against South Africa.
Latham's catch today, fielding at short leg, to dismiss Faf du Plessis will rank among the all-time greats.
It will be replayed forever and a day. The various TV camera angles caught it perfectly, showing Latham's anticipation of the du Plessis sweep shot, Latham's outstretched hand then grabbing the impossible. Magnificent.
Latham has found a place in history, in a most unusual way.
Commentator Ian Smith says it is the best short leg catch he has ever seen. It is hard to recall anything similar. Most of the amazing catches in that position involve incredible reaction time to shots hit firmly towards the fielder.
Short-leg is a very tough position to play, involving not only extreme skill and concentration but a lot of courage, because cross bat shots can cause serious damage, with very little escape time.
Short leg victims include Pakistan's Azhar Ali, who was laid out by a Matthew Wade pull shot which smashed into his helmet during last year's Boxing Day test in Melbourne.
Cricket is littered with such victims, and with professional careers and earnings on the line, there is hardly a queue of short-leg candidates. Appropriately, the mirror position on the offside is called silly point.
Among the best close-in fielders was an appropriately named Englishman Brian Close, a legendary cricket character who played without a helmet or other protection and often wore the scars of battle.
He revelled in the dangers of the game, saying to timid: "How can the ball hurt you? It's only on you for a second."
Relishing the job is the key, apparently. The stocky Aussie David Boon, probably the best catcher the game has seen that ridiculously close to the wicket, told UK's Sky Sports: "The real key is that you've got to want to be there.
"There's no point coming here (in close) if you're going to be scared. I think really, if you've got good technique and you've practised hard, the times you're going to get hit are going to be really quite rare."
Latham followed his wonder grab up with an excellent, low catch at second slip to dismiss Vernon Philander.
An outstanding close-in catcher is invaluable and worth a lot of runs, although it is impossible to put an exact value on it.
■ All Black bolter time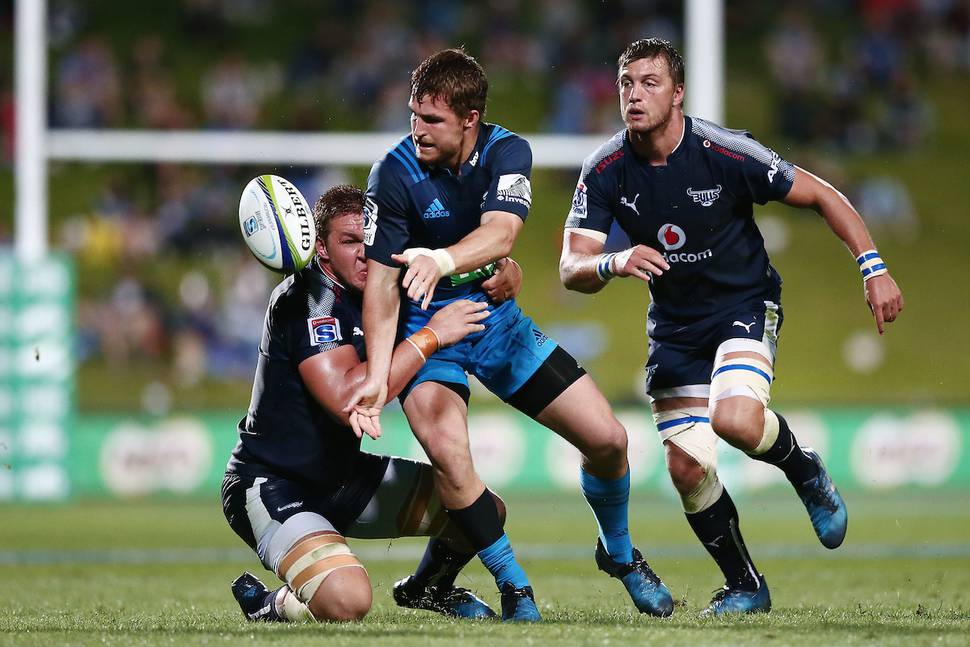 Here's my All Blacks bolter - Michael Collins.
Collins qualifies as a true bolter - when I mentioned his names to colleagues they looked back like they'd seen a poltergeist.
Other bolter candidates? Ngani Laumape, Richard Buckman, Jack Goodhue, Michael Fatialofa...they are some of the names being flung about for 2017.
I'll stick with Collins. The Blues fullback - who qualifies to play for Wales - has been a revelation, especially to someone like me who doesn't watch much provincial rugby. The Blues don't convince me at all but Collins certainly does, and represents an excellent "get" by coach Tana Umaga.
The big win over the Bulls at Albany on Saturday night epitomised the erratic Blues since the glory days of the 1990s. They are a Flash Harry mob who lack concentration.
Exhibit A: After scoring an excellent length of the field try late in the game, they failed to compete for the kickoff, and made a hash of a scrum feed in front of the posts.
That's why the Blues beat bad teams, and lose to good ones. There is something amiss with the Blues' concentration. But it was still heart warming to watch them score some great tries, and have a big win. Collins played a huge part in laying the platform.
You have to get in early with true bolter predictions, before they aren't bolters anymore. Collins presented initially as a poor man's Ben Smith, but he might be way better than that.
He has really caught the eye and provided two golden moments against the Bulls. Significantly, he did this when the heat was still on, not towards the end of the game when the Bulls fell away.
Two rapid fire touches by Collins set up the Blues' first try, then he accelerated into the line and smuggled a perfect pass to create another out of nothing for Matt Duffie, who read the situation perfectly.
Collins made it look easy. They were moments of sheer class, the sort that would interest an All Black coach. As with all fullbacks, Collins must prove he can handle the high ball and other defensive duties.
The All Blacks have a lot of fullback options...but also injury and concussion concerns.
It's the way Collins combines quick thought, feet and hands which is so exciting. The Melbourne Storm, brilliant league judges, showed a bit of interest in him when he was captain of the Otago Boys High School first XV.
He has played for New Zealand schools and under-20s. He can play a few positions and has had to fight for his career - he joined a Welsh club when the Super Rugby door wasn't opening.
By reputation, he's a good on-field communicator. Others I've talked to see him as "dependable" without enough x-factor to go higher, whereas I see a special spark.
But that's what picking bolters is all about in a way, going against the flow. Collins could be an end-of-year tour prospect. If not, then maybe Wales will come knocking.
■ Rookie rescue

On the other side of the coin, booming prospect Rieko Ioane is struggling to make an impact at centre. He had a fast start against the Rebels, but that was a false indication against weak opponents. If Tana Umaga can find a way, Ioane should return to the wing for now.
■ Commentator comment
For what it's worth...I've become a big fan of Jeff Wilson's rugby commentary. He's prepared to critique properly, makes timely observations, has little touches of humour, and manages to do it without rabbiting on to much. Still have a lot of concerns over Grant Nisbett's player identification though. Nisbo - get those glasses checked.