You ask Hugh Bowman how he mentally prepares himself to ride Winx and you have your pen ready.
That question would light up most jockeys like a December 24 Christmas tree and you'd be five minutes writing down the answer.
Bowman said just three words: "Keep it simple".
That pretty much summarises the laconic boy from the Australian bush who is as outback as the didgeridoo.
His first race ride was at a picnic meeting in his isolated New South Wales home town of Dunedoo - population 800 - around a ploughed paddock with no running rail.
There was a running rail at Randwick on Saturday for the A$600,000 Chipping Norton and a massive crowd despite atrociously wet conditions, but Bowman kept it simple.
Winx is the perfect match for Bowman. She is officially the world's best thoroughbred mare and the world's best of both sexes on turf, but she also keeps it simple.
She does nothing flashy - she just does it and does it better than anything on this planet.
If you didn't see the after-race television interview with Bowman following the mare's 15th straight victory you missed a classic personality-revealing bite.
In some ways Bowman is like our own best, Opie Bosson. Neither will die of a stress related disease.
Most of us could only guess at the mammoth pressure the rider of Winx would be under in the hot seat to protect her winning sequence in extremely difficult wet and heavy conditions.
Bowman revealed trainer Chris Waller approached him and asked if he thought Winx would be "okay" in the conditions. "That was early in the day and I said I thought she'd be fine." The track deteriorated with each race, but Waller did not repeat the question.
In his outback dry way Bowman said: "I was glad of that because I didn't want to be part of that decision [whether to late scratch or not]." Keep it simple, concentrate only on your own job.
The media was in a frenzy all day approaching the mare's late race, but Bowman said he was never concerned about the rain or the heavy footing. "It's a fair track, there is no bias. If your horse can handle the footing okay it will get its chance to win. It's only when there is a track bias or a wind bias, like we had in the Cox Plate in October, that I start to worry." Difficult to imagine Bowman and worry in the same sentence.
Long winning sequences are wonderful for the image of racing, but trainers and jockeys are not obliged to make that their main focus, that has to be elsewhere - the horse's well-being.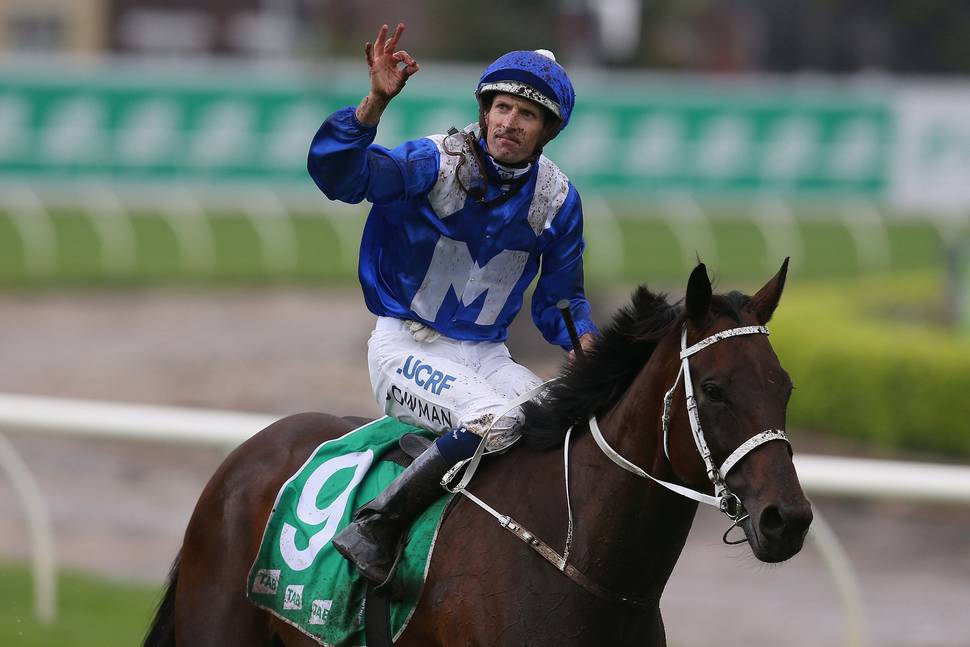 Glamour around the likes of Winx oils turnstyles, but it adds not one dollar to the pockets of the trainer or the jockey and Chris Waller's contemplation over late scratching was simply the safety of Winx.
Since he got over the crying with emotion after winning Sydney races a year or so back, Waller's after-race demeanour has been careful, measured and coming at ease from a beautifully dressed professional.
Perhaps understandably, given the tension and perhaps the weather too, Waller looked like he'd been hit by a truck in the after-Winx television interview. Asked why he had made the decision finally to allow Winx to run Waller said once he'd satisfied himself Winx would come out of the race safely and that the owners were happy to run, the decision came easily. "And, I didn't want to read tomorrow's newspaper if she didn't run."
Bowman allowed himself a smile after the race to go with his winning salute of presenting his right hand with the thumb and forefinger locked together.
Unlike every other high profile Australian jockey, Bowman refuses to adapt to the style of riding with the toes as the balancing point in the stirrup irons. Like all jockeys did decades back he pushes his foot through the irons and his balance is in the middle of the foot. It might look unorthodox these days, but when he was in England for a period of months in recent years more than one high profile trainer said they'd not seen a more balanced and talented trackwork rider up the heaths.
Do what you know and do what you do do well, as the song goes.
Keep it simple.
That's Hugh Bowman.