Like a lot of people, Conrad Colman needs an alarm to wake up. Few, though, have one that sounds like a car alarm and has a strobe light. And it goes off multiple times a day after only 20 minutes of sleep.
For the 33-year-old sailor it has been the price of competing in the Vendee Globe, a solo round-the-world yacht race, rated by many as the world's most demanding yacht race of all.
Of the 29 sailors who set off from Les Sables d'Olonne 97 days ago 11 had already withdrawn when I talked to Colman. (After we spoke Colman's own race took a potentially disastrous turn just 793 nautical miles from the finish when his 2005 generation IMOCA 60 boat Foresight Natural Energy dismasted in heavy seas yesterday, leaving his ability to finish in severe doubt.)
It had not been an easy race even before the latest mishap. Not only was he sleep-deprived - he snatches about five hours a day, 20 minutes at a time, after which he needs to check the weather or if he's about to collide with a cargo ship - but he had also had a fire on board and was down to his last set of sails after three others had broken beyond repair.
Earlier, his forestay - the cable that keeps the mast from falling backwards - had broken in 60-knot winds in the Southern Ocean. He feared it would see his rig come down.
"Despite all those crazy adventures, I'm happy to still be in the race," he said. "I thought for sure the rig was going to come down [when the forestay broke]. I was literally in the middle of nowhere and in the middle of a huge depression, meteorologically speaking, and I thought that if the rig came down then we would lose everything. That was a pretty dark moment.
"I had this massive 170 sq m flag on the top of the mast dragging the boat sideways. The boat was on its side, the rig was almost horizontal with the water, and we were being pulled sideways at 5-6 knots.
"I was working pretty hard to keep water out of the boat while sitting inside and waiting for the rig to come down. It was too dangerous to be on deck or try to do anything.
"Other sailors have made that mistake. Two guys in this class have had to be rescued and abandoned their boats at sea because they got hit by flattened sails.
"One guy broke his hip and another had quite a bad head injury.
"When things go wrong, one person is pretty quickly overwhelmed."
It's why many class Colman as insane. When he tries to sell his story to potential sponsors, particularly ones in New Zealand, they often use that description. They are also put off by the fact the race doesn't stop in this country.
It doesn't stop in any country, though, and is why it often struggles for recognition outside of France, where it starts and finishes.
Colman had dreams of a top-three finish but was always up against it with an older boat and shoe-string budget. His entire team consists of himself, his wife and one other on-shore crew member and his budget of 500,000 ($740,000) would pay for only two daggerboards for the latest boats. Many of Colman's competitors had $10-million budgets and up to 12 support staff. Eight of them have already finished.
"It's definitely a reflection of the Kiwi spirit," he said. "We don't really deserve to be there, given the means we have, but we are going to find a way to do it anyway."
He hopes his next campaign will see him among the leaders.
He already has meetings lined up with potential sponsors in Paris and London and is heading to New Zealand in a couple of months. He thinks it could be an event that attracts Kiwi sailors and companies, especially as the costs to compete in the America's Cup and Volvo Ocean Race skyrocket.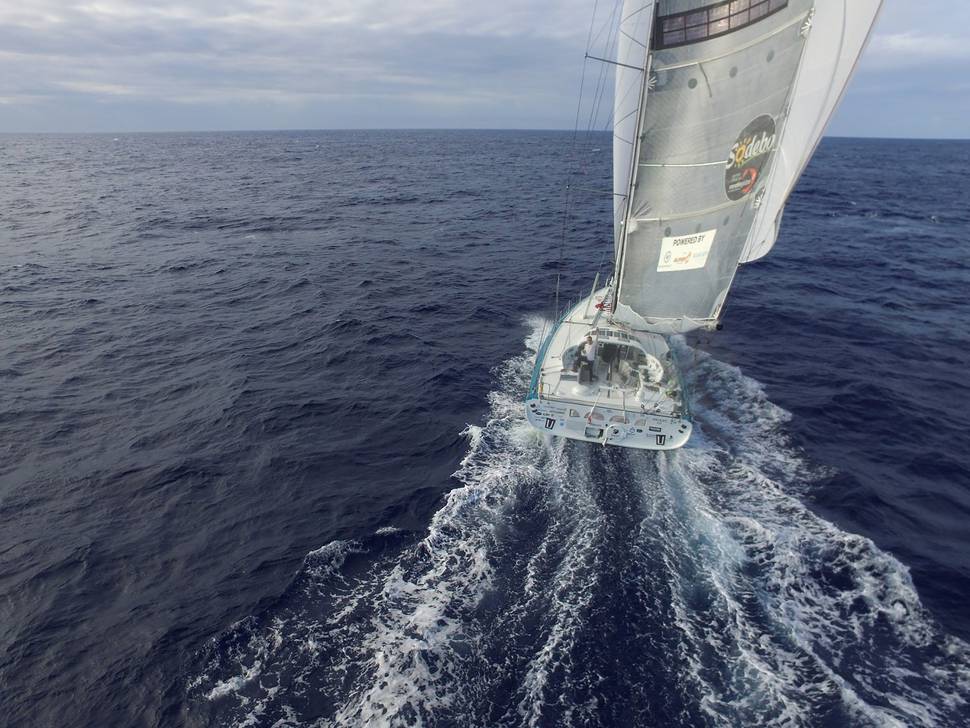 "I definitely want to come back. I haven't gone through all this suffering for nothing. I have had one of the hardest races in the fleet, I think.
"I feel like there's unfinished business here. I'm a competitive guy.
"I won my first race around the world and I know that if I have the resources, training and the boat I can put up a good fight and potentially aim for a podium or top spot next time around in four years. I have one of the oldest boats in the fleet. All the guys ahead of me have had multi-million dollar budgets so I'm kind of the first of the little guys."
Colman still thinks of himself as a Kiwi. He left New Zealand at 15 to move to the United States, looking for a "really big challenge".
Sailing had been a big part of his early life - he was essentially born at sea when his parents were cruising around the Pacific - and felt becoming a solo sailor was a good way to incorporate his skills as a sportsman (he was a competitive mountain biker), entrepreneur, marketer and mechanic.
"It kind of struck me that a solo sailor has to be all of these things at once," he explains. "I was really attracted to it, a lifestyle that is all or nothing. You have to be an expert in so many areas.
"It was a big, scary challenge that for me is one of the hardest sporting events in the world.
"From the beginning of this project in 2007, I have been chasing the hardest challenge I can possibly find. I don't think I'm insane, just obsessively motivated."
His first foray into solo sailing came in 2009 in the Mini Transat from France to Brazil and the following year he was the first New Zealander to start and finish the Route du Rhum from France to Guadeloupe.
In 2011-12, he won four of the five legs and overall honours in the Global Ocean Race and in 2014 competed in the two-handed Barcelona World Race.
It takes a special kind of individual to cope with the danger and isolation of being at sea on your own for extended periods - and there are plenty of instances of sailors not able to cope, often with catastrophic consequences - but it's something Colman enjoys.
"It's fun. It's nice to think about future plans and future races, family and what's important to me.
"It's nice to just observe.
"It's something so rare in our day-to-day life.
"It's all hustle and bustle. It's really rare just to sit and think, observe and watch the birds. It's a very zen-like existence.
"You have one job to do, which is to sail as fast as you possibly can.
"It's nice just to live a simple life. It's one of the reasons I keep coming back and this is my third race around the world."
He admits it's hard re-adjusting to life back on shore, especially the first hours when it's a whirlwind of media duties, sponsors, family, friends and interested bystanders. But he is looking forward to some of the simple things of life.
"A stable toilet that's not at risk of capsize will be an added bonus," he says.
And being able to sleep for more than 20 minutes at a time.