The Napier City Council and New Zealand Cricket are taking urgent action to set up an independent review of drainage and communication issues during the abandoned second Chappell-Hadlee one-day international at McLean Park.
The match was called off at 6.46pm, five hours after the last significant rain fell on the ground. In addition, there were limited updates for an increasingly disgruntled crowd, including a gap from 5.30pm to 6.20pm.
A re-lay of the surface looks inevitable as a catalyst for change.
Three out of the last eight ODIs have been abandoned at the Napier City Council-owned venue, dating back to December 2013.
No significant drainage has been done since the abandonment of the New Zealand-Pakistan match on January 28, 2016.
Napier mayor Bill Dalton said an independent expert will be on the park tomorrow, but was not expecting a major structural flaw with the drainage.
"We have a world class groundsman [Phil Stoyanoff] who has prepared this park for many years. We have a rich history of games in Napier and will do everything to make sure we have future games.
"It was only one small area of the park that was deemed not dry enough. I know people who walked over that area and couldn't see what the issue was. But I'm not an umpire, or a cricketer and can't make those calls."
WATCH: Bryan Waddle and Jeremy Coney inspect McLean Park and try to work out why today's ODI was abandoned

Dalton expected the review to be straight forward and the ODI against South Africa on March 1 to go ahead as planned.
"While we didn't have a huge amount of rain today, it was significant and steady right through the middle of the day, and we had not one ounce of sunshine or wind so there was no natural drying.
New Zealand Cricket chief operations officer Anthony Crummy said it was too early to speculate whether the next ODI would be moved.
"Our number one priority is making sure that game can go ahead without interruption.
"If it is something that is fundamentally wrong under the ground, then we need to make some decisions."
Crummy was asked about a lack of communication with the crowd.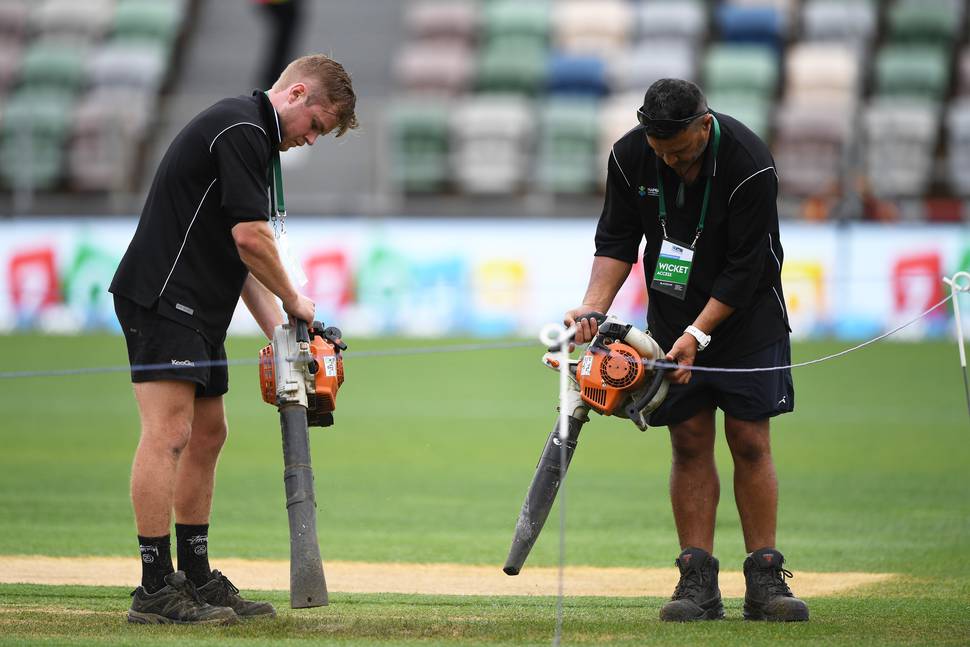 "That's a fair point. Could we do more and remind people about the process? We will look at that.
"Our priority is to get a game underway. We were giving it every chance to make sure the ground could be prepared. The match officials followed that process."
Crummy said the decision to delay the abandonment was not based on a commercial imperative to keep people in the ground investing in the hospitality.
He estimated about 6000-7000 tickets had been sold, and they had insurance arrangements to ensure NZC were not out of pocket.
There was a mixed reaction from patrons.
Merv Dallimore was celebrating his retirement from the New Zealand Wool Testing Authority in a hospitality tent on the boundary.
"It's not so bad, most people [in the tent] are here to celebrate my retirement, whereas the cricket became a secondary thing.
"We thought things were going to be half-an-hour to an hour away and then it kept extending.
"Most were peeved it was déjà vu more than anything."
Napier Boys' High School student Logan Brenton-Rule said it was "sad, but you can't control the weather".
"[The drainage] is going to have to change if they want big games to come to Napier. I was thinking it was going to get underway, that's why I stayed."