Eden Park was saved by the cricket.
It needed saving. It always does.
The Old Hag with a newish dress was up to her usual tricks - outrageously overpriced concessions, exclusive pourage rights and a paucity of healthy eating options - but even threw a new wrinkle into the mix: a 10 per cent holiday surchage.
This was gouging taken to a new level. Tui Golden Lager (which may be golden but it sure as hell isn't lager) went from an already laughable $9 to a pants-wetting $9.90.
Exclusive pourage is the bane of most New Zealand sports grounds but the really stupid thing is during the domestic T20 Fast-Food Super Smash, which was hosted on the Outer Oval, patrons could wander into the old members' stand and choose from a range of alcoholic beverages.
How terribly adult.
Inside the main stadium everything changes: you're treated not just like a child but an unexploded landmine. You're not a spectator, you're potential trouble.
Get a grip. At a guess about 96.7 per cent of us go to watch the cricket, to use the time to chat to mates and tell a few tales. It'd be nice to be able to send one bloke up to queue for a beer at a time, leaving the rest to watch the game. That's impossible when by early afternoon, the pour limit is two per customer.
Eden Park's draconian licensing rules (which, to be fair to management, are set by an outside licensing board) are a one-size-fits-all that caters for the 3.3 per cent of idiots.
Furthermore, you know who these idiots are going to be early in the day, so here's an idea: why don't you identify them and police them, trusting the rest of us to hydrate appropriately, apply sunscreen when necessary and generally go about living life capably, as we've managed for the most part these 30- 40- 50-odd years.
And yet ... what a game. Just another in an extraordinary run of amazing matches at the reconfigured (disfigured?) park.
There was, in 2013, the first test back at the ground for seven years that saw Peter Fulton score twin tons and England's last pair of Monty Panesar and Matt Prior clinging on for a draw.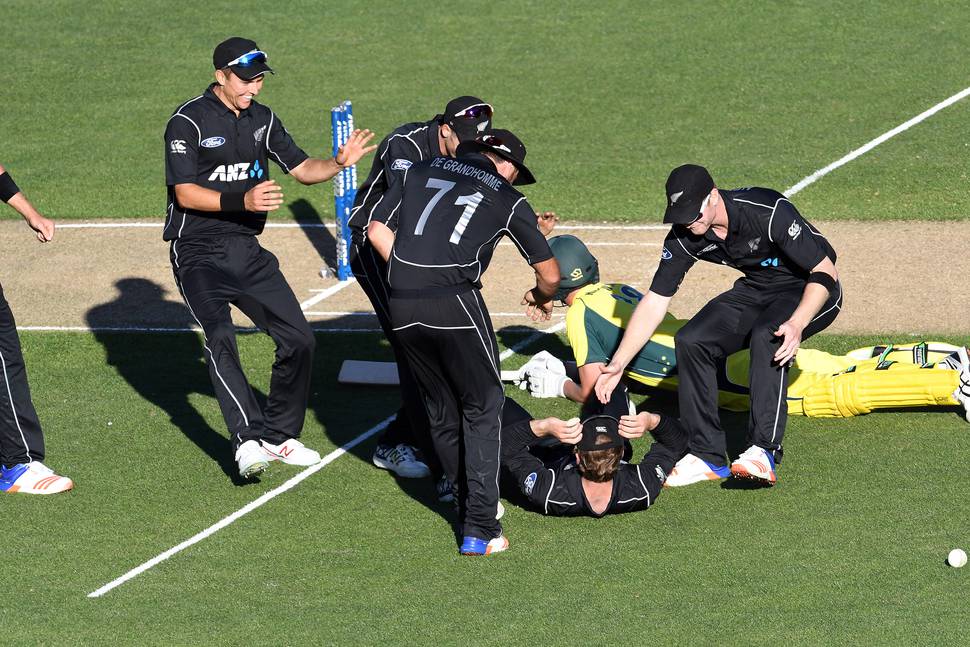 A year later New Zealand wouldn't be denied against India, with Neil Wagner's 4-62 the inspiration as India came within 40 runs of chasing down a big fourth innings target.
In the ODI format it's been even more remarkable.
In 2014, India went from 79-4 to needing 18 off the final over to overhaul New Zealand's 314. Ravi Jadeja smashed Corey Anderson to the point where he needed two of the final ball but could only manage the single and a rare tie.
There was the two famous games at the World Cup. First, New Zealand butchered a regulation chase of 152 and needed Kane Williamson to hit Australia's Pat Cummins for six with No 11 Trent Boult standing nervously at the other end.
Even more dramatically in the semifinal, Grant Elliott hit THAT six off Dale Steyn.
Then there were yesterday's mind-warping scenes where Marcus Stoinis played one of the all-timers, New Zealand melted in the evening sun, but still fell over the line by six runs.
Eden Park, with its silly boundaries and its ridiculous rules, has hosted most of New Zealand cricket's greatest modern moments. It really doesn't deserve to.
Go figure.