Settling on the hardest five batsmen I've bowled to wasn't easy. In the end, I whittled it down to seven.
The two most unlucky to miss out are Australian opener David Warner and recently-retired Indian Virendar Sehwag. Warner is just a tough guy to bowl to, very aggressive, always after you. Get things just a bit wrong and he'll be all over you.
Sehwag had the ability to hit your first ball in a test for six. He hit me for six at the Basin Reserve in a test in my second over, over point. Not many batsmen around the world will do that. In Christchurch one day, he hit my fourth, fifth and six balls of a T20 into the stands.
In this five, there's not much difference between Nos 2 to 5, but No 1 stands a clear first in my book.
Part of my research ahead of an international series is done with my fellow bowlers.
Ideas on how to approach particular batsmen are tossed about. We have scouting meetings, where we get available footage, and meet with the bowling coach and computer analyst.
I'm one for drawing fields and generally playing around with ideas, trying to think of ways to get the better of a batsman, especially in one-day cricket where there is room to try something a bit different.
I prefer to bowl to right-handers. My bowling is modelled around bowing outswing to right-hand batsmen. I feel more dangerous than having to go across left-handers and bring it back in. It's a subtle change in alignment.
I've been lucky to have Trent Boult bowling at the other end to me for so much of my career. Not only do we bounce ideas off each other, and have a friendly competitive rivalry, but he's also a top class bowler, who I'm sure has helped me get some wickets with the pressure he can exert on batsmen from the other end, and I like to think I've helped him out at times.
Here, I've gone for players who have made a big impression on me.
5
Kevin Pietersen (England)
Pietersen's cricket was all about his presence. He's a big man and he could bring a very different demeanour to the crease than, say, Sachin Tendulkar.
In my first test in Napier in 2008, Pietersen scored a century to get England out of a jam. He was a totally destructive batsman - he still can be in his T20 stops around the world - and used his height to his advantage.
Not only did you need to alter your length because of his reach but Pietersen also used it as a psychological weapon. He hit the ball extremely hard and if you dropped it short, he'd meet it on the front foot and pull you away through the onside. It made you feel you were only bowling at 110km/h.
The other key point about Pietersen is that he's an ego player. It's not that he necessarily wants to disrespect you, but that's how it can come across.
When he's in form, he is hard to stop, but when he's struggling, he's a different man to bowl to.
Nevertheless when he was on, he was nice to watch and he could dominate any bowler on his day. His record - second-most runs for England across all forms behind only Alastair Cook - speaks for itself.
4
Virat Kohli (India)
A special talent with whom I've had battles going back to our days in our respective under-19 national teams. I've had a little bit of success against him but in recent times - and particularly in India - he's become a lot harder to bowl to.
As long as Kohli is at the crease, India believe they can run down any score in a one-day match. He's another player who can score at a quick rate, he plays good cricket shots and hits gaps, especially through the middle stages of an ODI.
I would certainly prefer to bowl to him in New Zealand than India. He's a great player overseas but he's phenomenal in India, as his record, and his Indian Premier League performances indicate.
He does give the bowler a chance, especially if the ball is swinging. If you don't get him early, he makes you pay.
3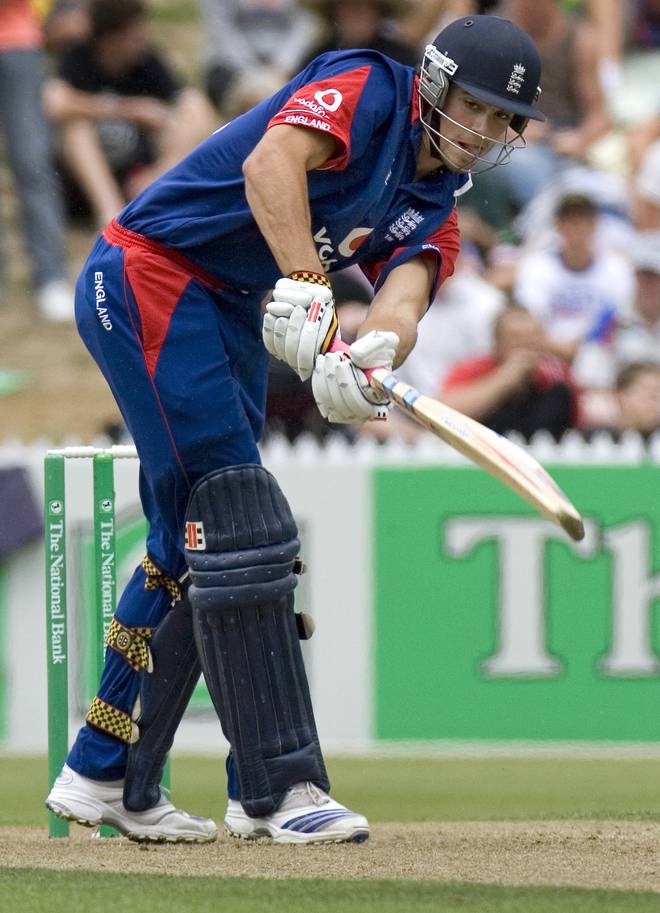 Alastair Cook (England)
Alastair Cook presented a different type of challenge for bowlers.
Where the other four could destroy a bowler in quick time, the England opener was more methodical in his approach, but no less effective for that.
I've had plenty of success against him in one-day cricket, getting him out four times in five matches but am yet to dismiss him in a test.
A left hander, Cook personifies patience. He hasn't played an ODI for two years. He's more suited to the five-day game.
I've always felt you had more chance of getting him out in one-day cricket, when he'd have to come to me. You can't simply sit on your bat in that format.
But in test cricket, in situations where he's not having to get on with it, or runs aren't necessarily the imperative, you can find he doesn't look like he's going to get out.
In tests, he makes you come to him. He'll wait an age if you're trying to tempt him outside his off stump.
He'll go leave, leave, leave, you come a fraction straighter and bang, it's gone for four and you have to start again.
His game is overflowing with a range of shots but he possesses immense powers of concentration. He has a great leave, plays the short ball very well, flicks off his pads and cuts - and that's as simple as his game is. I reckon Cook could bat for five days if he had to.
2
Sachin Tendulkar (India)
The first time I played against him, he'd played international cricket longer than I'd been alive. I was 20 and he'd played just as long. That was the first thing I had to get my head around.
The number of runs he scored, playing test cricket as a 16-year-old, dominating for such a long period, scoring runs in all conditions and all formats - amazing.
Tendulkar could sneak up on you. You'd look at the board and he's on 40 off 35 balls and you'd think "how did he get there that quickly" when he hadn't played a shot in anger.
He is a small man, and so bowling lengths are different compared with a taller batsman. Among his great skills was the ability to manipulate the field. He would hit balls a metre to one side of a fielder at, say, cover. You'd move the fielder a touch and he'd hit it a metre the other side.
There are certain batsmen you get out and figure that's a wicket to really cherish, a guy who is arguably the greatest batsman to have played the game. One day in Christchurch, Tendulkar hit 163 off only 133 balls, and retired in the 45th over with a leg injury. He absolutely destroyed us, but in a way, it was a day to savour: we both got centuries that day. Mine was 105, taken off my 10 overs. Sometimes you have to just suck it up and move on.
The number of people who would come into the ground when Sachin was batting, and the amount who'd leave when he was out, showed his standing in Indian cricket. That pressure didn't seem to affect him. Just look at his record.
1
AB de Villiers (South Africa)
The undisputed No 1 in my book.
I first came across him in the 2011 World Cup quarter-final when we beat South Africa by 49 runs. He was run out in a mix-up with Faf du Plessis, which helped our cause.
I find bowling at someone like him is exciting. You are testing yourself against a bloke who, at will, can hit you 360 degrees, whether in a one-dayer or a test.
He has the ability to pick a spot and hit you there.You can run in and execute what you meant to do and he'll hit you into areas you've never been hit before.
He's a freak, one of a kind.
De Villiers can tailor his game to suit the occasion. In a test, he can bat a long period of time and play the innings of a purist, but equally he can come in and take a game away from you in a session, if he has to.
When you bowl at him, it can become a bit of a cat-and-mouse situation. I don't know his mindset, but it's almost as if he's trying to guess what you're going to bowl.
If you bowl a bouncer, he's probably thinking the next ball is going to be a length ball, or full. If it's the end of the innings, he's going to run at you. So you're more likely to think of bowling in twos - bouncer, bouncer.
But in T20s, you can't bowl the same ball twice to him. You might get away with it - once.
He's got such a good eye. He picks up on length, line and pace very quickly. There's zero margin for error. He's enormously skilful and entertaining.