The Tour de France had a reputation for oddities long before Chris Froome's "running man" dash to the finish of the latest stage in the famed cycling race.
Here's 10 oddities associated with the Tour.
1) American Greg LeMond won the Tour De France in 1989 with 35 shotgun pellets embedded in his dody. The pellets were the result of a "hunting accident" two years before.
2) Kiwi cyclist Julian Dean can top that though. In the 2009 event, he was shot with lead pellets fired from a spectator with a gun. Dean still raced the next stage. That incident makes BMC Racing's Amael Moinard getting a bee sting in his mouth in the 2011 event look lightweight.
3) Italian rider Mario Cipollini taped a naked picture of American starlet Pamela Anderson to his handlebars for inspiration in the 1999 event. He won four straight stages.
4) In the 1920s riders would often share cigarettes while riding. They believed it helped "open the lungs" before the big climbs.
In a complete embarrassment for Tour de France organisers, leader Chris Froome had to ditch his bike and run following a crash.
5)
The first winner of the Tour de France was Maurice Garin. He won again in 1904 but was disqualified for cheating after he was caught taking a train to victory in the Alps.
6) Until the 1960s it was common for riders to drink alcohol during the race to numb pain. It was soon banned as alcohol was considered a stimulant. In 1910 Adolphe Helière managed to drown after crashing into a ravine. It was during one of the rest days apparently. We're not sure whether he was drinking at the time...
7) The winner of the 1947 Tour de France, Jean Robic, was known for taking water bottles filled with lead at the top of climbs to descend faster.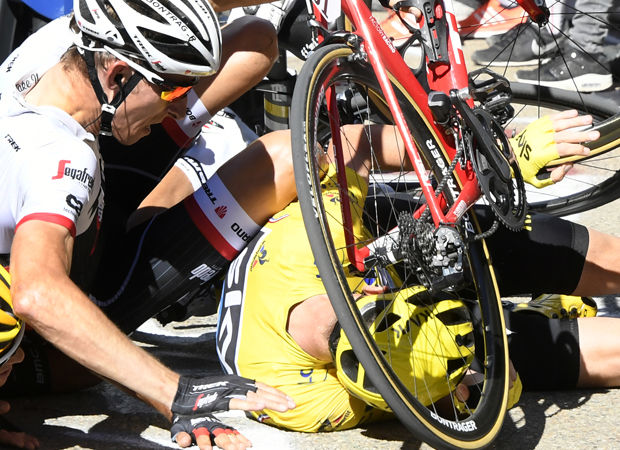 Britain's Chris Froome, wearing the overall leader's yellow jersey, right, lies at the bottom of a crash. Photo / AP
8) Riders burn an average of 124,000 calories over the duration of the tour. That's the equivalent of 252 McDonalds double cheeseburgers.
9) Over the course of the event, a rider will sweat enough to flush a toilet 39 times.
10) On Tour rest days, the cyclists still ride at least two hours of the day to flush out lactic acid.
11) The peleton uses 790 tyres over the duration of the race.