Violence has flared up again in Marseille for the second night in a row as English, Russian and French hooligans battle each other and riot police.
England fans who had been drinking for most of the day at the Queen Victoria pub in the Old Port district, threw bottles at French officers, who then used tear gas to disperse them. The police, who wore full riot gear, were seen marching towards the hundreds of supporters who ran away down the street.
Later Russian fans joined the brawl, with drunken youths goading each other into fist fights. Witnesses said anyone who fell to the floor was kicked repeatedly. Police responded with baton charges and stun grenades.
Hours after the initial fighting exploded outside bars, restaurants and a tourists' market, the front of a cafe was seen engulfed in flames as fans threw missiles at each other and fought.
It is not known how the blaze was started but supporters appeared unfazed by the fire as they continued to hurl objects at their opponents.
The fire is one of the most shocking sights of today's and yesterday night's clashes, which have seen arrests of English supporters, property damage and a fan dumped into the sea by a French gang.
Hooligans kicked the Englishman, wearing an orange T-shirt, on the floor before throwing him over the harbour wall and into the sea.
The fan, sporting a black eye, was later seen swimming to shore.
It is believed the same English fan was captured fighting Russian thugs at other parts of the city, including outside a coach and under a covered square where he was kicked in the face.
An eyewitness told MailOnline: 'The groups of fans were chasing each other backwards and forwards.
"An English went too far ahead and was cornered. He was punched to the ground and they were kicking him. Then they threw him in the water.
"He was helped out by an Algerian family who had set up their market stall.
"He was wearing a red football shirt and he ran back to the English."
Reports say that Russian fans sparked a fight by throwing chairs and bottles at a group if England supporters.
As rival gangs threw punches riot police responded with a baton charge. The Russia fans chanted "Rossiya" as they were chased by police.
One England fan said: "A group of Russian lads came out of the metro with their fists flying. And the England boys fought back."
French youths were later seen launching "guerrilla attacks" on England fans who had taken over a high-profile restaurant in the area.
A witness told the MailOnline: "The England fans were acting very arrogantly in the Entrecote [restaurant]. Some local boys did not like this. This was not right, it was real arrogance.
"So they got close and attacked when they could. The French were clever. It was like guerrilla warfare.
"But the police stopped this before the fighting became bad. They fired tear gas and the fighting stopped."
Frightened families with children were seen fleeing in terror as the brawling erupted by a tourist market and traffic was brought to a standstill as the hooligans darted between cars and buses as the battles raged.
Locals looked on in disbelief as the violence took over.
A barman told MailOnline: "There's fighting everywhere. The English, the Russians are punching and kicking each other."
French supporters looked on in incomprehension as England fans sang the national anthem and kicked beer bottles along the street.
Oliver, 28, a pastry chef from Quimper, Brittany, asked: "What are they doing?
"This Is not football, this is madness. We have come for the football, they seem to have come for the fighting."
There are also reports that English fans have clashed with each other after an afternoon of drinking as people pass the time before England's opening match against Russia tomorrow afternoon.
A six-strong unit of Belgian shepherd dogs were dressed in protective socks against the broken glass. And they wore heavy leather muzzles which are removed when they are deployed.
Following the skirmishes, which started at around 6.20pm French time, the fans continued to sing about the IRA, German bombers being shot down and the national anthem.
Bottles were thrown as the police formed a new line and watched on from about 50m away. A crowd of locals came to watch and continued to grow until the bottles were turned on to them.
A French woman wearing a pink dress and holding her nation's tricolore flag was also arrested after she threw bottles at the crowd of drunk English fans.
It is believed the woman reacted violently after supporters tried to yank her flag out of her hands. She was later seen being taken away by riot officers.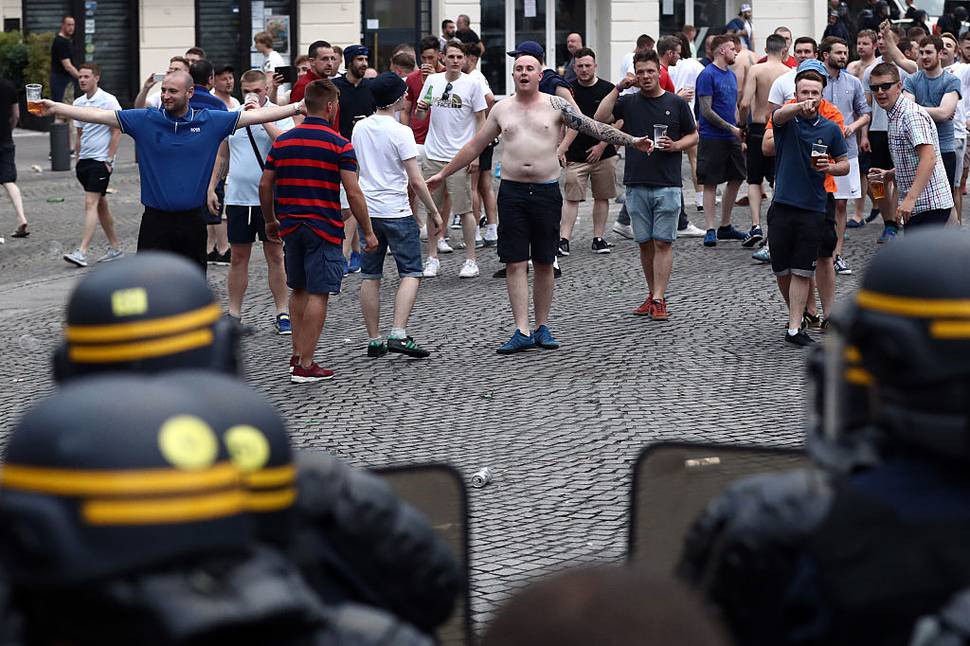 Police continued to charge at fans in attempts to scatter them.
A number of arrests were made during the clashes, and a man wearing what appeared to be an England shirt was seen being led away by police.
Violence is breaking out at different locations across the city with police sealing off the eastern side of the old port, echoing the brutal scenes from the France '98 World Cup in which English fans clashed with local hooligans, again in Marseille, after England's group victory against Tunisia.
England fans have blamed the heavy-handed tactics of the police for fuelling violence in Marseille last night - when supporters clashed with local football hooligans.
Clashes erupted shortly after midnight in the French city's Old Port area where hundreds of travelling supporters had spent Thursday drinking.
Huge flags of St George bearing club logos were strung up outside the English-themed Queen Victoria pub where the rioting had broken out the night before.
However supporters tried to pass on responsibility for the unsavoury scenes - almost 20 years since the "Battle of Marseille", where England fans fought with Tunisia supporters nearly 20 years ago.
Speaking to MailOnline George, 24, from north London, said: "It wasn't us who started it. Yes we were singing and chanting but it wasn't until the police waded in that it went off.
"It's fair to say that most of us had quite a bit to drink but we were only having a laugh.
"But really what did the police expect after they set dogs on us and [tear] gassed us?'
Assistant Chief Constable Mark Roberts, who is leading British police's liaison effort, said: "England supporters had been in Marseille yesterday without issue.
"At around midnight, there was a short confrontation where a group of approximately 70 local youths approached a pub where England fans had congregated.
"This was quickly dealt with by French police and one English supporter was arrested. We are aware of no further incidents overnight."
He said English police officers would be helping their French colleagues to identify supporters who misbehave and they would be served with banning orders on their return to the UK.
"Other fans criticised the championship organisers for their failure to erect a big screen in the centre of Marseille. The city's only "fan zone" is at the Prado beach on the outskirts of the city.
Josh, 26, said: "We've spent a lot of money to get here. The least they could do is to put up a big screen in town. We're going to watch tonight's match in the pub."
Thousands of England supporters are expected in Marseille ahead of England's first fixture against Russia tomorrow night.
The Queen Victoria pub and two Irish pubs have set up beer pumps outside in anticipation of huge numbers.
Meanwhile French CRS riot police are maintaining a heavy presence around the Marseille old port - the historic centre of the city - where the England fans have congregated.
Last night local French youths clashed with England supporters, some of whom chanted: "Isis, where are you?"
Marseille is a port city with a strong Islamic community and Muslims make up around a third of the population.
Two England fans were arrested, one for assaulting a barman and the other for violent disorder.
"They were baiting us, and then attacked," said one fan from Leeds, who asked to be named only as Simon.
"None of the England fans were doing anything wrong - a few of us had a bit much to drink, but that was all.
"Suddenly a French gang appeared and started attacking us, and throwing stuff. We had to defend ourselves, and then the police showed up."
Others spoke of their fear as they were targeted by youths brandishing makeshift weapons, and shouting "Get the English".
Chris Lord, another England fan, from London, said: "This was a really nasty attack. The gang knew exactly where we were, and clearly wanted to hurt us."
Kevin Miles, chief executive of the Football Supporters' Federation, which runs the fans' embassy in Marseille, said he believed the locals turned up with the intention of provoking the English supporters.
But there were some suggestions the violence erupted when a man - who appeared to be a Muslim - was verbally abused by England fans as he walked past a bar.
French ultras are then thought to have attacked the fans.
Groups of supporters were then seen running in different directions, as restaurants and bars in the area quickly shut doors and pulled down shutters.
At least one England fan could be seen lying in a pool of blood, having been attacked with a wooden chair.
Police first responded to the violence at around 11.45pm and by midnight ambulances were arriving.
As well as riot police, undercover officers brandishing stun guns and truncheons picked off anybody behaving badly.
It was all a grim replay of the violence in 1998 which happened before and after England's 1998 World Cup tie with Tunisia in Marseille. Some of those who had been involved in the 1998 clashes were drinking in the area again.
Francois Hollande, the French President, said a 90,000-strong security force, including soldiers, would ensure the matches being played in 10 cities will be safe.
The England team are due to arrive in Marseille today, and will stay in a city hotel before Saturday's game.
Around 70,000 England fans - many without tickets - are expected to arrive in the city over the weekend. They will have to watch matches indoors or in heavily guarded official fan zones.
Bars and bistros in France have been banned from screening matches on large outdoor televisions amid fears of a terrorist attack on fans.
The Marseille authorities are also prohibiting swimming on the city's beach during screenings of matches.