The Great Escape
is an apt title for Lou Vincent's book about match-fixing as he should have been prosecuted for the crimes he committed in cricket, a court has heard.
Summing up the defence case to the jury as the trial enters its seventh week, Orlando Pownall QC said Vincent formed the central foundation of the Crown case and set about undermining his credibility.
The Queen's Counsel representing Chris Cairns said Vincent was not a victim but a "devious and sly" liar who had devised a strategy to minimise his own involvement.
READ MORE:
• Chris Cairns trial: The attack ... and the defence
• 'Arrogance' made him believe he was untouchable - Crown
• Rod Marsh refused to sign bat carrying Cairns' autograph
Vincent has denied writing a book but Mr Pownall said a "work of fiction" would undoubtedly be published, which should be titled The Great Escape rather than The Truth, the Whole Truth and Nothing but the Truth.
The former New Zealand batsman, who alleged he fixed matches at the Chandigarh Lions under the instructions of Cairns, admitted telling lies to cricket authorities on countless occasions, Mr Pownall said.
He said Vincent also lied to the jury from the moment he stepped into the witness stand.
This was because Justice Nigel Sweeney, on information available at the time, warned Vincent he did not have to answer questions which might incriminate himself.
This formal caution, said Mr Pownall, might have strengthened Vincent's credibility as the jury might have thought there was a "real possibility he could walk out of here and be placed in handcuffs".
The reality was the warning was a "sham", said the QC, because Vincent knew there was no risk of being prosecuted.
Emails that emerged after Vincent gave evidence showed the police gave him assurances he would not be investigated as long as no new information "came to light".
This was despite Vincent admitting receiving 120,000 pounds from match-fixers which broke a number of money laundering and fraud laws in the United Kingdom.
These assurances were at odds with the Crown's suggestion there was "nothing in it" for Vincent to give evidence, said Mr Pownall, because he received 11 life bans from cricket - at the end of this career.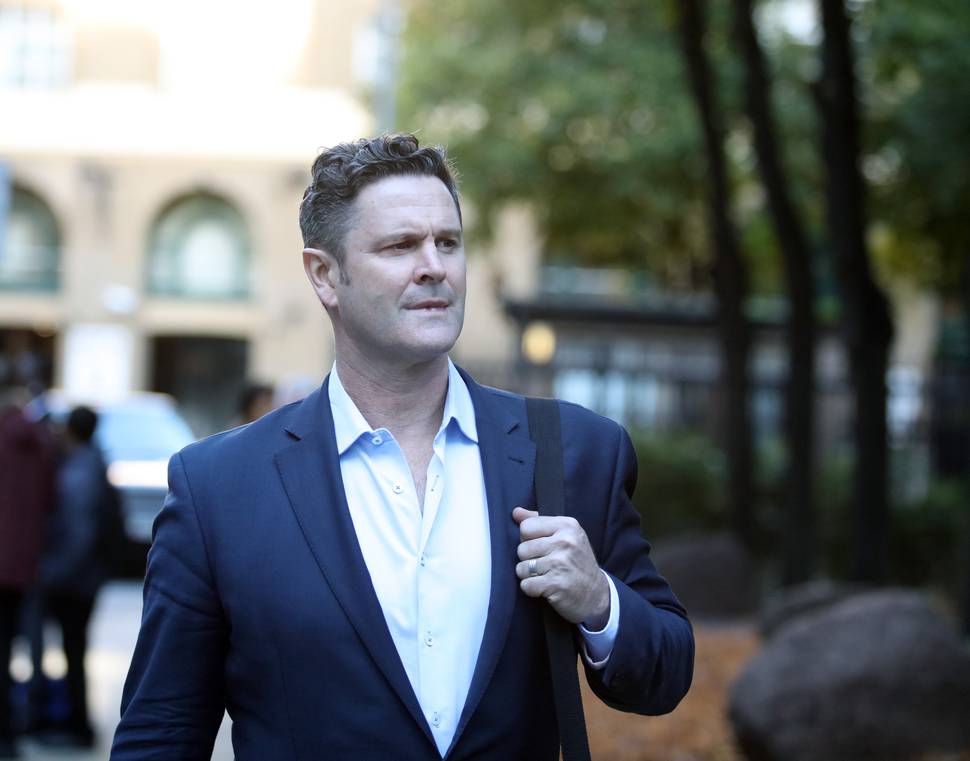 The true position was the Crown Prosecution Service was concerned about whether Vincent should be arrested or interviewed under caution, said Mr Pownall.
Other emails showed the CPS questioned whether Vincent was trying to diminish his role as he seemed to be a "major player" and asked whether he was "rushing to the door to get in first".
A later email chain showed the CPS changed its position and it would be "down to the jury whom they would believe".
"Is this unusual, where people who commit crimes escape punishment?" asked Mr Pownall.
The QC pointed out that Ellie Riley, Vincent's former wife, gave evidence that Vincent would offer up a "big name" to help him with the authorities. In an interview with Radiosport host Tony Veitch, Vincent said he had "spent the last 12 months trying to stay out of prison".
Giving up a big name was part of his strategy, or "insurance policy", should he ever be caught.
"He's been successful. Never arrested, cautioned, charged, or had to pay back a penny piece," said Mr Pownall.
Vincent was still in touch with Lalit Modi, whom Cairns successfully took a libel case against, in the hope of favours from the extremely wealthy businessman, said Mr Pownall.
"Whatever happens in this case there will be further rumblings in the High Court between Modi and Cairns."
The Queen's Counsel warned the jury about the power of words and how they could be represented.
One example was the Crown stating that Andre Adams, the former New Zealand cricketer, heard Cairns openly "boasting" of match-fixing in the Indian Cricket League.
"If that had been said, that would be a telling piece of evidence. An admission. Mr Adams never said that. The word boasting never passed his lips," said Mr Pownall.
"He told you Chris Cairns said even if there is match-fixing, what does it matter, what are they going to do, how will they ever prove it."
Mr Pownall also criticised investigators from the International Cricket Council for viewing Cairns with an "assumption of guilt", or confirmation bias, which "perniciously" infected the evidence.
This is where evidence which confirms guilt is "embraced vigorously", but anything that doesn't is largely ignored.
He pointed to the statement of an umpire about Cairns' final game in the ICL, between the Chandigarh Lions and Hyderabad Heroes, before he was dismissed on October 28 2008.
The unnamed umpire, who was due to be a witness in the trial but was not called, said Cairns bowled terribly, was stumped after rushing up the pitch, and Dinesh Mongia offered up a "silly catch", said Mr Pownall.
The reality was Cairns did not bowl, because of his ankle injury, and was not stumped in the entire third edition of the ICL while Mongia was the top run scorer in that particular match, said Mr Pownall.
The umpire was not lying, said the QC, but is an illustration of "confirmation bias" where evidence is embraced without scrutiny.
"A mistake has been made. A telling one. What he saw, never happened."