Yeti Yarns - Paul Charman takes a Skoda Yeti in search of interesting people and places out of town
An Auckland father was worried about his son's downhill slide morally.
Apparently the boy was interested in nothing these days but hanging round the mall and skateboarding.
I heard of the allegedly troubled young teen from a Port Fitzroy resident, a man who recommended that - despite the cost - the dad send his wayward son to Hillary Outdoors, located at nearby Karaka Bay.
"The lad's obsession with skateboarding and hanging round malls changed almost overnight. He came back from camp motivated to achieve - stopped loafing and started playing rugby and rowing," said the Barrier identity I met on the Sealink vehicle ferry.
I was skeptical.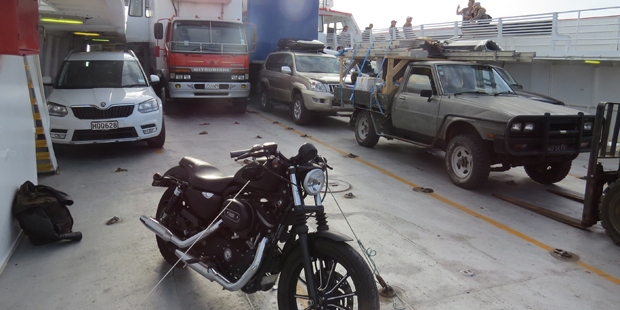 Onboard the Sealink vehicle Ferry I heard how Hillary Outdoors helped to turn a wayward young teen's life around.
Kiwis seem to share a rather naive expectation that outdoor adventures inform young character and hasten coming of age.
Since "Man Alone" in the early 1930s, or maybe even before that, the accepted narrative has been that youngsters who hike through bush, eat camp meals and sleep rough, are more likely to overcome obstacles in later life.
You're supposed to disappear into the wilderness and come back the better for your struggles.
And, though they wouldn't dream of putting themselves through such hardship, parents want to believe breathing the fresh air and going hard all day will, will somehow "straighten the kids out".
It sounds optimistic, romantic and idealist, but - after witnessing the Get2Go event, run at Hillary Outdoors - well, I think there's actually something to it.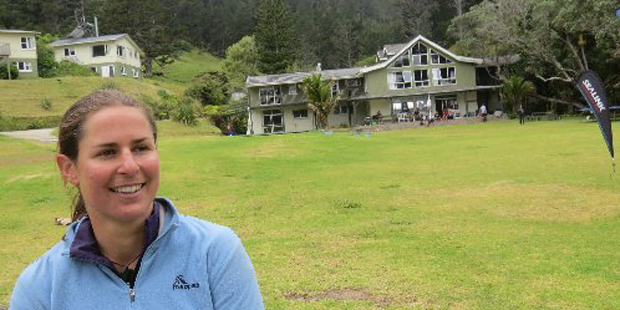 The new centre manager for Hillary Outdoors Great Barrier Island, Gemma Parkin.
Sure, not every kid will be transformed into a highly motivated goal-setter, like the lad I heard about during my voyage, but it's clear that Hillary Outdoors has a hugely positive influence among the young.
After two days tagging along at the Get2Go Camp felt like witnessing torture, have to say I've never met so many bright, positive and switched-on 13 and 14-year-olds.
The clear eyes, smiles, commitment to winning and almost swaggering self-confidence said it all.
Get2Go resembled a seedbed for tomorrow's elite athletes; maybe - I wondered - the coming crop of doctors, lawyers and CEOs as well.
It's a hard-fought week-long competition, involving Year 9 and 10s from the length and breadth of the country, and it's said to be even tougher than the notoriously difficult Maadi Secondary Schools Rowing Regatta.
This event takes grit to put in the long days of running, paddling, quick thinking to unravel the puzzles concocted by the canny staff at Hillary Outdoors.
Twelve eight-member teams contest the week-long finale, held in the rugged country at the north of the island, and its team work all the way.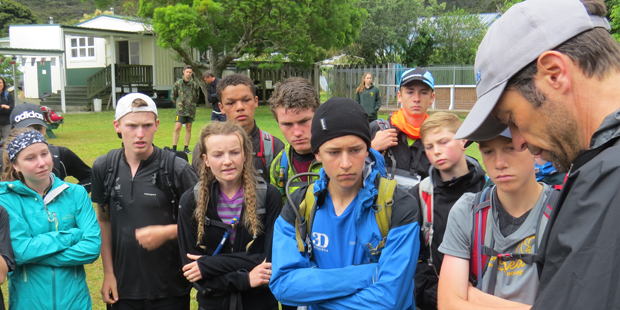 Hillary Outdoors events manager Darren Ashmore briefs tired Get2Go participants at OKiwi School.
One kid will be good at running, another able to lash kayaks together to make a raft, another might figure out the "challenges" (collecting sea water in a leaky container, piling-up stones, or covering a numbered board with pebbles, plus myriad additional posers for tired minds and tortured bodies).
You need compassion for slower team members and the ability to encourage others.
Groups of "individual stars", who refuse to look out for one another are likely to lose, I was told.
Each day provides an exhausting taste of rogaine (adventure racing like orienteering), with bush navigation, kayaking, rock climbing, problem solving and many hours of running, walking and scrambling up and down hills.
But the struggles actually begin well before youngsters set foot on the Barrier.
Get2Go participants fight to gain a place in the big finale event, beating out teams from other schools in their region first. Most also do weeks of fund raising as well.
I hooked up with them at Okiwi school, just as the Hillary Outdoors events manager, Darren Ashmore, was addressing the teams for the day.
They were given maps, notified of hazards, given tips of gathering points from checkpoints. And which checkpoints are most worth visiting is left to the kids to calculate.
I noticed yawns among those gathered.
The previous night they'd camped out at the school, supervised by Hillary Outdoors staff, but in some cases getting little sleep.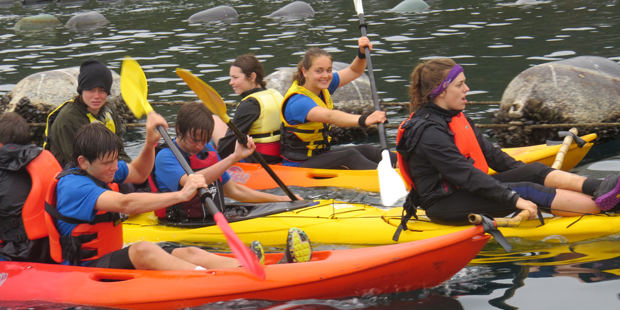 Students try out kayaks they've just lashed together. It was to be a long paddle to the hot dinner awaiting at Orama Oasis, Karaka Bay.
You seldom see such intensity - determination to glean anything which could help the team win.
Then they were off, a sprint that slowed to a trot through a huge DOC farm and across the mountainous spine of the island, working through hilly checkpoints back towards Port Fitzroy.
I followed in the car, driving up a metal road to a high trig station which I knew they'd have to visit on the way.
Sure enough, teams emerged from the bush one by one, their chatter becoming clearer as they neared.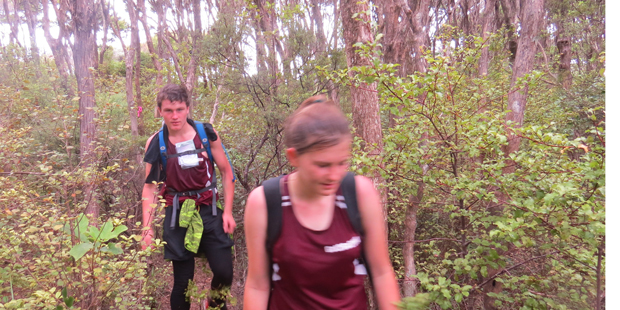 Get2Go participants during the long slog through the bush between OKiwi and Port Fitzroy.
Each kid visited my vantage point then scampered off to the Glenfern Sanctuary, where the next job was building rafts for the paddle round the coast and back to Hillary Outdoors.
It made me tired watching, and merely one of five similarly action-packed days.
Later I caught up with Darren over a meal of lasagne and salad, provided by Orama Oasis which hosts Hillary Outdoors.
Orama is a massive Christian camp and retreat centre, which has been on the Barrier since the early sixties.
It provides Hillary's accommodation and food, though it does not have input into Hillary programmes.
Darren had been a teacher, with many years in outdoor education, who'd competed in elite orienteering events around the world before taking this job.
"Outdoor education is an important job, though traditionally not very well paid. You must have passion for it. But we believe in what we do here," he said.
Aged up to 18 years, about 4000 college students a year learn and grow at Hillary Outdoors Centres on the Barrier and at Tongariro.
Not all the courses at are like Get2Go; there's a wide variety of them, ranging from five days to five weeks.
The participants give up their phones and tablets for the duration of these events. And as well as outdoor activities, some of these courses comprise study and lifeskills training.
"These experiences provide long-term benefits, instilling - among other virtues - team work, care for the environment and love of the outdoors."
* The 2014 Get2Go was won by Trident High School, Whakatane, which has lifted the trophy twice before. Stalwart contender Waimea College was second. And in a Get2Go upset, some first-time contestants from New Plymouth - the composite team from Francis Douglas and Sacred Heart Colleges - raised eyebrows by taking third.
Paul Charman's trip to Great Barrier was sponsored by Sealink and Skoda New Zealand.