A fortnight ago, Jack Bauer's near-miss seemed like a tragedy. Today, it felt like a triumph.
The Kiwi cyclist drew to a close his country's involvement in the Commonwealth Games this morning (NZT), winning silver in the men's road race to leave New Zealand's final medal tally at 45.
Bauer came into the Glasgow Games with memories still painfully fresh of his agony on the Tour de France last month, when he was within seven pedal revolutions of becoming the first Kiwi to win an individual stage on the grandest of tours.
Nothing could completely repair that type of heartbreak but, in his efforts at the penultimate event of these Games, with weather so miserable planes had to be diverted from Glasgow Airport, Bauer found his silver lining.
The 29-year-old produced a spectacular performance on the 168km epic in and around the centre city, launching the initial break that resulted in a guaranteed medal with as many as two laps remaining.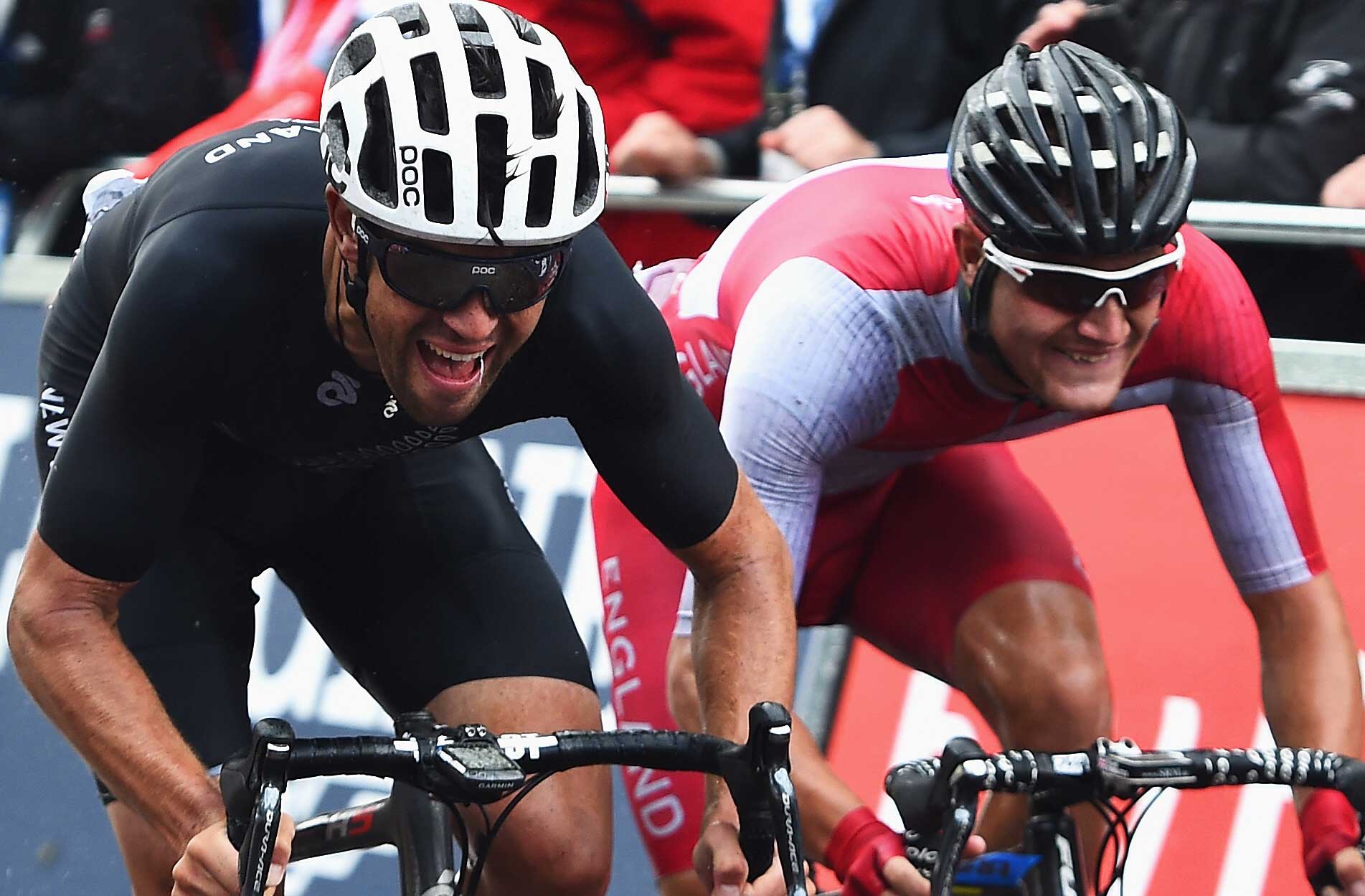 Jack Bauer, left, competes with England's Scott Thwaites in the men's road race. Photo / Getty Images
It was just how the six-strong Kiwi team drew it up. Sure, they didn't count on British road race champion Peter Kennaugh's solo jaunt off the front of the field, riding almost 120km alone before being reeled in, but the race went according to plan - almost.
They expected a breakaway to decide the medals, they knew in Bauer they possessed one of the field's strongest riders for that element of cycling, and they picked a team that brilliantly supported their man.
But they didn't count on Geraint Thomas. The Welshman proved just too strong for Bauer as the final lap unfolded, making the decisive attack for gold with 11km remaining.
Thomas is a veteran of five Tours de France, an Olympic gold medallist and former world record holder on the track. There was no shame losing to him, and Bauer could have barely done any more.
"When I attacked, of course gold was always the goal," Bauer said. "But when I was joined by Thomas - he's one of the classiest riders in the world, he's really versatile, he's good in all weather, and he's just come off the Tour was well.
"So I knew that he would be a hard man to beat and that silver was probably going to be as good as I could get."
That thought proved prescient on the final lap. Thomas and Englishman Scott Thwaites had been the only riders capable of following Bauer's burst that splintered the front group of 25 featuring the favourites, and the trio soon hunted down Kennaugh and established themselves as the only podium possibilities.
The sole remaining mystery was who would win what and, unfortunately for the Kiwi cause, the answer came as Thomas left behind him a drained duo battling to respond.
"I gave it a crack but when he attacked in the closing stages of the race I had no legs to follow," Bauer said. "I had to do what I could to try and sew up a silver."
But there was still drama to come, with Thomas being stricken by a second puncture of the race, left needing a front wheel change and stranded helplessly as the pursuants closed and the clock ticked.
It would have been an especially cruel way to lose - and any subsequent victory for Bauer or Thwaites would have surely had a hollow feel. But those emotions never arrived as Thomas got back on his bike with 20-odd seconds to spare.
That left Bauer duelling with Thwaites for both the silver medal and an element of redemption following his failure in France. Thankfully for the Kiwi, he crossed by a nose, ending New Zealand's Games on a high.