The beads have gone, the dreads have stayed, and the determination is stronger than ever. Ma'a Nonu talks to Alan Perrott about what inspired his journey up the rugby ranks.
Love him or doubt him, everyone has an opinion on Ma'a Nonu. But regardless of whether you've focused on the eyeliner, shaved eyebrow and beaded dreads, or the ball skills, sidestep and line-busting tries, something is missing from the equation: the man himself.
Over the past four years, during which time his public image has swung from hero to heel, depending on which jersey he's wearing, and despite all the provocation and judgments, the All Black has remained silent, making him an easy man to misunderstand.
"A lot of people judge me from what they see on the television, and that hasn't all been positive. But it's a free world, they can think what they like."
Nonu admits he isn't always his own best representative: "It might look like I'm just sitting there, daydreaming, but I'm always thinking. It's just that I never say anything."
But then, as with many young men who find sporting success early in life, being prepared physically is one thing, but having it together in the top two inches is something else again. So, if the question remains, "Who is Ma'a Nonu?" the answer may be that the 32-year-old is only just figuring that out himself.
"When I was 10 we had this map in our class. New York was a big apple, London had Big Ben, Paris had the Eiffel Tower and there was a circle around New Zealand. The teacher would ask us to point to different places. I'd look at it and think how small New Zealand was, and even though I got to know where those other places were, I knew I'd never see any of them, they were just going to be pictures on a map ... Now being an All Black, it goes much deeper than being part of a team. If you asked another player you'd get a different answer about what it means to them. I always remember that map because if I look back at where I've come from, those players were a world away as well. I never expected to be playing rugby, let alone be an All Black."
Rugby has always been the most important thing in his life. Sometimes it has even been his family. There was also, until four years ago anyway, a third constant, Wellington.
Nonu grew up in Strathmore, overlooking Wellington airport, as the family's third boy and, as his youthful world view shows, he never really expected to move too far.
Yes, he may be playing for the Blues in the Super 15 right now, but Nonu is a true Wellingtonian. That's where his parents, wife and children live and it's home to the Ories, Oriental-Rongotai, which will always be the Nonu family's rugby club.
His brothers played rugby, so he did too: "It was all we knew." Starting at Strathmore Primary and through to the Rongotai College 1st XV, life was good: "I always enjoyed school. I wasn't so successful academically, but I still have heaps of mates from that time."
He grew into a teenager who loved Schwarzenegger movies, felt bulletproof, and didn't see the point in anything that didn't interest him. "Well, rap was starting to kick in and we were using that to try to figure out who we were ... gangstas."
He credits Rongotai principal Graeme Jarratt with keeping him in school at all.
"The best way I can explain it," says Jarratt, "was that he was searching for direction in his last few years, he wasn't focused on any particular thing and was one of those sportsmen who bypassed the classroom a bit. It didn't hold that much of an attraction and that got him offside with a couple of his teachers. But he was always totally honest, if he was involved it was, 'Yes I did it'. There was never an issue with that ... I'd say the message around him was that he was a friendly, straight-up guy, but don't do anything to annoy him. He didn't tolerate it. No one messed with Ma'a."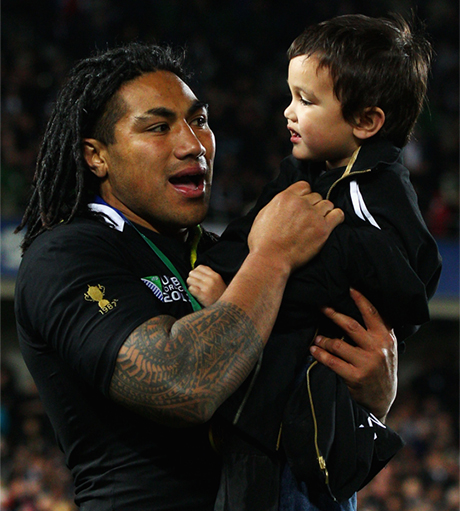 Ma'a Nonu with his son after the All Blacks' 8-7 victory in the 2011 Rugby World Cup Final. Photo / Getty Images
Not unless food was involved. "No one had any money," says Nonu of that time, "so at the tuck shop I'd try to order quickly, then ask the lady to pass my burger out the back window so I could take off. If anyone saw me, I'd get chased: 'Give us a bite, give us a bite'."
He had four best mates, all of them fans of hip-hop group Bones, Thugs and Harmony, and mufti days always meant a bonus feed. Students were expected to pay a small fee for the privilege of wearing their own clothes to school and in exchange they'd be let out early. But Nonu and co never paid - instead, they used the change they were carrying
to catch a bus into the city where they'd hang out at the Manners Mall KFC.
Whatever money was left would then go into buying bottomless cups of soft drink, before they found a table to sit at and wait. "Whenever people got up to leave we'd walk over and offer to clear their plates, then we'd eat whatever they'd left ... we called it bone thugging and we'd all get full after a couple of hours."
Nonu began to muscle-up late in his school years and his growing abilities as a smash 'em-up-the-middle centre were such that he went straight into the Ories premier side, a well-trodden path for generations of Rongotai College students.
His school sorted a series of job placements before he settled into a job as a kitchen hand at Quayside Bar and Restaurant. Whenever crayfish was ordered it was his job to pull one from the fish tank and carry it flapping back through the restaurant to the kitchen. "I was the man."
But everything revolved around rugby, and he copped a few dressing-downs for using practice as an excuse for being late for work.
"I'd get told: 'Look Ma'a, rugby's not going to be everything in your life'. And from then, whenever someone said something like that to me, I'd work even harder to prove them wrong."
The year 2002 looked like being a post-school settler - Nonu had some money, was studying exercise prescription at the Wellington Institute of Sport, and got a weekly kick from striding into his rugby clubhouse wearing his cleaned and pressed number ones. It was, he says, about "enjoying being a 19-year-old".
Wellington Lions coach Dave Rennie invited him to the train station. With regular centre Tana Umaga away with the All Blacks, they needed an extra man for their training camp at the Palmerston North Institute of Rugby and he was it. "That was the first time I'd met Jonah Lomu, which was just out of it - those guys were heroes to me."
He was expecting to be dropped back to the Colts side but injuries to two midfielders saw him being named for their opening NPC match at home to Canterbury. Nonu made sure all his friends and family were there: "Dad was chuffed, but I just thought it was a one-off. I never thought it would be the start of anything."
In the five NPC games that followed he gained a reputation as a dangerous centre liable to momentary brain lapses. Again he assumed that was it, then he was called into the Hurricanes Super 12 squad where, again, he thought he'd be making up the numbers, but played 12 games at wing or centre - alongside his hero Tana Umaga - finishing as the team's fourth highest points scorer. As a result he was named in a youthful All Black side to play England in June 2003.
"It was happening so fast, but I thought I was handling it pretty well. My family kept my feet on the ground, and there was no social media around back then, so no one was pumping my tyres." He had earlier dropped out of his sports course - among other things, the director wanted him to cut his hair and that wasn't going to happen.
Then came Nonu's first haka and he froze. It was the noise, the guys standing across from him, and the occasion, so he focused on just getting through the test without dropping the ball. Eighty minutes later, he, Joe Rokocoko and Mils Muliaina joined a select group of All Blacks who debuted in a loss. On Nonu's home ground too.
Then came the 2003 World Cup and success - his first international try; a catch-and-flop-over-the-line effort against Canada.
Yet Nonu still didn't feel like an All Black. He wasn't surprised when after the World Cup failure the new coaching panel passed him to Gordon Tietjen's 7s squad: "That was brutal and it did me a whole lot of good, because I was fat," he says. In the three weeks leading up to a tournament in France he dropped from 106kg to 99kg and every morning he'd greet the other players with a "hi," a hug and a handshake before heading for breakfast as a group.
Two months later his critics were circling again when he was arrested outside a Wellington nightclub and charged with disorderly behaviour and resisting arrest after a scuffle. Police later withdrew the resisting charge and granted him diversion for disorderly behaviour. (Three years later he received diversion for a second time after breaching Wellington's liquor ban.) "The off-field stuff, being a role model, that's been my biggest challenge," Nonu admits. "You can still be you, what else can you be? And I know in my early 20s I wasn't perfect, but what can you do except learn from when you trip up?"
But even his arrest wasn't as damaging as his dalliance with makeup ("Do we really have to go there?"). He was laid up at home with a broken thumb, thinking his season was over and watching a movie when the thought struck: "Rockstars wear eyeliner, why not give it a try?" While he 'fessed up once he was back in black in November - "It's a personal thing, I put it on myself. It's a bit of a fashion statement, I think," he said at the time - it took two years for the catcalls to fade.
"That didn't really go down well, it didn't change who I was, but I guess All Blacks don't wear makeup."
His struggles came to a head with his non-selection for the 2007 World Cup. He can say now that he wasn't good enough, but at the time it hurt like hell. So much so that the then 24-year-old switched to league.
"It was during the World Cup," says Nonu. "I met [Wests Tigers coach] Tim Sheens at the airport. Then I spoke to guys at the Tigers like Benji Marshall, and they all thought I'd be good. It got real close, I switched."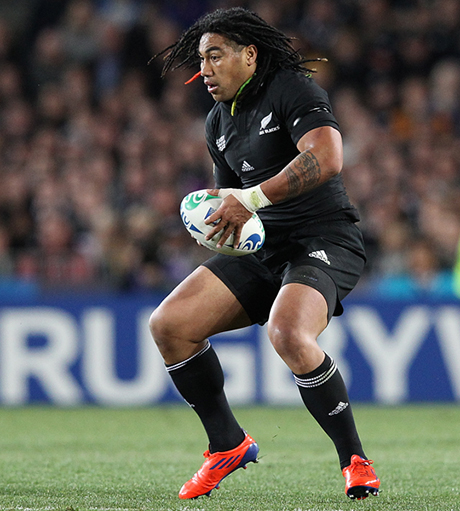 Ma'a Nonu the semi-final match between the New Zealand All Blacks and Australia in the Rugby World Cup 2011. Photo / Greg Bowker
His manager, Warren Alcock, wanted him to stay. "He was strongly against it, but no, I was going, going, going ... " He signed his contract, then got cold feet and didn't post it. "I was thinking, after five years in the All Blacks, was that how I wanted to be remembered?"
He met Sheens again in England in 2010, and after swapping hellos the Australian congratulated him on how things turned out.
The moment between those meetings that changed everything was when All Black assistant coach Wayne Smith attended a Wellington training session in 2008 where Nonu was back on the wing: "Why don't you try him at second five?" asked Smith, and a star was reborn.
"I thank him all the time for that," says Nonu. "He was amazing, he changed my game and opened my eyes. He's the best coach I've ever had. He treats players like mates, like individuals, and not as a product or a pet."
That one suggestion led to the Nonu-Smith show, the most capped midfield combination in international rugby history.
"I think I grew up too," he says. "I cut out the bullshit and knuckled down. I asked myself: Why am I playing rugby? Because I love it or to hang with my mates? Do I want to be a good footballer or take the next step and be a great one? It's never been about the money. If it was I wouldn't be here. When someone says 'money or the bag', you should always take the bag."
It's this attitude that has some close to the All Blacks lauding his hands as the best in the team and admiring his constant efforts to improve his game. Nonu reckons a new version himself takes the field every year.
Which brings us to his ejection from the Hurricanes after the 2011 season.
"No comment," says Nonu, "I'll save it for my book."
Fine, but clearly the fallout has been hard, on and off the field. By all means criticise him as a player, but he says he felt humiliated by the way the attacks on his game became personal and how it has created the narrative that he's a great All Black, yet a so-so Super 15 player. No matter what jersey he's in, he considers himself a professional who hits his targets and racks up good stats, but still the image as a disruptive influence lingers. To keep it together he gave up on following himself in the media four years ago. He's also careful in public.
He even took up yoga and says the breathing exercises not only keep him calm, they help him in test matches. Meditation hasn't been such a success - as hard as he focuses, his training schedule always intervenes.
As for his future, close friends in Wellington hope he'll return soon. With Nonu's Blues contract ending this year and Wellington old boys Chris Boyd and John Plumtree taking over the coaching reins when Mark Hammett leaves the Hurricanes, the chances of the exiled player returning south must be high, especially now the move has been endorsed by his old midfield mate, Conrad Smith. But Nonu isn't saying anything more than that the next World Cup is in the back of his mind. He tries not to look too far ahead and reckons people focus so much on future events they forget to enjoy the days in between, "I'm the total opposite," says Nonu.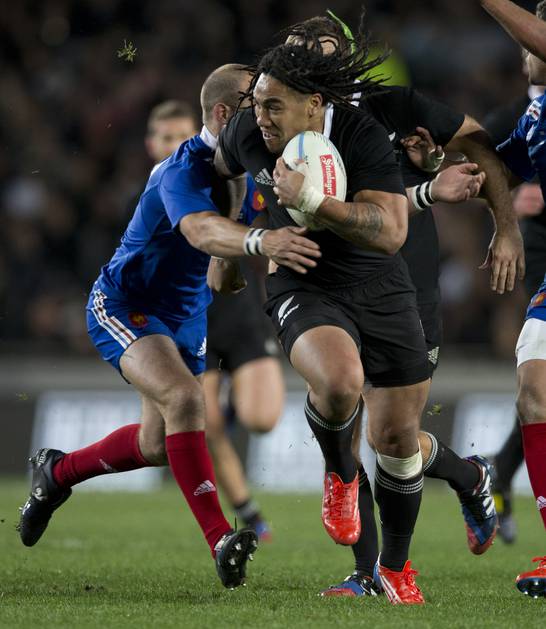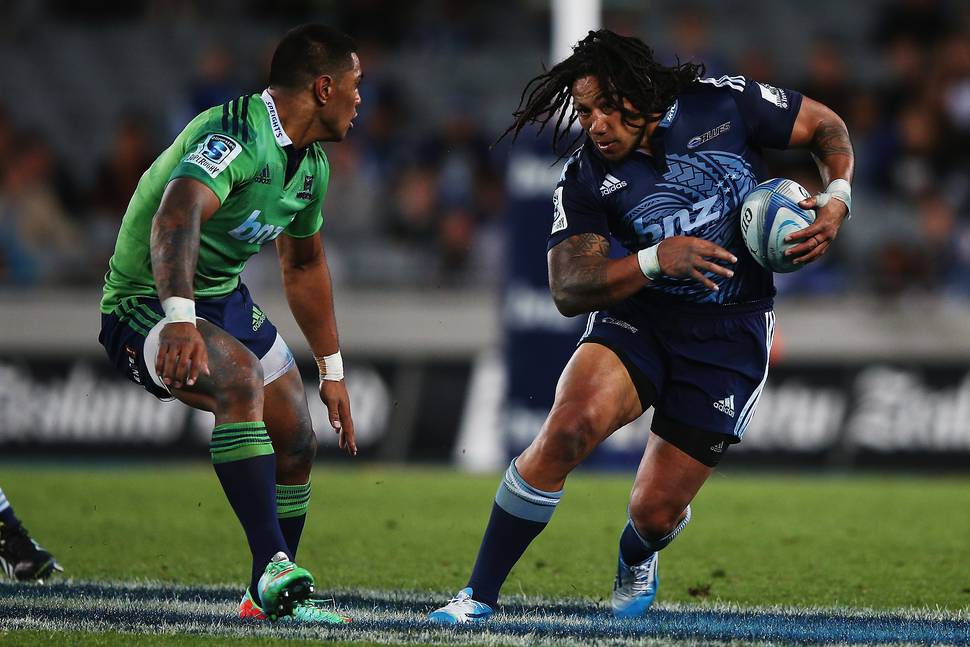 Besides, he's busy being a commuting dad to sons Mercury and Michael, and husband to Andrea, two more maturing developments, even if Mercury has turned into another critic.
This new life has led to a new balance, "being All Black 1031 has a value, it's important, but I only feel that when I'm with the team. When I'm not, when I'm being Dad, I'm just me."
That's why he returns to his old school to present awards and honour his former teachers, donates jerseys to wherever they might be valued, and helps coach local Wellington kids' teams.
If, outwardly, growing up means he hasn't got a new tattoo in years and the coloured beads are gone ("I can't do that shit anymore"), the dreads are staying and he's still a big Arnie fan. He may even get around to having his own say yet in what he's been through because not only is Nonu something of the rawboned philosopher, he's also a budding film-maker. But he's unlikely to use his new skills to rewrite his history.
"Nah mate, what's the point? You can't have regrets, that's just a waste of a word. Do you regret not doing something? Sure, but what's the point if you didn't do it? Some scholar probably made that word up because he'd made his mistakes and wanted everyone else to feel bad as well.
"No, just be yourself, keep learning and keep moving. I look forward to whatever's coming, but I don't want to think about it too much. Right now I'm blessed to be playing for my country, to have made some great mates doing it - and I've seen all those places on that map back at school."
The All Blacks play England tonight at Eden Park.