Ma'a Nonu, we're all talking about him and with good cause. You just cannot under-estimate how important his straight-running and good decision-making has been in the Blues' form turnaround. In this Chalkboard column I will explain 1. Why he has to compensate for an inexperienced first five-eighth, 2. What he is doing with his running game to help his outsides, and 3. The missing piece that could turn the Blues from playoff potential to title potential.
1. What the Blues do not possess is an experienced first five-eighth with three or four years' of Super Rugby experience. Their first fives tend to stand deeper and do not take on the line like a Dan Carter, Aaron Cruden or Beauden Barrett.
This means they are not holding the inside defenders. These defenders can fan out laterally and squeeze the Blues wide men.
At times this season the Blues have been guilty of shoveling the ball on and asking one of their big men out wide, a Charles Piutau or Frank Halai, to do something special. More often than not they're faced with an impenetrable wall, are collared behind the advantage line and lost possession.
Nonu has changed all that with his double-edged skill set.
Justin Marshall's Chalkboards
In defense of the coaches
Beware of Michael Hooper
How the Crusaders use Read so effectively
Why the halfback must kick
He is getting the ball, sometimes under pressure, from a deep-sitting No 10. Your first instinct in that situation is to say, "Oh no," and pass the problem on to your centre, but Nonu thinks beyond that. What you'll see him do is take a couple of lateral steps and then, boom, he props off either left or right foot and straightens the attack.
Because he is so powerful and quick - he was once an outside back, remember - he holds defenders who try, normally without much luck, to stop him before he hits and breaks the advantage line. He has such upper-body strength that this is almost impossible to do if he has any momentum. Ask yourself this: how many times can you recall Nonu being on the end of a big defensive hit?
2. What Nonu has done by straightening the attack is more than simply recycling the ball for the next phase of attack.
What he has done is tell the defence that he's happy to attack that channel all game. The inside defenders are duty bound to hold to nullify this threat. This brings into play the second part of his attacking skillset: his cut-out passing game.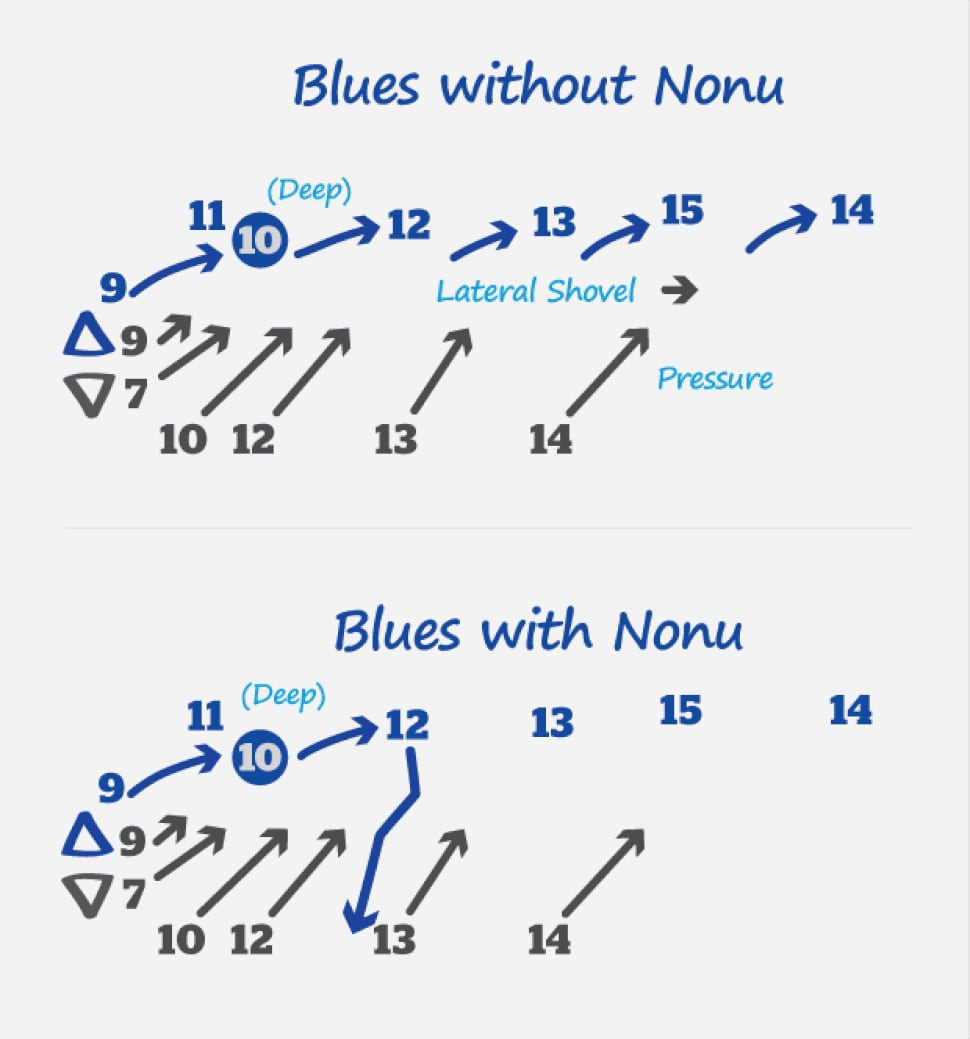 The next time Nonu gets the ball he'll repeat his actions - a couple of lateral steps, a big step to straighten - but this time he's also looking to make a decision. If he notices that the outside defenders haven't come up ahead of the inside defenders he is holding, it gives him an option to throw a cut-out pass and put Piutau, Halai, Lolagi Visinia or whomever into space.
Nonu has a superb passing game on the run. This is a difficult art and you're never going to be able to pull it off every time, so sometimes I think Nonu is over-criticised when a ball is fired into touch or drifts forward from his hands. The potent threat it offers when he hits the mark, which is more often than not, outweighs the odd miss.
Look at the guys who have been struggling this year. Halai and even the excellent Piutau were earlier in the season failing to reach their highest standards and it was because they didn't have the space Nonu has now afforded them.
3. While Nonu's form has been a godsend for the Blues, I still can't help but feel they are a quality first-five away from being a great team.
The development of Ihaia West and Simon Hickey is important and they'll eventually get there, but next season the Blues should look at bringing in a high-quality, experienced No 10.
Beauden Barrett is off contract and would be a brilliant acquisition, but if they can't break the bank for him, they could look at Colin Slade, who is playing superbly, but is likely to be squeezed out by Carter at the Crusaders, or Gareth Anscombe, who has come on in leaps and bounds at the Chiefs, but who will always sit behind Cruden.