Following the Garden Route, Paul Rush found the untamed Africa he always dreamed about.
Cape Town, South Africa's Mother City, reveals a glorious morning as we emerge from the hotel. The profile of Table Mountain stands out against a clear, blue sky like an ancient monument to the gods.
Our route to the winelands capital of Stellenbosch passes through the Cape Flats, an area of shanty towns near the airport.
"Promising things have occurred since we became a multicultural democracy in 1994," explains our guide Sophia.
"But economic necessity dictates that Cape Coloureds like myself remain in poorer townships."
Her sense of humour cannot be repressed by economic imperatives. She recounts a story about an English lady from an earlier tour: "This very refined person asked why these 'informal residential structures' were built close to the airport. I replied, 'We're putting all the people on a BA flight to London.' She was affronted by this and cried out, 'What are we going to do with them?'"
The lovely old Cape Dutch-style buildings and a laidback holiday atmosphere of the winelands are apparent in the stylish Neethlingshof Estate winery. We sip a crisp sauvignon blanc, a fruity gewurztraminer and a light-bodied malbec - the Garden Route Tour is bloomin' great so far.
The biodiversity in South Africa is the third highest in the world, with 2300 plant species. The animal life is astounding, too. The "big five" most dangerous game animals (elephant, rhino, buffalo, lion and leopard) are not confined to reserves like Kruger National Park, but range along the Eastern Cape as well.
Peach and apricot blossoms flood the Breede River Valley as we head for a dangerous wilderness called Sanbona Wildlife Reserve. Dawn in South Africa is sudden and spectacular - the transition from a pitch-black void to a panorama of sienna bushveld and golden savannah, backlit by a pink glow. By the time the sun is climbing over the thickets of acacia sweet thorn, our game drive with ranger Jannie is well under way.
Our presence on the bushveld is hardly noticed. We hear the constant chirping of cicadas, the cries of fish-eagles and goshawks and the distant, deep-throated roar of lions. This is the Africa I have always dreamed of: vast, untamed, inhabited by the wildest animals on Earth.
We soon sight a herd of kudu with big soft eyes. An ostrich crosses our path, uncertain as to which way to run. Then a herd of gorgeous white-bellied springbok dash first one way then another, "pronking" high in the air to send lions a subtle signal that pursuit is futile.
Without warning, a journey of giraffes bursts into view, angling towards our vehicle in a fantastical slow-walking gait. Liquid eyes peer down at us, while fly-whisk tails slap against their flanks. Motionless, they stare with intense curiosity, perhaps seeing humans as an enigma.
After climbing a rocky promontory to spot a crash of rhinos, Jannie leads us on foot into dense thickets of acacia sweet thorn to track them down. There's a swirl of dust as a baby rhino swings his head round and looks directly at me. Then a ponderous adult head rises up to face us. Jannie gives us the signal to retreat.
Sitting on the glorious Gondwana Lodge terrace with a gin and tonic, the traditional sundowner of safaris, I can sense the age-old rhythm of the bush. Africa, the crucible of human civilisation, has a profound effect on the traveller.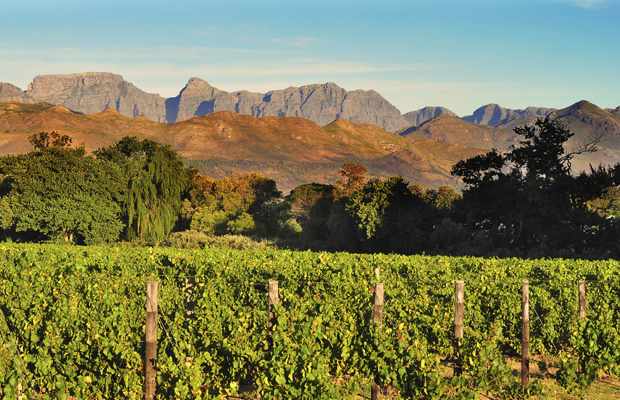 The beautiful wine-producing lands around Stellenbosch. Photo / Thinkstock
From Sanbona, Route 62 takes on a mountainous character and the barren peaks of the Swartberg Range rise into blue skies. Our guide outlines local adventure pursuits: canoeing, gorge hikes, quad biking, 4WD safaris over mountain passes, caving and ostrich rides near Oudtshoorn, the "ostrich capital of the world".
After a comfortable night in the plush Protea Hotel Knysna Quays, we follow the coast to Plettenberg Bay. In nearby Tsitsikamma Forest, a zip-slide carries thrillseekers through the canopy of century old hardwood trees.
This is the appetiser for the highest commercial bungy jump in the world (240m) at Bloukrans Bridge.
The city of Port Elizabeth is the gateway to the Eastern Cape game reserves, including Shamwari, where we are made welcome at a grand Edwardian lodge called Long Lee Manor, before setting out on a game drive to meet lions sprawled out amidst a copse of acacia bushes.
My heartbeat quickens when the big male with a tawny mane looks straight at me with pale-yellow eyes and roars. It is a deep, booming sound that would strike fear into the bravest heart.
The Garden Route has given us a zoologist's smorgasbord of wildlife and an artist's palette of colour. My abiding memory of the Eastern Cape is of unspoiled, untamed natural beauty.
That's the magic of Africa.
CHECKLIST
Getting there: Singapore Airlines flies from Auckland to Cape Town via Changi Airport, Singapore.
Where to stay: The Cullinan hotel in Cape Town is centrally located and named after the 3000-carat diamond found in Pretoria that was cut into nine diamonds, two of which form part of the English Crown Jewels.
Getting around: Adventure World organises group tours with guides at each city. Carry lower-denomination currency for tipping.
Further information: See southafrica.net.
Paul Rush travelled to South Africa with assistance from Singapore Airlines and Adventure World, and Harvey World Travel.