Rugby ruckus stops game
It was 37 years ago today that the anti-Springbok protesters invaded the field at Hamilton's Rugby Park, forcing the abandonment of the Springboks-Waikato match. This from NZ History: "Rugby Park was packed for the first Saturday game of the controversial tour. More than 500 police officers were present in the city. The authorities were unaware, however, that protest organisers had bought several hundred tickets for the game. Shortly before kick-off, several hundred more tore down a boundary fence and poured into Rugby Park from a nearby street.
"Police formed a cordon around this group, which had linked arms in the middle of the field. They eventually arrested about 50 of them, but were concerned about their ability to hold back angry rugby fans. Meanwhile, Pat McQuarrie had stolen a light plane from Taupō and was thought to be heading for the stadium. With his intentions unclear, the police cancelled the match. This announcement was greeted with chants of, 'We want rugby!'. Spectators attacked protesters as the police ushered them from the ground."
Osmonds played park
A reader writes: "It has been reported that no consent for a concert at Eden Park has ever been granted. That's not true. The Osmonds played at Eden Park in 1975, to an enthusiastic crowd of 12,000. Little Jimmy came too. We didn't have all this fuss from the neighbours."
Property prices bite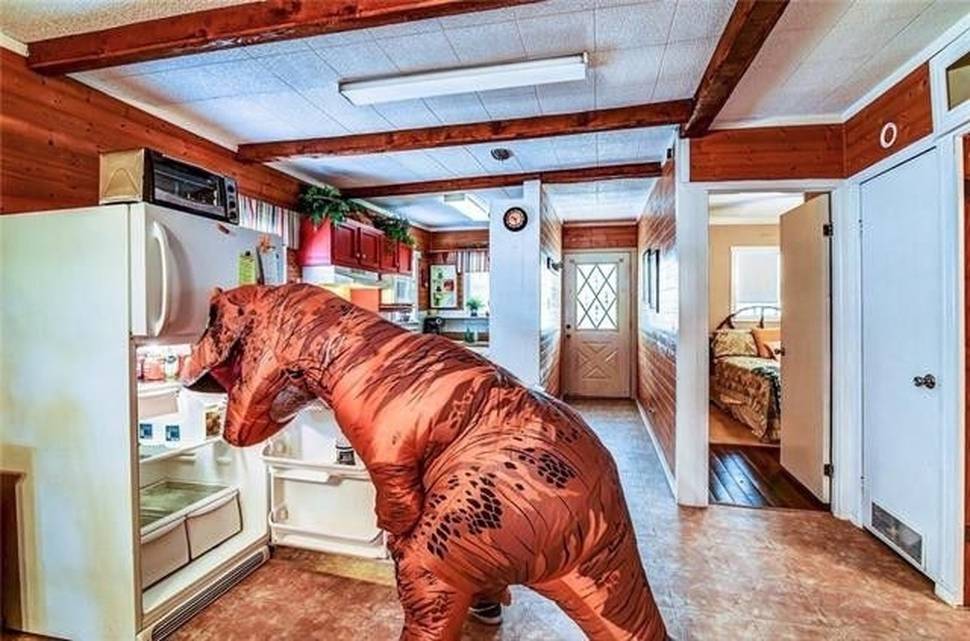 Real estate agents will give anything a go for some extra attention, even an inflatable T-Rex: "Among the lovely shots of hardwood floors, lake views, and a screened-in patio, we see ol' Tyrannosaurus raiding the fridge, taking a nap, fishing in the lake, and even mowing the grass. That's pretty impressive for a guy with such tiny arms, no? "We came up with the idea a few years ago and have been waiting for the right client and right house to try it," explains listing agent Casey Lewis. "It was a great way to get extra exposure to an already great property."
So that's where we are
"I know many people don't know where New Zealand is," writes a reader. "But I almost missed it while driving last week through Prince Edward Island on the east coast of Canada. It's on the map, but the only thing you see when you get there is this sign in the middle of a large field."