Good call
"My husband and I went to the reception desk at a Travelodge in Cambridge, England and asked for a one night's stay for that evening," writes Brenda Chaffe. "When the receptionist gave us the cost of £99 my husband said, 'That's a bit dear, do you have you anything cheaper?' The receptionist replied that if we book it online, we can get a discount. 'We don't have a computer on us,' my husband said standing at the reception desk. 'You can do it by phone to our Call Centre,' offered the receptionist, helpfully. 'Ah, I don't have my phone on me,' says hubby. No problem, says receptionist, you can use ours. She then dials a number and hands the phone to us. 'Hello,' says hubby, 'we would like to book a night's stay at the Travelodge, Cambridge for tonight'. Sure says the man on the phone, that will be £70. 'Can we pay on arrival?' Of course, replies the man. 'Great', we reply. 'By the way, where is the Call Centre based?' Spain, says the man. So there you go, while standing at the Travelodge reception desk in the UK, using the hotels phone, talking to a man in Spain, we managed to get a £29 saving!"
Bosses behaving badly
"My daughter was born with a cleft lip. We were living out of state and decided to take her to the hospital at our home town. I asked my boss for a few days off so I could be with her and my wife for a pretty major surgery. Our daughter was only 3 months old at the time of the surgery. My boss said no. 'It's not our fault that she was born with a cleft lip.' It was so unexpected I didn't know what to do, so I walked out of her office. After stewing about it at my desk for a few minutes I went back and told her off. I got the time off."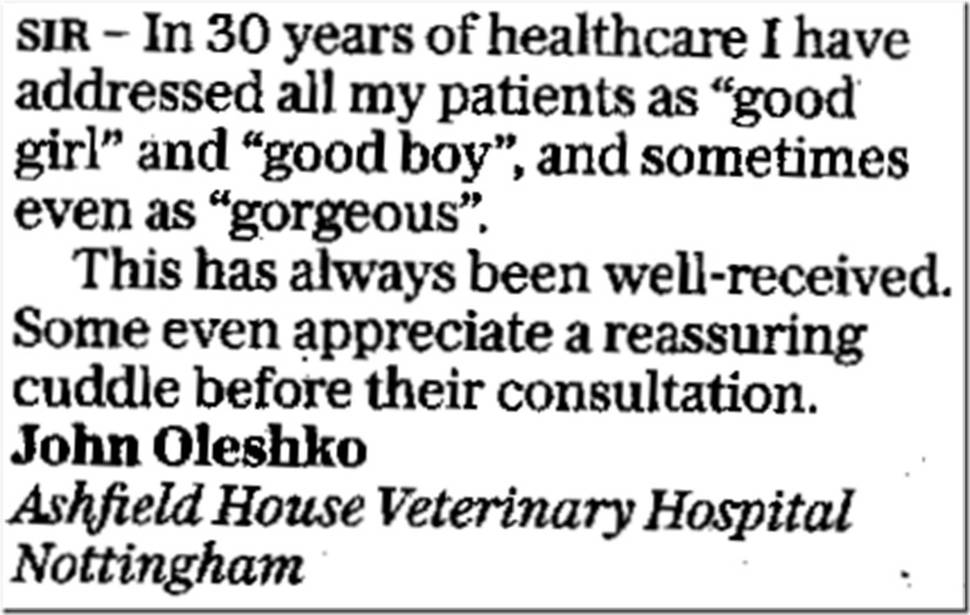 Happy facts
1. Wayne Allwine, the voice of Mickey mouse for 32 years, married Russi Taylor the voice of Minnie mouse. The voice actors for Homer and Marge Simpson (French version) got married in real life too, as did the voice artists for SpongeBob and Plankton's computer wife Karen (She's just after the Krabby Patty recipe).
2. NASA had to relabel the penis sleeve for urinating in space suits from "small, medium, and large" to the more heroic "extra large", "immense", and "unbelievable" because astronauts would only choose the large and they kept slipping off.
3. Sixty people in Waikanae turned up for the funeral of Thomas the blind bisexual goose, who was laid to rest beside his late partner Henry, a black swan. There was a procession which included bagpipes and the mayor spoke. You gotta love New Zealand.