These women are dressed up for the departure of the MV Tofua II in 1959. Do you know any of them? The image was taken by John Rykenberg, a Dutch immigrant to New Zealand in the 1950s. He established a successful photography business in Albert St and gifted the first instalments of his collection (from 1958-2006) to Auckland Libraries. He also did street photography - taking candid snaps of people as they walked down a city street, while at ship departures or in restaurants, followed by an invitation to visit his studio to buy a copy.
See the exhibition here.

Things that go bang in the night
"I went on a guided cemetery tour at night," writes a reader. "About six or seven of us were standing around a tomb listening to the story of how the inhabitant had killed himself with a gun and how some decades later someone broke into his tomb and stole his skull. We then moved on, and walked further into the cemetery when we were startled by a loud bang. We shrugged it off as a car backfiring, laughed nervously. Shortly after we hear a couple more bangs in quick succession, and one of the tour party commented that they were pretty sure they were gunshots. There was another bang, closer. Definitely a gunshot. Then we saw a light in-between some of the headstones and I kid you not, we saw the figure of a man carrying a shotgun, slowly coming from the direction of the tomb we had just been at. We froze. I looked over to the tour guide, thinking it was some prank he plays on all his customers, but he was completely white and was backing away. It was a man with a shotgun and he was walking towards us. He lifted a flashlight and pointed it directly at us. Several of us ducked behind the headstones as he yelled, 'Get out of here! What the hell are you doing in this place!?' Turns out the local council had hired a guy to shoot possums in the cemetery and they forgot to warn the tour company." Have you got a scary story? Email Sideswipe.
Did you know?
This week in casual sexism
As part of a discussion that included the gender pay gap, UK Channel 4 news boss David Abraham - who earns almost £1 million ($1.8m) a year - told presenter Cathy Newman: "Look at the shoes, they're not cheap." Miss Newman, 43, shot back that her footwear actually cost just £19.99 ($37).
Pile of dirty washing looks like...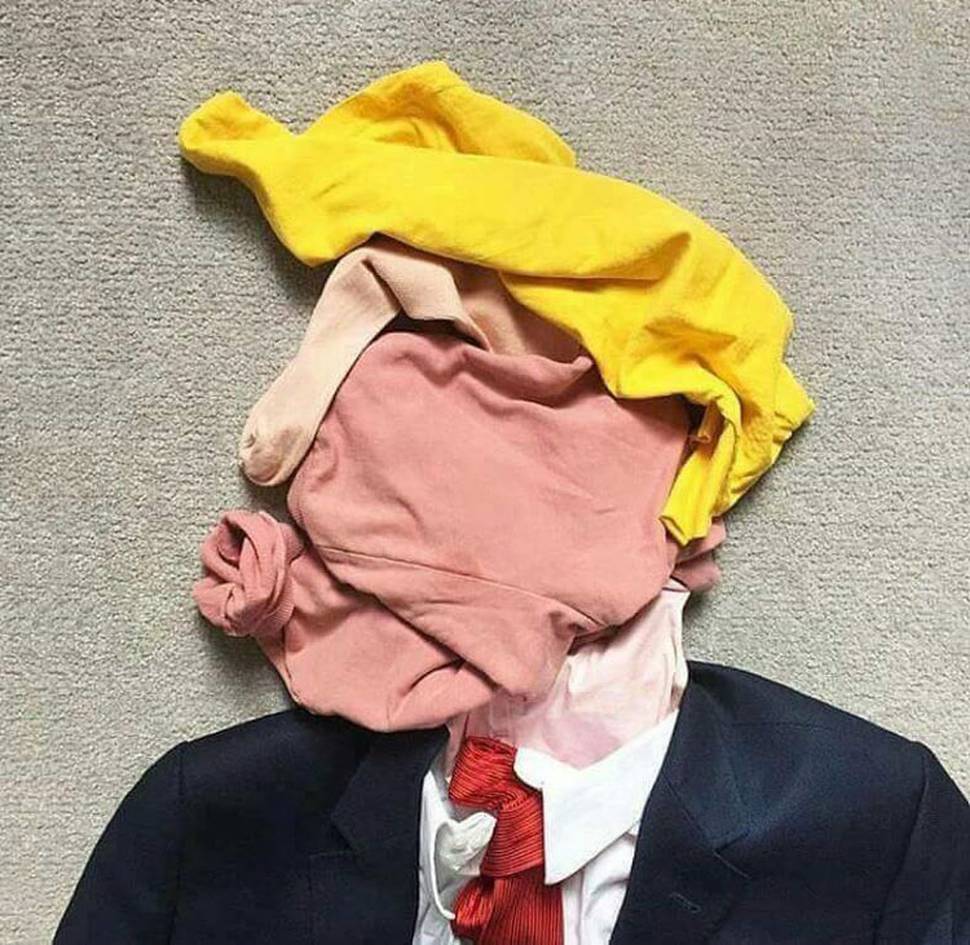 Quick links
1."Friend on FB posted this from the rest home his aunt is in. Not sure the Halloween decorations were well thought through ..."
2.Over 113,783 retweets suggests this is a popular video. PS it has a cat.
Video Pick
Turning sharp right on a narrow Scottish Highland road carrying a 60-metre turbine blade is a surefire way to show off your driving skills.