Another tea-related crime. (Via @mrgan on Twitter)
London Review of Books personals
1. Shy, ugly man, fond of extended periods of self-pity, middle aged, flatulent and overweight, seeks the impossible.
2. You're a brunette, 6', long legs, 25-30, intelligent, articulate and drop-dead gorgeous. I, on the other hand, am 4'10", have the looks of Herve Villechaize and carry an odour of wheat. No returns and no refunds at box no. 3321.
3. Your stars for today: A pretty Cancerian, 35, will cook you a lovely meal, caress your hair softly, then squeeze every damn penny from your adulterous bank account before slashing the tyres of your Beamer. Let that serve as a warning. Now then, risotto?
4. If intense, post-fight sex scares you, I'm not the woman for you (amateur big-boned cage wrestler, 62).
5. If you think I'm going to love you - you're right. Clingy, over-emotional and socially draining woman, 36. Once you've got me, you can never ever leave me. Not ever. Prone to maniacal bursts of crying, usually followed by excitable and uncontrollable laughter. Life is a roller coaster; you've just got to ride it, as Ronan Keating once said.
Where nail clippings can end up
Top Facebook update: "A lesson in not rinsing out my teacup properly in between chain-drinking Dilmah had been learned - just discovered husband's big toenail at the bottom of my cup - probably adhered to the bits of sugar left behind."
Bosses with too little to do
"I know a very successful businessman who will tidy his staff's desks after hours and weekends if papers etc are not exactly aligned with the desk edges; and woe betide the visitor or salesman (me) who parks crookedly in the visitors' carpark below his window."

School holidays wearing thin? Spotted at Devonport New World.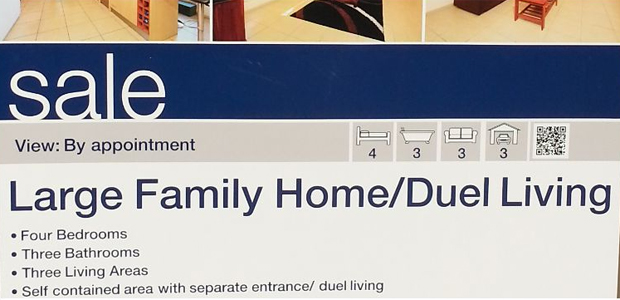 Sharon writes: "This wee gem of a sign is intermittently posted near Penrose and never fails to amuse on the drive home - forget internet dating or Tinder! Just chuck a sign saying 'Lady wanted, apply inside' up on the lamp-post outside!"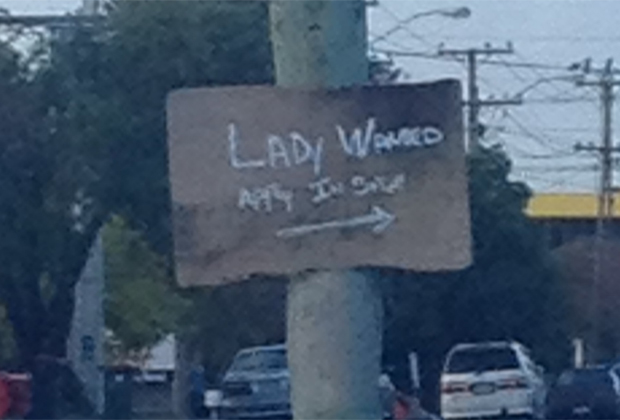 Picture this: "These pigeons look like they're about to release the best
Hip hop album of 2014," says Ben Casey...
Video: Act's David Seymour does a great send up of a political candidate introductory video...
Music: Sikh Elvis Peter Singh...
Good read: Christchurch resident Greg Jackson on why he's thinking about leaving the city is a touching and important read for all...
In case you missed it: Jimmy Fallon's has a lip sync battle with Emma Stone...
Video: Improv Everywhere surprised employees and shoppers at a Gap store in Manhattan by disguising themselves as extra mannequins. Security didn't appreciate the performance and called police...
NZ Herald app users click here for today's video.
Got a Sideswipe? Send your pictures, links and anecdotes to Ana at ana.samways@nzherald.co.nz