Spotted in downtown Auckland during a downpour.
Hard work to stop boredom
Keith Burgess says the best job he had was when Farmers had the bright idea to get into the car-parts business and figured they needed a van and a delivery driver. "I was about 18 and on my first day of work, I realised there wasn't a job. I had a round and maybe five parcels to deliver a day and rather than hang around work and make it painfully obvious there was nothing to do, I stayed away. My daily schedule was pick up van, go home for breakfast, take girlfriend to work, deliver solitary parcel, return for expected second parcel, park up and do correspondence course work and read novels. I got so bored I offered my delivery service to the public library for older folk who couldn't get out. Got caught in the end and warned. Quit soon after."
Tender touch needed for pea sorting
Neither best nor worst, just odd. Chris Dwyer writes: "In 1960, when I was saving to go to Australia (by boat), I had a job in quality control for Birds Eye, Hastings. In the pea department. Every 10-15 minutes, as the cooked peas came along the conveyor belt, it was my job to take a small sample and subject them to a pressure test to determine how firm and tender they were. If tender, I diverted the flow for freezing, and if firm, for canning. My belated apologies to all those people who ended up with cans of extra-mushy peas or bags of frozen-solid ones."
House-fire risk- what's age got to do with it?
A reader writes: "Our insurance company wrongly put our rental as being built in 1960s. I rang and changed it to 1990. The yearly premium was raised from $830 to $902. When I queried this, I was informed that there is a higher risk of houses built in 1990 burning down than houses built in 1960. They can't tell me why. Can someone please explain why a 1990 house is a greater risk than a 1960 one?"
Feathers fly around the world
Pillow-wielding punters trade blows in Lausanne, Switzerland, on International Pillow Fight Day on Saturday. Mass-pillow battles were held in cities around the world including Seattle, Bucharest and Berlin.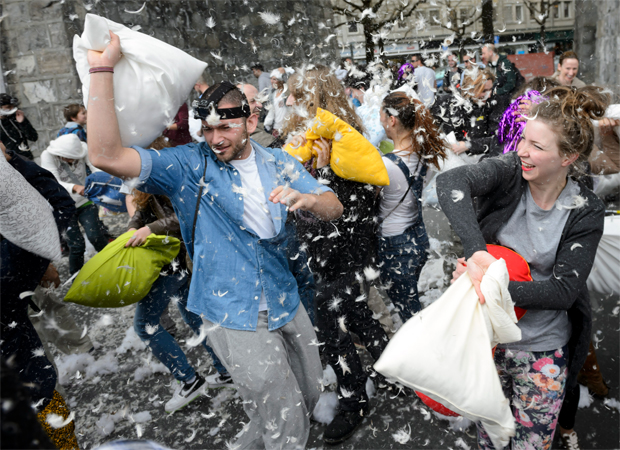 Diversion: Spelling fascists, this is for you. Are these words spelled correctly?
News: The Express reports that "Maori dancers are asked to cover up and to not embarrass the Duke and Duchess of Cambridge at the start of their tour on Monday."
Quick clip: With beards currently enjoying a revival, maybe Cool Shaving Ken doll from 1996 should be re-launched?
Video: Happy to be old...
NZ Herald app users click here for today's video.
Got a Sideswipe? Send your pictures, links and anecdotes to Ana at ana.samways@nzherald.co.nz