This is written in hope that the All Blacks revert to a tactic that worked brilliantly last year: injecting width into the attack from the breakdown.
For some reason the All Blacks have gone away from this in 2014. We didn't see it as often in the England series and not at all in Sydney last week. In this week's Chalkboard, I'll explain 1. What the attack is, 2. The variables it offers and, 3. Why they might have gone away from the tactic.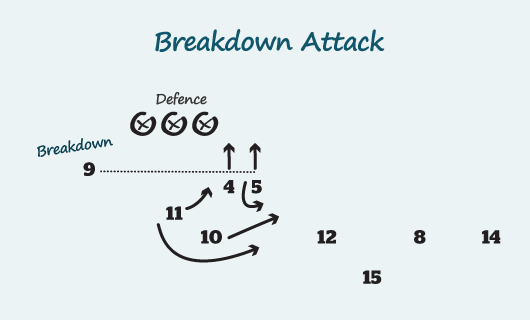 1. In 2013, the All Blacks built a lot of great attack from the breakdown.
Rather than continually punching in close, they used Aaron Smith's pass to create immediate width.
That instantly took two to three defenders out of play. Once his target, often Brodie Retallick, had the ball, the options were many and varied. Of course, for this to work, you really need tight forwards who are skilled handlers of the ball. In Retallick and Sam Whitelock, the All Blacks are lucky to possess supremely talented individuals capable of doing things with the ball that we don't normally associate with tight forwards.
2. For the sake of this argument, let's assume Retallick is the first receiver. What are his options? It would take too long to list them all, but here are a few.
He can take the hit up himself - there's nothing wrong with the direct approach. He's a big man and will draw in defenders.
He can throw a short ball to Sam Whitelock.
Retallick could throw an inside ball to his blindside wing. It is an effective way of utilising Julian Savea's strength and again holds those inside defenders. He can throw it out the back to initiate back play. If you think back to the try Beauden Barrett scored against South Africa, it was this sort of scenario, except the first receiver was Conrad Smith. Aaron Smith hit him with width from the breakdown, Barrett looped around and receieved a pass out the back and beat a player to score.
Really, there are abundant options.
3. So why have the All Blacks gone away from it?
I can't put my finger on it but I'm guessing they feel they have to constantly evolve to avoid becoming predictable. The game is relentlessly analysed now, so the coaches are constantly trying to develop their approach to attack and defence.
This might be a case of them saying, "We've done it, it's predictable, time to move on".
I hope not. It's too effective to be shelved.