Australia Zoo is serious about conservation but you'll be smiling from ear to ear at the inhabitants' antics, writes Linda Thompson.
Binturongs smell like popcorn.
Australia Zoo Crikey Crew keeper Kelli says so. I hadn't heard of a binturong either, but given the chance to feed one, I'm in. And she's right.
These bearcats, from Southeast Asia, are a cute combination of both animals. Pip (or "Peep" in Strayan) is a big sweetie, clamping her rather daunting large-clawed paw on mine and snuffling up kiwifruit, banana and mango with gusto with even more daunting big teeth.
Her home is a lush enclosure with mate Jaya. And she's a prime example of what makes a visit to Australia's Sunshine Coast's world-famous park worth a short drive. Unique and rare animals live alongside those we know and love.
Barely an hour from Brisbane on aptly-named Steve Irwin Way, the Crocodile Hunter's Australia Zoo is a green, 30ha oasis of more than 1000 native and exotic animals from everywhere, and needs a day or two to get around.
At the Wildlife Hospital, the zoo's purpose is clear. It's about conservation, with its Wildlife Warriors showing visitors why and how to protect our feathered, furred and finned friends.
Crikey Crew members Alex and Abigail say they've treated 6000 to 7000 animals each year since 2004, from koalas hit by cars and sick sea snakes to magpies, kingfishers and even possums. (Let's not mention what we think of possums in NZ - in Australia, they're protected.)
Vet Amanda is treating a koala with cystitis. All patients get names to help connect their finders to the cause - saving species. Vet Danny is sedating a very stroppy native tawny frogmouth. Sadly, this grumpy mottled bird, a bit like an owl but not one, is too badly injured.
Zoo visitors can watch operations at the hospital through a big window.
Outside, Molly, an older koala, teaches young recuperating koalas how to live on their own in the bush, what branches to sit on, where to get food - a koala kindy before they return to the wild.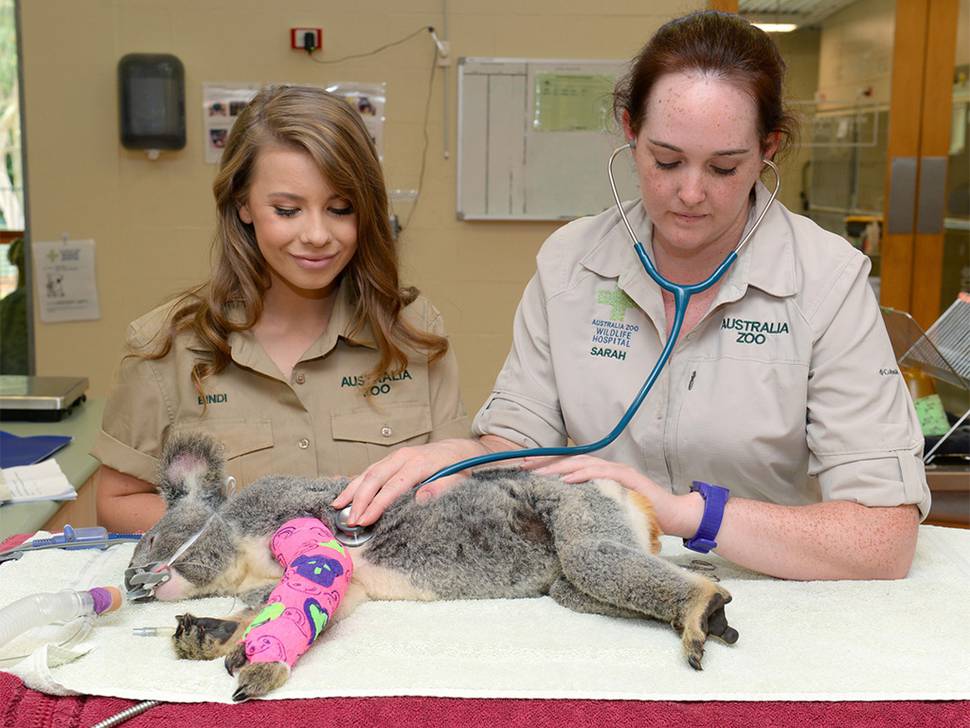 At the zoo, otters Rosie and aptly-named Mayhem live in an enclosure Irwin built himself.
These crafty critters learned to build steps from rocks to escape their home nightly and then hide the stones each day.
At the Wildlife Warriors show in the Crocoseum, free-flight birds and saltwater crocs swoop through their paces. Crikey, as Irwin would say.
About 700,000 people visit the zoo every year, much expanded from Irwin's original dream. Baby alligators stroll the grounds, along with lazy kangaroos, cockatoos, cheetahs, big birds of prey and wombats. The tigers are fortunately enclosed.
A former Tauranga friend was drawn to Australia by the zoo, and made several trips before moving to the Sunshine Coast.
"The family would drop me at the zoo in the morning. As a nature lover, this region has everything to offer. Where else can you sit on your porch and have kangaroos graze nearby, cockatoos, rainbow lorikeets and rosellas, bats and frogs in your garden?"
She got a job there, and has now achieved a mid-life dream of training as a vet nurse.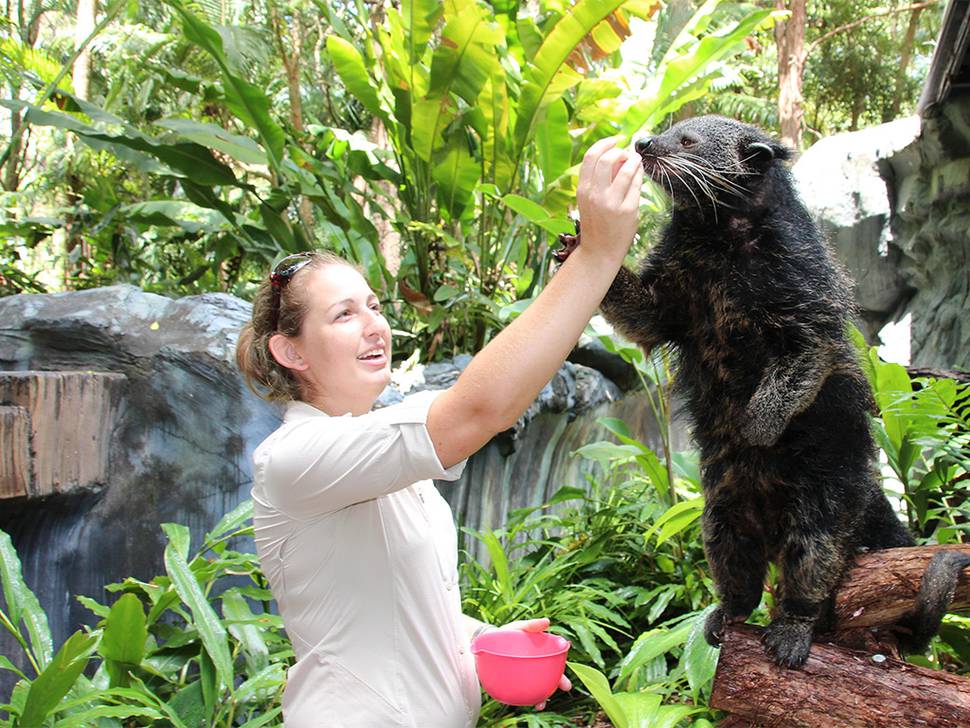 It's a remarkable place, with its cool, groomed grounds and contented residents, a reminder of why we need a few animals in captivity to appreciate their differences. There are plans for a live-in zoo experience, with camping and cabin accommodation.
But it's time to visit sea creatures.
At Mooloolaba up the coast there's Sea Life, previously Underwater World. I have to apologise to a very ugly barramundi, because I ate his brother for lunch.
It's a nicely compact water park with regular talks and encounters with seals, jellyfish and every manner of watery dweller. It also rescues sick and injured seals and turtles, and breeds vulnerable species of ray, shark and seahorses.
A walk-through tunnel takes you through a tank full of wafting giant rays, sharks, jellyfish and numerous other fish and sea stars - a new name for starfish.
This is a prime spot for the kids, and they've spent $7.5 million in the past four years after joining the same franchise as Kelly Tarlton's. All those fishy residents get through 90kg of food a day, and the giant rays look pretty happy with their silly little smiles as they float over your head.
There are play areas, a Jurassic era exhibition and a chance to swim with friendly seals. Fishy heaven.
Then it's off to Aussie World, a dazzling primary-coloured and compact fun park to rival Dreamworld and Movie World.
It's home to the most photographed pub in the world, and has big plans for new rides and expansion. Manager Wayne Poole is bursting with enthusiasm for the 16ha expansion, and every ride and sideshow is sparkling with fresh paint and bright colour.
There's the Bombora, a drop and twist tower, the illusionarium, giant slides, a retro sideshow space of laughing clowns and shooting galleries, dodgems, a giant Ferris wheel, pirate shop, a little kids' area with teacup rides and a wee train. New is the truly scary Mayhem Maze full of creepy clowns to terrify the boldest teenage boy.
Outside is a retail precinct of olde worlde-style shops, including the best fudge you've ever tasted, and it's all accessible just off the motorway near Noosa.
It's a day of fun for A$40 ($43) or A$144 for a family of four, cheaper online (and cheaper than the "other" big park on the Gold Coast). Wayne says they're aiming to be one of the top 10 attractions in Asia/Pacific.
After a day here you'll pile tired but happy kids into the car for the drive home.
All these parks are within cooee of each other along the Sunshine Coast so you don't have to drive far to have a uniquely Aussie experience - and make a lifetime of memories.
CHECKLIST
Getting there: Air New Zealand flies direct from Auckland to the Sunshine Coast three to four times a week between June to October, with one-way Seat fares from $240.
Further information: queensland.com.