The word Peru has become almost synonymous with Machu Picchu — but there's so much more to see
For tourists, the word Peru has become almost synonymous with Machu Picchu. And for good reason. The ancient ruins of a 15th-century Inca civilisation discovered (beyond local knowledge) only a century ago are nothing short of fascinating.
But Peru, with it's deserts, mountain ranges, historical landmarks, picturesque towns, world-class cuisine and bustling capital city, has much more to offer both adventurer and the luxury-seeker.
Lima is in the grips of a gastronomy revolution as chefs with world-class training bring their skills back to their home country. Visitors can learn to make signature Peruvian dishes from highly-trained chefs before nipping down to Lima's art district for a drink or a dance to live music.
There's also desert adventures, an abundance of wildlife and the famous Nazca lines to see. Here's seven things you shouldn't leave Peru without experiencing.
GASTRONOMY
Peru's capital Lima is home to three of the world's top 50 restaurants and, lying on the coast, boasts some of the freshest seafood. Bursting with flavours and colours, Lima is earning a reputation for world-class degustation and innovative menus. And we're not just talking Peruvian cuisine. Mitsuhara Tsumura's Maido delicately brings together Peruvian and Japanese cuisine in a style known as Nikkei. Ranked no.13 in the world, Maido offers a number of fresh, delicate and exciting dishes using river snails, ocean seafood, guinea pig and Amazonian treats.
Peru's own celebrity chef Gaston Acurio also has a range of restaurants on offer, from the elaborate Astrid and Gaston - with fine dining and nitrogen frozen deserts - to La Mar Cebicheria, which offers dozens of spins on the raw fish Peruvian dish ceviche.
Peru also offers an abundance of unique and interesting local meats, fruits and drinks to sample including alpaca, purple-corn juice, pisco, 4000 types of potatoes and dozens of spices and chillies. The World Travel Awards have long known about Peru's gastronomy, appointing the country the best culinary destination for the fourth year running.
BALLESTAS ISLANDS AND A DESERT PICNIC
The Ballestas Islands on the Paracas Peninsula are an animal lover's paradise. Pods of sea lions, colonies of penguins and pelicans and flocks of birds await a five-hour drive from Lima. If luxury is your taste, stay over at Hotel Paracas, where the spacious sea-view villas and extravagant purple-lit poolside bar and restaurant will make you forget you're no longer in the city.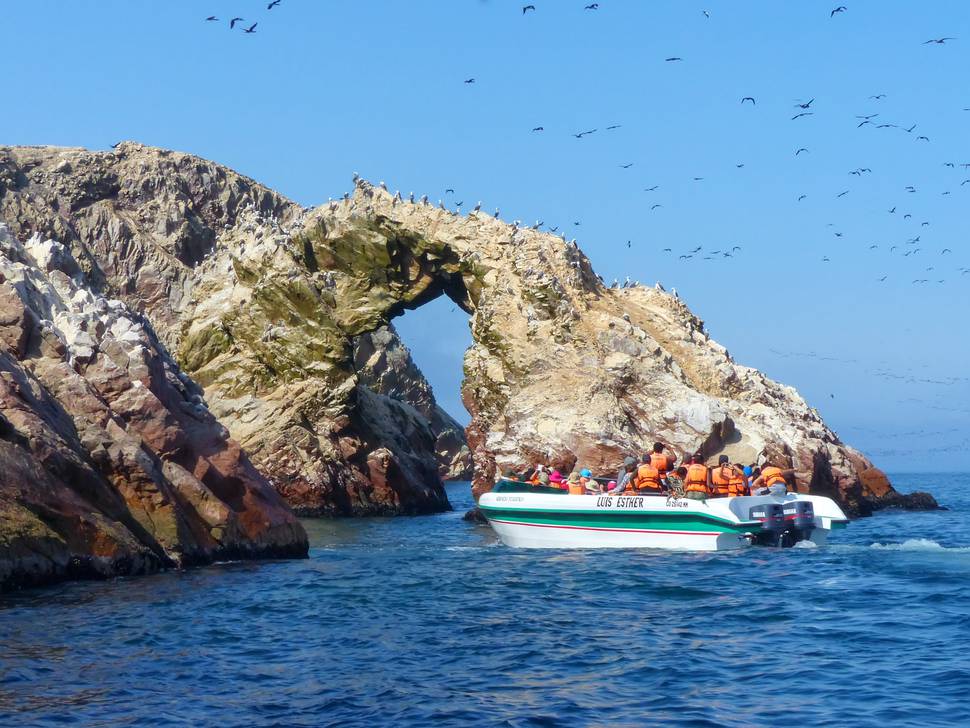 The hotel is also the mastermind behind the desert picnic, where relaxation and luxury meets adrenalin. Professional rally drivers will take you on a heart-pumping four-wheel driving through the sand dunes before stopping at your own fire-lit, white tent in the privacy of the red desert, with a personal chef and waiter serving barbecued meats and champagne.
COLCA CANYON AND AREQUIPA
Against the bustle of Lima, Arequipa - or Peru's white city - seems like a quiet country town. It's actually Peru's second largest city and sits 2230 metres above sea level. It boasts a stunning square that's only overshadowed by the city's elaborate cathedral. Surrounding the plaza are several bars and restaurants perfect for a relaxing pisco sour. Much of the city is constructed with large white stone - designed to cushion shocks from earthquakes - which creates picturesque streets.
There's also an array of restaurants, including Zig Zag - where you can get a trio of alpaca, pork and beef steaks served on volcanic stone.
From Arequipa it's a few hours to Colca Canyon, which is twice as deep as the United States' Grand Canyon and a habitat for large, new-world vultures known as condors. If you don't catch a glimpe of the magestic birds - which were believed immortal by the Incas - there's plenty of sightseeing to do en route, where you'll find women in traditional mountain dress selling crafts, scarves and other alpaca woollen items.
If you're chasing luxury, you can't go past a night at Las Casitas Del Colca, which offers free massages or cooking lessons on arrival. Set amongst the rolling green hills of the Colca Valley, the spacious cottages boast their own outdoor spas with a view and wood-fire places. Roaming around the immaculate grounds and trickling waterfalls are alpacas, llamas and horses.
NAZCA LINES
Large, unexplained but detailed carvings in the desert are nothing short of intriguing. The monkey, whale, condor, hummingbird, dog, spider and the pelican can be seen via air just a short flight from Paracas.
The purpose of the hundred-metre wide ancient geoglyphs have long baffled historians, but some believe Nazca people may have created them for their gods in the sky. Others believe it could have been related to astronomy. Regardless of why, they make for pretty impressive viewing from above.
BARANCO
If hipster is more your scene, Baranco is for you. The bohemian suburb not far from Lima's tourist district has been home to some of the country's most famous composers, artists and musicians. It's a hub of artistic graffiti, live music, funky bars, designer boutiques, art galleries and museums.
Take a visit to Pedro de Osma museum, which houses some of the city's most significant Colonial paintings before turning the corner to the Mate Museo Mario Testino. The museum displays a number of Testino's famous shots of celebrities, including Elton John, Jennifer Lopez and Angelina Jolie, while also showing off his traditional Peruvian portraits. There's a room dedicated to Testino's famous photo shoot of Princess Diana - the last official pictures taken before she died. It's also worth a quick look around Hotel B - part hotel, part art gallery - which decorates its walls with hundreds of pieces carefully selected by the owners. Its contemporary and unique, and accommodates anyone wanting to grab a drink in the bar.
CARAL - OLDEST CITY OF AMERICA
If you're looking for history, Caral arguably out-performs its better-known cousin Machu Picchu. The 5000-year-old archaeological site of The Sacred City of Caral is the oldest civilisation in the Americas and is on UNESCO's World Heritage List. It's about a five-hour drive from Lima and takes about an hour to walk around the pyramids. You'll see a well-preserved ancient community, made up of amphitheatres, plazas and homes. It's believed human sacrifices were used and remains of at least one young man have been found by archeologists.
COOKING CLASSES
Trying traditional Peruvian dishes of ceviche and sipping pisco sours is mandatory, of course, before you leave the country. But learning to make them will not only enrich your visit, but leave you enjoying Peruvian tastes for years at home.
chefs put on entertaining cooking lessons to learn to make and to try ceviche, causa and lomo saltado. Upstairs friendly bar staff will let you taste-test different piscos and teach you how to make a classic pisco sour.
- AAP