Stephanie Holmes enjoys the relaxed, shoes-off vibe of Fiji's party island.
A distinct early childhood memory is walking through a large sandpit in my oh-so-stylish new pink jelly sandals and becoming increasingly frustrated that the sand kept coming in through the holes. Every couple of steps, I'd take off my shoes, pour out the sand, put the shoes back on, walk a couple more steps, then repeat the process. To the grown-ups looking on, apparently it was hilarious, but I remember feeling quite perturbed.
Perhaps that's why as an adult I'm happiest when shoes aren't necessary. Thanks, then, to Beachcomber Island, where I don't wear shoes — not even jandals — for the entirety of my 24-hour stay. There's no need; the whole island is covered with the fine crushed coral sand that Fiji dreams are made of — even the floor of the restaurant and the bar.
Some might argue it's the case in the bar to make it easier to clean up the spilled drinks and mess that can only come from an island that's gained a reputation for being one of Fiji's ultimate party destinations. But who cares, when you can sip an icy cold cocktail at happy hour with your feet buried to the ankle in warm, soft sand?
I'm definitely on the older end of the Beachcomber age scale — this is the place the 18-year-olds in your life will be heading on their first solo trip to Fiji. And you should let them, because it's a lot of (hopefully) harmless fun. Aside from the hangovers, obviously.
And who knows what goes on in the 64-bunk Grand Dorm. Probably best not to think about that, actually.
But you don't have to be a late-teen party animal to have a good time here. Getting off the Yasawa Flyer catamaran, a stylish 60-something English couple line up alongside me to transfer to Beachcomber's awaiting speedboat. She, red-lipsticked, with tanned, bare shoulders, beams at the corn-rowed, tie-dye pant-wearing backpackers waiting with us.
"Are you really getting off here?" one of the young women asks, good-naturedly. "Yes!"
she exclaims, "we heard it was the party island so we thought why not check it out."
Why not indeed.
Beachcomber has everything you need on a Fiji holiday — watersports, snorkelling, swimming pool, palm trees, warm water to relax in, a mini-golf course running through the centre of the island, and the most amazing sunsets I've ever seen. As well as the dorms, there are private air-conditioned rooms and beachfront bures.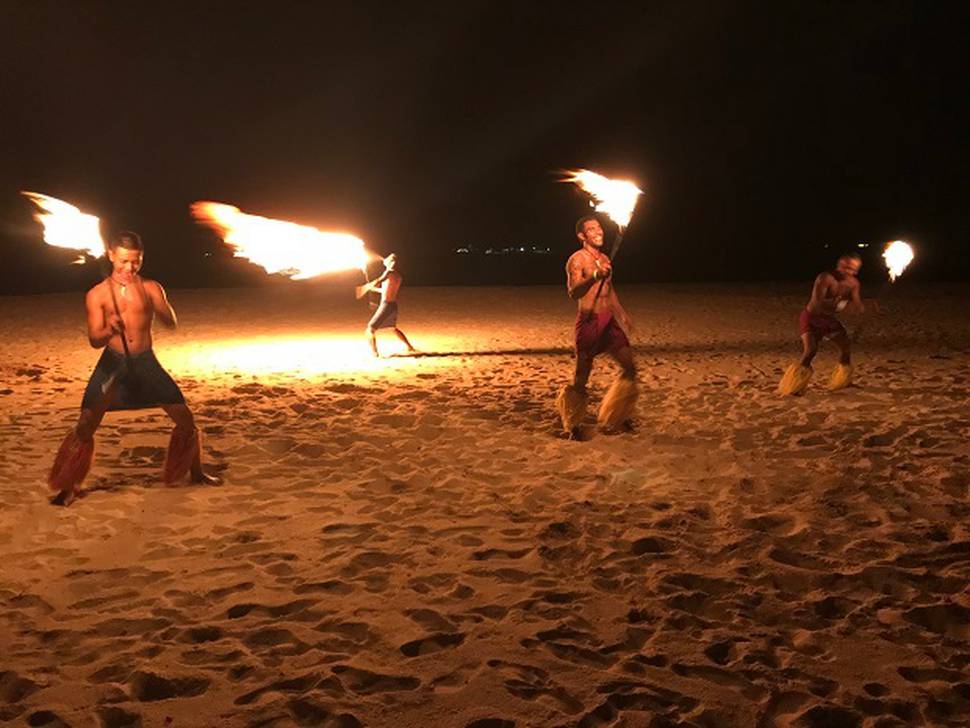 The buffet is hearty, with traditional Fijian dishes alongside ones to keep the late-night party animals happy — like hot chips for breakfast. And food is regularly available to help line the stomachs — breakfast, lunch and dinner buffets, plus morning and afternoon teas. You'll never go hungry. Or thirsty; there are four different happy hours throughout the day, and the bar is open until 2am. After that, guests can bring their own duty-free alcohol to the bar area and keep going for as long as they like.
I'm content with a couple of G&Ts while I watch the 9pm Pacific Islands dance show and the 10pm limbo contest, before heading back to my private room for an early-ish night. I want to be fresh to enjoy the next day — my last day in paradise.
And what a day it is. The Yasawa Flyer departs Beachcomber at 5pm and reaches Port Denarau 45 minutes' later, giving me plenty of time to catch my 8.30pm flight. So I spend the day lying on that thick mattress of white sand, drinking a final pina colada, before a last, languorous dip in the translucent turquoise ocean. I cut it as close as possible to departure time before I get out of the water; so close in fact, my hair is still wet when I check in at Nadi airport.
Chatting to the English woman again on the top deck as we approach the mainland, we both sigh enviously at the happy young backpackers with so much freedom ahead of them. She talks about all the places she's been in her 60-plus years on Earth, and all the places she has yet to visit. "It's hard to fit it all in, isn't it?" she says, with an almost melancholic air. We both stare wistfully at the horizon for a moment, lost in our own travel dreams.
"But still," she says, "I've had a jolly lovely time," and beams another red lipstick-framed grin. Proof that if you can't beat them, you should definitely join them. And they'll welcome you in with open arms.
Checklist
GETTING THERE
flies from Auckland to Nadi.
The Yasawa Flyer departs daily from Port Denerau at 8.30am, reaching Beachcomber at 9.15am. Daily return journeys leave Beachcomber at 5pm.
DETAILS