The food on Hawaii's island of Oahu sends Heather McCracken into raptures.
You might choose Hawaii for the surf and sun, but beyond the hotel buffet, there are also delicious food adventures.
On the island of Oahu, Honolulu's multicultural population is reflected in modern takes on Japanese, Portuguese, Pacific Island and American staples. There are options for all tastes and budgets - and no need to eat pineapple on a pizza.
Hawaii's best local produce is fresh fish, especially tuna, and nowhere is it fresher than the Honolulu Fish Auction, where the catch has been unloaded every morning since 1952.
The main catch is bigeye tuna (locally known as ahi) and broadbill swordfish, though you'll also see many others on local menus, including moonfish (opah), dolphinfish (mahimahi) albacore tuna (tombo) and skipjack (aku).
The guided tour starts before dawn as the fish are being unloaded from longline boats at the docks. (You'll need a warm jacket and sturdy rubber-soled shoes - but if you have only beachwear they'll lend you some.)
Brooks Takenaka leads the tours some days. Having worked at the fish markets since the 1970s, he can answer all your questions, and then some.
He'll also give you insider tips on where to eat top seafood - and if you tell the chef Brooks sent you, you're sure to get the best.
For an immediate hunger fix, head next door to Nico's Pier 38, where you can skip the bacon and start the day with fish and eggs - knowing the fish came off the boat just hours before.
The 90-minute tour runs on Saturday mornings from 6am, and costs $23 for adults or $17.50 for children.
The Kaka'ako market feels like a little piece of country life, right in Honolulu. It's laidback, uncrowded, and many of your fellow shoppers will be local people picking up their weekly vegetables.
Just don't bother eating breakfast before you come here. There is so much to eat and drink - fresh produce, baked goods, jams, coffee, nuts, and fish. If you're still waking up, kickstart things with a brew from Daylight Mind Coffee Co, made from beans grown on the North Shore of O'ahu. Choose from a wealth of fresh pastries, as you watch the baker roll out the dough in the back of the stall.
Snacks to nibble by the pool later? Try macadamia nuts roasted in cinnamon, or handmade salted caramel marshmallow.
But the best thing is the produce - some of which I'd never seen or heard of before - egg fruit, apple bananas, chico fruit (tastes like pear in brown sugar), pummelo (citrus), rambutan, and soursop.
The fruit here is much cheaper than any you'll find in pre-chopped bags at roadside stalls around the island, so this is a great place to stock up.
Open Saturdays: 8am-12pm.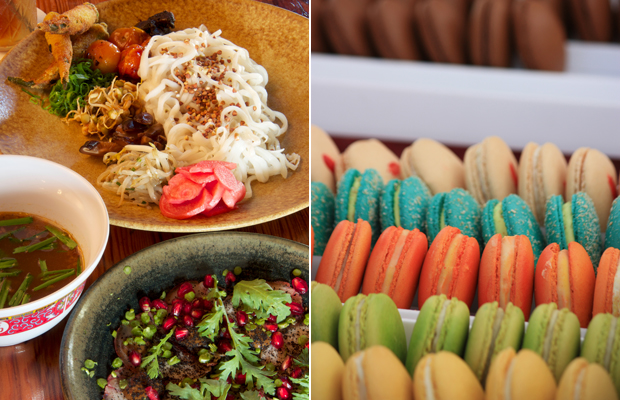 Farmers' pho from The Pig & Lady in Oahu's Chinatown (L) and macarons at Kaka'ako Farmers' Market. Photos / Craig Fuji and supplied
3. Highway Inn
Open since 1947 - although the new and trendy Kaka'ako outlet is considerably newer than that - the Highway Inn diner offers a fresh take on traditional Hawaiian food.
Helpfully, they also offer a "malihini" (newcomer) guide, to help you understand what you're eating.
Opt for the Super Combo Plate and you'll get a taste of lau lau, or pork and butterfish wrapped and steamed in luau leaves.
You'll also get fresh, delicious lomi salmon, a ceviche-like dish of tomatoes, onions and salmon. Locals will tell you to pair it with poi, or mashed taro root. I wasn't keen on the slightly gluey texture of poi, but it's worth a try.
Lau lau is delicious and, like kalua pig - cooked in an underground oven - has the salty, smoky flavours familiar to anyone who's eaten hangi.
You can also try poke, a local dish you'll find on many restaurant menus - a fresh and tasty salad of raw ahi and seaweed.
I ate great food all over Oahu, but my food-lover's heart was stolen by a Chinatown eatery with the unlikely name of The Pig & The Lady.
It was supposed to be just drinks and nibbles. But a plate of sashimi appeared in front of me, and promptly disappeared, followed by a crunchy, hearty banh mi (bread roll), and a bowl of fantastically flavoursome pho (spicy noodle soup).
Chef Andrew Le's restaurant (the "Lady" is his mother, who works in the kitchen, he's the "Pig") opened in Chinatown after operating as a pop-up at farmers' markets.
A highlight - along with the sashimi - was the French dip bahn mi, which consists of baguette dipped into a pho broth.
Honolulu's Chinatown has plenty of eating options. Lucky Belly also comes highly recommended, particularly for its ramen and shrimp gyoza (dumpling) - and drinking spots, if you want to make a night of it.
Look out also for movie production trucks parked on side streets - Honolulu is often used as a filming location for the new Hawaii Five-0 series.
On Oahu's North Shore, home of famed surf spots Sunset Beach and the Bonsai Pipeline, Ola at Turtle Bay Resort has an unbeatable beachside location.
Which maybe why it's featured in food shows, reality shows, movies (Forgetting Sarah Marshall), and sitcoms (Cougar Town).
Turtle Bay is a bit fancy, but Ola feels quite relaxed, and it's a casual menu - burgers, sandwiches and salads, with a Hawaiian twist.
The Hawaiian ahi sandwich came with an enormous fresh fillet, served with a wasabi aoli on a taro bun.
It was far more memorable than you'd expect of a fish sandwich - even down to the taro bun's alarming purple colour.
Ola isn't all that cheap, but if you're on a budget you can skip dessert and opt for a shaved ice from a roadside stand as you continue round the coast.
CHECKLIST
Getting there: Air New Zealand flies non-stop to Honolulu up to five times a week from Auckland.
Further information: See DiscoverAmerica.com and gohawaii.com for more on visiting Oahu.
Heather travelled to Hawaii courtesy of Air New Zealand and the Oahu Visitors Bureau.