Michael writes: "I thought this may interest you. This van was reversing into the rubbish dump pit at the site in Mairangi Bay and approached at what could only be described as a bit fast. The workers are holding it back from going right in the pit, not as it could appear pushing it in, all this, while the driver continues to try and drive it out."
Bags not
Congratulations may be in order for Countdown over its decision to start weaning customers off their 150 million a year plastic bag addiction. But surely the supermarket conglomerate could be faster off the mark in promoting a culture change from the shop floor. The height of nonsense was reached for one reader who went through a checkout with a solitary onion, which the operator promptly plastic-bagged before he could rescue it and pop it in his pocket.
Guardian monkeys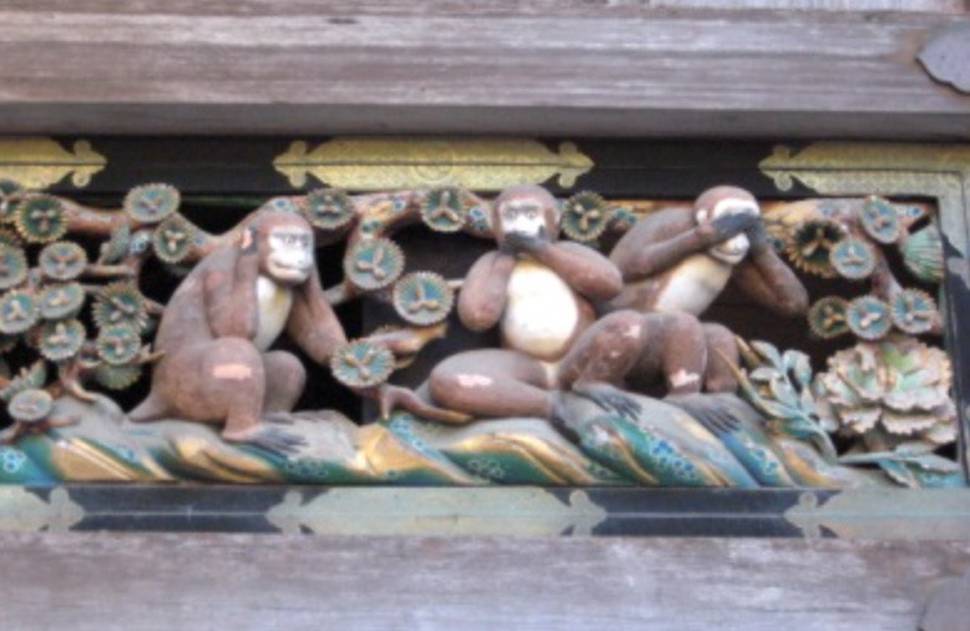 A reader who has visited the Toshogu shrine, where the white horse gifted from NZ to Japan and known there as "the imperial horse", will be housed, writes: "The horse will be guarded by one of the most famous symbols in the world. Over 300 years ago, when Japanese believed that monkeys guarded horses, the Japanese artist Jingorou Hidari carved three wise monkeys on part of the shrine wall where the NZ-gifted white horse is stabled. Hidari's depiction of three monkeys has now been reproduced hundreds of thousands of times. Over a million people a year visiting the Toshogu shrine always make a point or finding the part of the wall where the famous monkeys are carved."
Tail-ender Tim, where are your details?
"Last Wednesday at about 1pm we were driving off the motorway at Pakuranga towards the traffic lights, turning left onto Ti Rākau Drive," writes Pauline. "The car in front stopped, we stopped, but the car behind us smashed into us, damaging our front and rear. My husband, who is nearly 90, went into shock and I did too, so I didn't get the guy's detail. He said, "My name is Tim, give me your name and number and I'll phone you later with the details" which I did, but he hasn't got back to me. State Insurance said we will have to pay the $400 excess if we can't supply the driver's details, even though it wasn't your fault. Please send us the details Tim, it's the right thing to do."