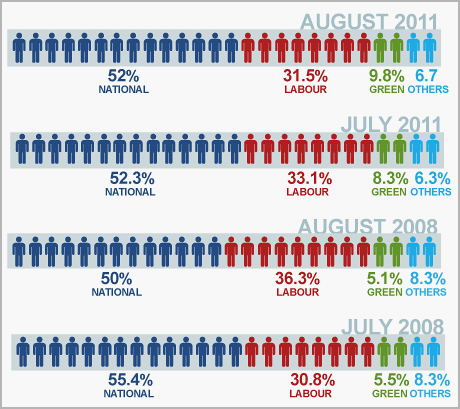 Three months before the election, the Labour Party's support has dropped again in the Herald-DigiPoll survey to its lowest this term.
Labour's support dropped among decided voters by almost two points to 31.5 per cent - its second lowest since 1999.
This follows a three-point drop the month before. Its lowest was in July 2008 when it polled at 30.8 per cent.
National remained steady on 52 per cent in the poll of 750 eligible voters - enough to secure it 65 seats in Parliament and govern without requiring support from other parties.
Labour would have 39 seats.
The Green Party and NZ First were the main beneficiaries of Labour's fall. The Greens went up by 1.5 points to 9.8 per cent - their highest in the poll since mid 2002, and enough to add three more MPs to the nine they have.
NZ First went from 0.9 to 2.4 per cent after its annual conference.
The poll follows damaging leadership speculation and leaks about internal Labour discussions, including a report that leader Phil Goff told his front bench to be frank about whether he should resign.
Labour's caucus is meeting today for the first time in a fortnight, and another bad poll will do little to soothe concern it is facing a vote collapse as National did in 2002.
Although Labour dropped, Phil Goff's rating as preferred Prime Minister rose by two points to 11.5 per cent - still well below Prime Minister John Key who stayed steady on 70 per cent.
The increase for Mr Goff came from female voters - 13 per cent selected him, up from 8 per cent last time.
His support among male voters stayed steady on 10.4 per cent. The lift was possibly prompted by recent articles about his background and personal life, including a Weekend Herald biographical series and several magazine profiles.
The polling period also followed the release at the National Party conference of welfare policy, including "payment cards" for young unemployed people which prevent them buying cigarettes and alcohol.
Approval of the Government increased - 59.5 per cent thought it was moving in the right direction, up two points from last month.
About a third, 32.2 per cent and slightly less than last month, said it was heading in the wrong direction.
Labour does get some good news in Pre-election gloom for the poll - it made up ground among Auckland respondents where it had 38.6 per cent support, a four-point lift.
The gain was at the expense of National, which dropped from 52 to 47 per cent in Auckland.
But Labour's support collapsed among voters outside Auckland, down from 39 per cent last month to 28 per cent. There was a similar drop among older voters - Labour dropped from 36 per cent to 25 per cent while National increased from 49 per cent to 60 per cent. NZ First also regained ground among that age group, going from 2.3 per cent to 7.6 per cent.
Among the minor parties, Act support dropped from 1.4 to 1.2 per cent, meaning that if Epsom electorate candidate John Banks wins he will carry only party leader Don Brash to Parliament from the party list.
Hone Harawira's new Mana Party is on 0.2 per cent - down from 0.4 per cent - meaning that if Mr Harawira holds his Te Tai Tokerau seat, he will be in Parliament on his own.
The Maori Party was on 1.8 (down 0.2) and United Future was on 0.1 (down 0.5).
With three months to go before polling day, undecided voters had dropped from 11 per cent to 9 per cent this month - well below the same point before the 2008 election, when 17 per cent were still undecided.
The poll of 750 eligible voters was between August 19 and 26 and the margin of error was +/- 3.6 per cent.