The Hawke's Bay Coastguard has rescued a struggling swimmer after Art Deco visitors were unable to reach the stricken man using part of a camper van toilet as a flotation device off Napier's Marine Parade.
The drama unfolded after the visitors were alerted just after 5.40pm on Tuesday near pop-up Art Deco week campervan and motorhome park south of the Spirit of Napier monument.
Park custodian Tony Pye, of Napier, said five to six young men or teenagers were swimming and diving into the surf immediately out from where more than 60 campervans and motor homes had parked.
"One guy came up and said we need help, one of our bros is drowning," Pye said.
He rang 111 as campers joined the emergency, tying part of their to a rope and throwing it into the surf in an attempt to haul the man back ashore.
Moved in and out again by the waves, the man was unable to reach the line, but was soon rescued by the coastguard who Pye said had him aboard their craft by 6.17pm, as a helicopter was on its way.
Coastguard skipper Henry van Tuel said it received an alert at 5.45pm and a crew of four put to sea.
"We could see people with flags on the beach where he had been swept away and were fortunate enough to find him pretty quickly," Van Tuel said.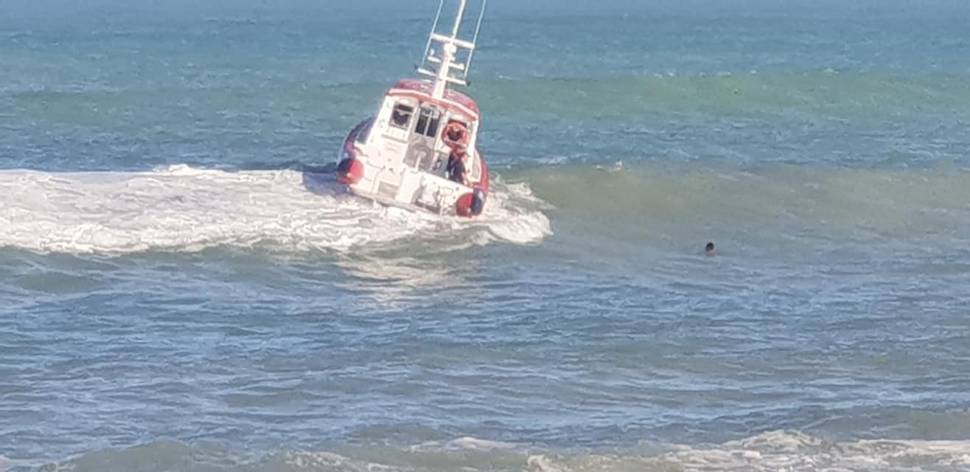 The young man, who van Tuel presumed was in his teens, had been treading water for about 40 minutes when Coastguard spotted him.
"He had been swimming slightly south of the National Aquarium near the camping area and just got sucked out to sea, there's been some big swells in the past few days."
Upon checking his GPS, van Tuel said the teenage boy had been swept about 157 metres offshore.
"He had swallowed a bit of water, we threw a rope out to him and then we pulled him in. We wrapped him in some blankets and gave him something sweet to get his energy levels back up.
"He's been checked over by paramedics and he's all okay."
The Lowe Rescue Helicopter had also been called to assist, but general manager Ian Wilmot said the operation was stood down as the Coastguard discovered the swimmer quickly.