A former champion surf life saver who made a dramatic rescue of a tourist plucked from Napier's shoreline by the sea 25 years ago says locals should be encouraged to learn to swim at their town beach and know when it is not safe.
Chris Swain, just returned to Hawke's Bay after several years in West Australia, was speaking to Hawke's Bay Today after being told of the adventurous antics of four visitors in the heavy Marine Parade surf yesterday.
Now 42, his playground was the parade's Pacific Beach and he was the man for the job on January 31, 1994, after a former Danish swimming champion was snatched by a sudden wave and dragged out to sea on otherwise idyllic morning beach stroll with her husband.
Rushing to the beach, Swain dived through the surf and swam the distressed woman beyond the danger of the pounding waves to the open sea to be winched to safety by a rescue helicopter.
It was one of several similar incidents within a few years — some fatal — which, Swain says, led to Napier's own fearing their beach rather than getting to know it, and knowing "when" it is not safe.
Surf Life Saving New Zealand media officer Debbie Moodie said: "We can't say it's a dangerous beach. We have a surf life saving club there."
New signs installed in recent years warn of the potential in more extreme conditions.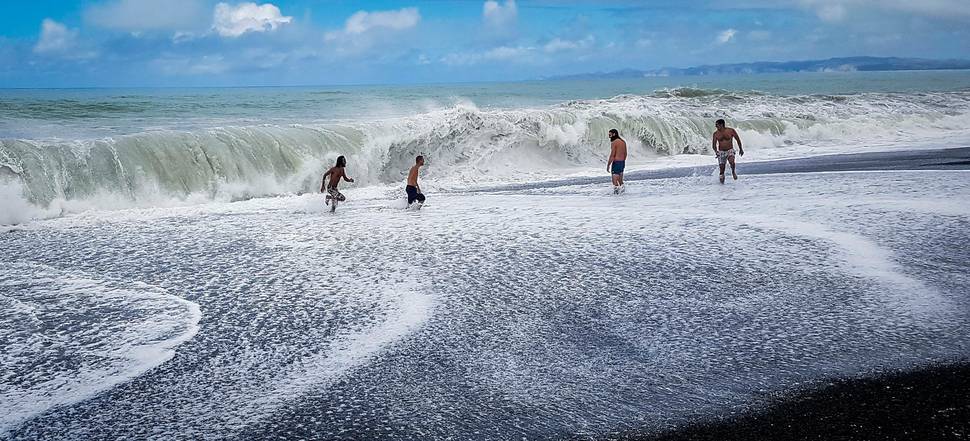 Swain is angered by the absence of local swimmers and says one result is that visitors are consequently unable to use locals as a guide to the conditions, which were yesterday like a red rag to a bull for backpackers Facu Manzur, from Argentina, Marcus Lefevere, from Belgium, Daniel Jede, from Germany, and Quentin Guillet, from France.
Stripped and sprinting across the parade to meet the challenge, they were knocked over and rolled-around by the surf but soon heeded forewarnings from their host and got out.
"We knew that it is dangerous," said Mazur.