This Christmas, the Herald and The Fred Hollows Foundation NZ are working together to bring the Gift of Sight to the Pacific, where four out of five people who are blind don't need to be. Alarmingly, an increasing number of these are young people, suffering from diabetes-related eye disease. This week, we bring you stories of just a handful of these people and invite you to help us raise money for a sight-saving machine that can improve the lives of people like them.
Port Vila Central Hospital, Vanuatu:
On a steamy October morning a long corridor is lined with anxious people wearing colourful clothing.
They wait their turn to pass through a door to which a piece of paper bearing the words "Eye Clinic" is taped.
Most are here because of the work of the seven eye nurses who cover this nation of 65 inhabited islands. Some patients have travelled for two days.
It is "outreach week". It happens once or twice a year and is a bit like speed dating.
Specialists from overseas fly in and do as much good as they can with the available tools.
Two ophthalmologists from Fiji are here. They work in a small room crammed with support staff. On one wall is a standard eye chart which has on its flipside a range of symbols for the illiterate. There are machines for examining eyes and one that can be used for straightforward laser surgery.
Conditions are far from ideal but by the end of the week the doctors will have done laser surgeries, extracted foreign bodies, treated corneal ulcers, drained an abyss and examined the eyes of 183 people - most of them diabetic.
Cataracts are still a major cause of avoidable blindness but diabetic retinopathy - where high blood sugar damages tissue at the back of the eye - is close behind and growing rapidly in the Pacific which is home to seven of the 10 countries with the highest rate of the disease.
Nearly a quarter of Vanuatu's population of 280,000 have diabetes, according to the World Health Organisation.
Consequently there is a huge number of people who need their eyes checked, people who may not know they have the disease, people who will go blind without treatment.
The good news for them is the country is about to get a modern eye clinic.
In February, a $2.1 million refurbished and extended eye clinic, funded by Fred Hollows Foundation NZ, is due to open. It will have modern laser equipment and the foundation is funding raising to buy an up-to-date diagnostic camera.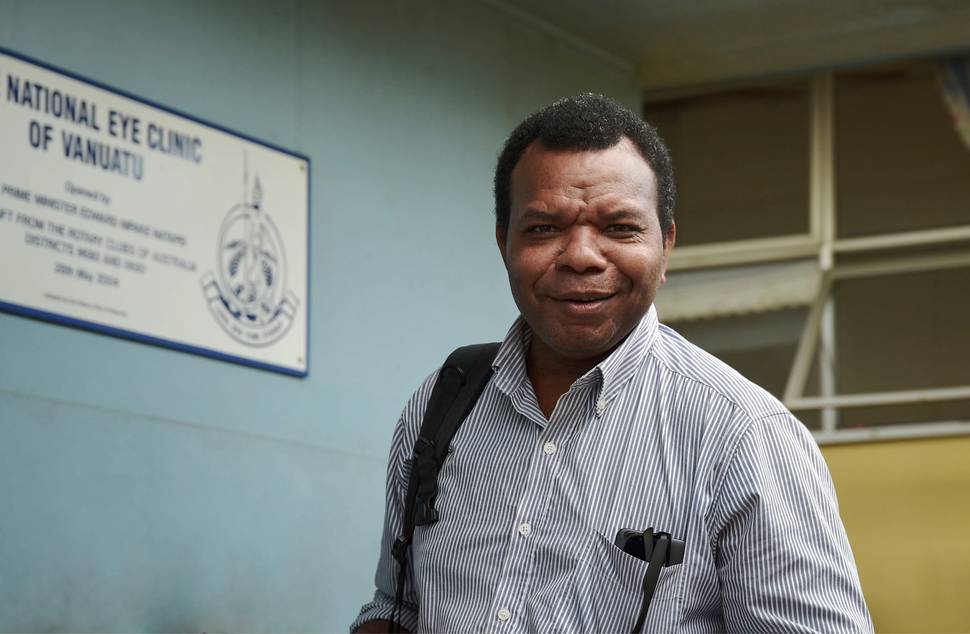 It will be headed by the country's first resident eye doctor. His name is Dr Johnson Kasso, one of the ophthalmologists in the midst of the hubbub in that basic hospital room during outreach week.
Kasso decided to move from general medicine to eye health to build on work by the foundation.
Yes, he says, he could have got better money working in a wealthier country.
"But I thought if I go somewhere and people ask whether you have enough ophthalmologists in Vanuatu and you tell them that there are no ophthalmologists. In a way it is quite an embarrassing thing.
"So I am thinking more about the people than the money, about the diabetes load that we have."
Kasso says a third of the estimated 46,000 people with diabetes in Vanuatu are at risk of going blind without treatment.
"The disease threatens the retina, that's why we call it sight-threatening diabetic retinopathy."
Treatment is by laser surgery or a series of injections.
"Unfortunately we don't have the capability for injections but hopefully as soon as the new clinic is open we will have all the equipment so we can deliver laser."
One of the laser surgeries Kasso was able to do during the we was for Morin Bruno, a driver.
"I wasn't scared because I really want to get my eyesight back," a smiling Bruno said after his cataract was removed.
"My hope," says the father of three, "is that I will now be able to keep working for many years."
• To make a donation go to Fred Hollows or their Givealittle page
Diabetes Facts
The number of people in the world with diabetes has nearly quadrupled since 1980.
It is increasing most rapidly in low- and middle-income countries.
7 of the 10 countries with the highest incidence of diabetes are in the Pacific.
The causes are complex, but the rise is linked to obesity, diet and insufficient exercise.
Diabetes of all types can lead to complications in many parts of the body and increase the risk of premature death.
A large proportion of diabetes and its complications can be prevented by a healthy diet, regular exercise, maintaining a normal body weight and avoiding tobacco use.
Source: World Health Organisation
Diabetes and blindness
Diabetic retinopathy is the most common cause of vision loss among people with diabetes and a leading cause of blindness among working-age adults.
Diabetic retinopathy involves changes to retinal blood vessels that can cause them to bleed or leak fluid, distorting vision.
Other diabetic eye diseases include diabetic macular edema (swelling to an area of the retina), cataract and glaucoma.