The Saturday before Santa arrives and the Sunday before the new year of work begins are expected to be the busiest day for travellers at Auckland International Airport this festive season.
Auckland Airport bosses this week revealed the 10 days over the Christmas-New Year holiday period they believe the international terminal will be at its most congested.
Saturday, December 22, and Sunday, January 6, top the list, with more than 43,000 travellers expected through the international terminal on each of the two peak travel days.
On eight other days — December 20, 21, 23 and 26, and January 3, 4, 5, and 13 more than 40,000 travellers are expected through the same terminal.
On a regular day 34,000 to 35,000 people pass through the international terminal, among a sharp rise in passenger numbers that three years ago prompted the airport to kick off a 30-year development plan to cater for soaring growth.
Auckland Airport's general manager of operations Anna Cassels-Brown said the main advice to travellers was to factor extra time into their journey — another half an hour was a good target — to make for a happier start to the happiest time of the year.
"We want people to arrive here in a good state, and to enjoy the experience, not find the first hour of their holiday frustrating because they're stuck in traffic."
As well as those bound for or returning from the skies, thousands more will also arrive at our national gateway to wave goodbye or say hello.
Around 90,000 vehicles come into the airport precinct every day, 15 per cent more than the peak in 2016 that lead to gridlock on airport roads.
Changes to the road environment since then, including a truck bypass, have eased pressure.
After a nice early arrival to the airport, Cassels-Brown also encouraged travellers to get themselves through the various checkpoints quickly.
Kiosk check-ins were generally quicker than those at the counter, and going through customs and security was best not left till the last minute.
"Once you get through immigration there's oodles of room because of all the new developments. We've done 36,000 square metres of refurbished space airside.
"[Once there] you're at leisure — you can shop, dine, go to a lounge, there are new artworks, fabulous views of the Manukau Harbour and we've also got an incredible lighting exhibit being installed over the weekend.
"Do the things you have to do, checking in, customs, security, and then your holiday begins."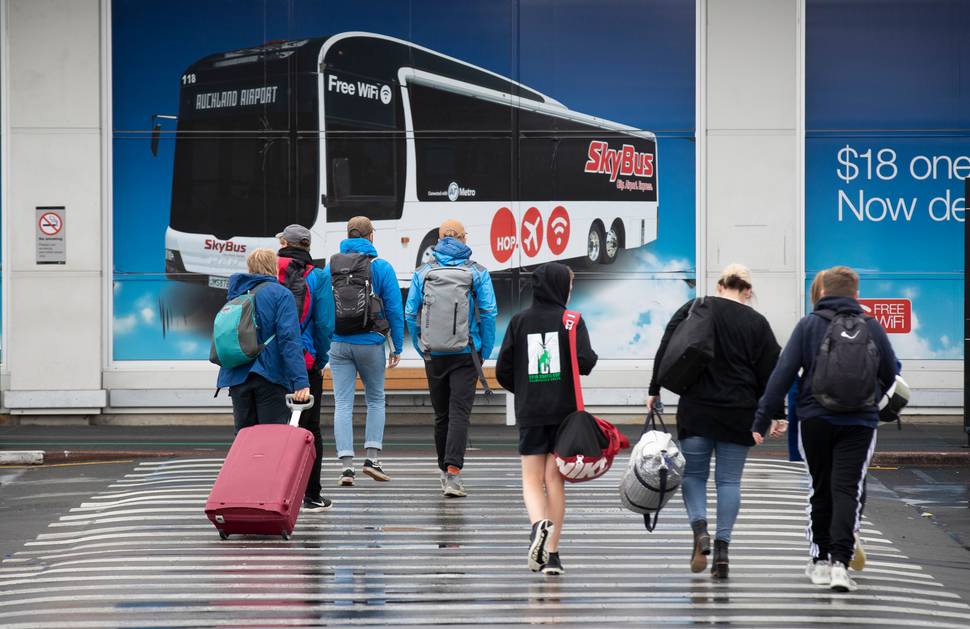 A quick check in and, where necessary, a expeditious journey through security was good advice at the domestic terminal too, although its travel peak was usually around March after kids had returned to school and business travel was cranking up again.
The airport's app had been improved to help travellers and those meeting them.
Features included travel times to the airport, flight trackers and customs queue times, Cassels-Brown said.
"My 77-year-old mum uses it."
Navigation around the airport had also been improved — the pick up and drop off area at the domestic terminal had been colour-coded, and the wait zone car park free parking limit increased from 30 to 45 minutes for the festive season.
Cassels-Brown also encouraged more people to use public transport, including those who work at the airport.
Employees at the various businesses across the airport are being encouraged to take part in a three week public transport challenge, funded by Auckland Airport, she said.
How to really have a pleasant journey ...
- Give yourself an extra half hour travel time to get to the airport
- Go through customs and security straight away, there's plenty to do on the other side
- Download Auckland Airport's app to help plan your entire journey from front door to boarding gate
- Consider public transport - it'll probably be less stressful than driving