Fire services from a wide area are battling a fire which crossed and all-but closed the main road between Waipukurau and coastal Porangahau in Central Hawke's Bay.
One of more than a dozen emergencies answered by Fire and Emergency NZ in the region since mid-morning yesterday, the vegetation fire was reported between Old Hill Road and Blackhead Road, off Porangahau Rd, just after 4pm.
About 7.15pm a spokesperson for the national fire service said 15 appliances were at the scene with two more on the way.
Conditions were too windy for the use of helicopters.
Appliances were from as far as 60-70kms in Hastings and an incident support vehicle from Napier were involved in fighting the fire which one person in the area said may have started in forestry slash as high winds continued in the area.
Porangahau fisherman Richard Kibblewhite said he'd been travelling from Waipukurau to Porangahau when he was told to detour, with ashes having crossed the road and spread the fire.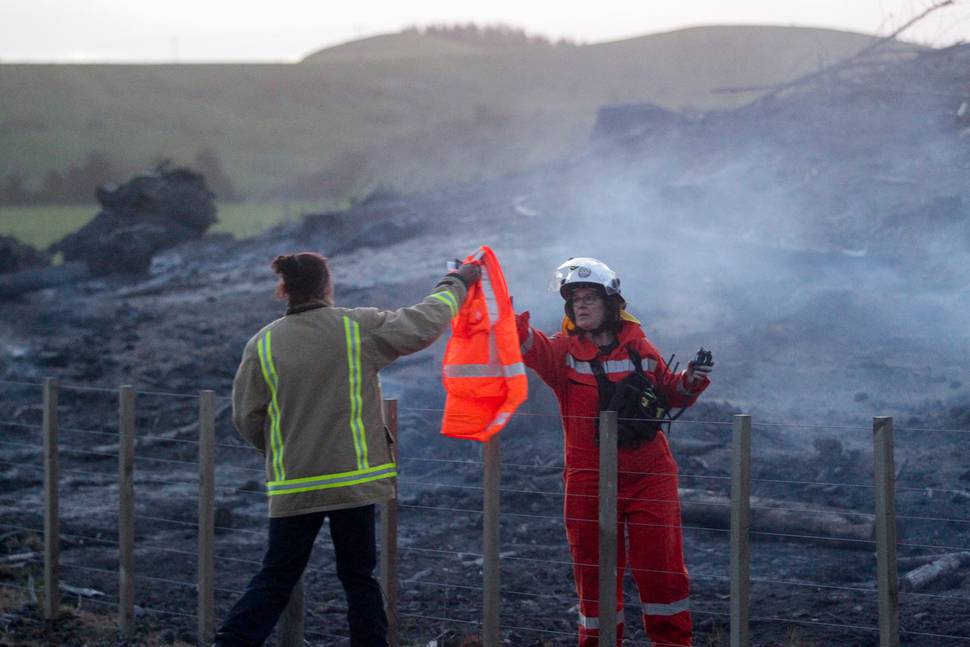 "They said we wouldn't be able to get through, there's a lot of machinery up there," he said.
The fire service spokesperson said however that the road was not closed.
Emergencies in Hawke's Bay included a Saturday night scrub fire on Te Mata peak, east of Havelock North.
A Fire and Emergency spokesman said three appliances were sent to the scene at 9.30pm and spent about two hours controlling the fire.
"Appliances from Havelock North and Hastings attended. It seems it was right at the peak and then burned down the eastern face of it."
The cause of the fire, just below a popular paragliding launch spot, was not officially known but reports on local social media pages suggest people were spotted letting off fireworks shortly before the fire was reported.
Scorching was visible on the peak.
No damage had been reported in Te Mata Peak Park but Te Mata Park Trust park manager Emma Buttle said the trust board "strongly object" to such acts.
"This is a good opportunity to remind the public that fireworks and fires are prohibited in the park at all times because there is a very high risk of fire, especially with this strong wind we are experiencing.
"We also need to remind people that Te Mata Park is private land and we are very privileged to have access so we need to treat it with respect. It's a timely reminder that fireworks are not permitted in the park and there is a high risk of fire. The grass is quite long at the moment so we just need to be very careful and stay safe."