A clandestine methamphetamine operation in Mamaku was interrupted when a substance being used ate through pipes, sending a bathtub overflowing into the landlord's home below.
Describing the flood to a jury in the High Court at Rotorua, Darius Fleet said he was instructed to sort the matter out by Richard Te Kani.
The jury has been alerted that before the present trail Te Kani pleaded guilty to the manslaughter of Fleet's father and cousin Raymond and James Fleet on August 7 last year.
Another man, Martin Hone, has pleaded guilty to their murders.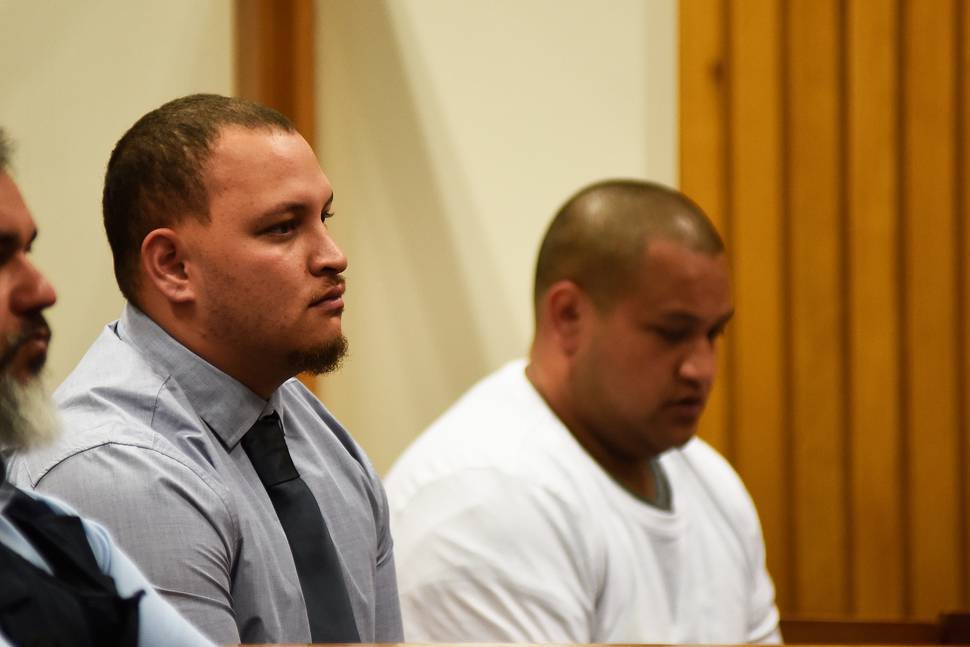 When their trial began on Wednesday, Mikaere James Hura, 21, and Zen Pulemoana, 27 denied charges of murdering the Fleets. They are accused of acting jointly with Hone. Hura has pleaded not guilty to three methamphetamine-related charges.
Giving evidence for the prosecution today, Darius Fleet, son of Raymond, said the meth-cooking enterprise was abandoned in the wake of the flood and the house he shared with his partner and cleaned up.
Fleet said when others involved in the operation suspected part of the amount produced was missing, Te Kani and Hone took him and his father to where Mamaku's Cecil Rd peters out, becoming a gravel bush track.
Before being driven there they were ordered to surrender their cellphones.
"Richey (Te Kani) demanded to know where the s*** was. Dad was saying 'f*** ing I don't know bro.' Marty (Hone) was sitting in the car screaming like a monkey, 'f*** this, f*** that, I am going to give you a hiding'. I understood he wanted to have a fight with Dad."
Te Kani assured the younger Fleet he knew he hadn't taken anything.
Hura arrived with others and began walking around "like he was a hero, showing what a tough fellow he was, he came up to Dad's window, Marty told him to leave."
Eventually the father and son were returned to Mamaku.
Quizzed by Pulemoana's lawyer Max Simpkins, he said before he and his father were taken to Cecil Rd his father had warned him everyone involved in the cooking was going to get a hiding.
He assured Tim Braithwaite, a member of Hunan's defence team, that before his home was turned into a meth kitchen he knew absolutely nothing about how to make the illicit substance.
Questioned further, he admitted knowing Te Kani was a senior patched gang member but not that he was a president.
Giving evidence via CCTV, Te Kauru Raroa, a close friend of Raymond Fleet's, said he told him they were "doing things". Asked by prosecutor Andy Hill to be more specific he said it was that a cook was going on at Darius' home. He was unable to recall if he was told how the cook was going.
Provided with a statement he made to police he agreed he said in it that something had gone wrong and they'd had to vacate Darius' place. "Ray said something was tipped in the bath, it ate through the pipeline leaking into the neighbour's, that the operation had been moved to his shed."
Raroa said when he'd gone into the shed he'd seen Te Kani, Hone and a man called Sheene there. Throughout the Crown's evidence Sheene, also referred to as Dubs, was labelled by witnesses as "the cook".

Raroa said he was told some of the product was missing - "they were pretty mad".
The trial, which is before Justice Sally Fitzgerald, is set to run for at least three weeks.