One of a trio of inmates who attacked a group of prison guards, whom were later found not guilty of using excessive retaliatory force and perverting the course of justice, will serve even more time behind bars.
Samuel Junior Hutchins, 24, was sentenced this morning by Judge Claire Ryan in the Auckland District Court after being found guilty, by a jury, of wounding with intent to cause grievous bodily harm.
Judge Ryan jailed him for six years, nine months and two weeks without a minimum non-parole period.
Hutchins was an inmate at Auckland Prison, Paremoremo, on May 20 last year when - along with two other prisoners - he attacked the Corrections escorts as they were moved to another prison block.
Fellow inmates Trent Wellington and Mitai Angell were also charged with and have pleaded guilty to wounding with intent to cause grievous bodily harm and aggravated assault.
They will be sentenced later this year.
When reviewing the incident, police also charged three Corrections officers for their retaliation and actions afterwards.
However, earlier this month, guards Desmond Faafoi, Wiremu Paikea and Viju Devassy were all found not guilty by a High Court jury.
Faafoi was severely wounded in the incident and stabbed several times in the head with a shank (a makeshift knife).
Hutchins' counsel, John Kovacevich, disputed his client used one of two shanks in the bloody brawl.
He said Hutchins was a "lesser party than Mr Wellington and Mr Angell".
However, during the prison guards' trial the Crown argued Faafoi was stabbed in the head with a shank wielded by Hutchins.
Crown prosecutor Ben Finn said today the attacked was a "premeditated, gang-motivated reprisal".
Judge Ryan agreed and said the attack was against a public official, involved elements of revenge after an earlier altercation with another prisoner, and Killer Beez affiliations.
"In my view there was some premeditation but the extent is hard to ascertain.
"You clearly knew, in my view, that there was going to be a hit on Mr Faafoi," she told Hutchins.
DNA evidence showed Wellington handled one of the shanks while Judge Ryan said "Angell clearly used the shank" as well.
"Two shanks were sharpened and prepared," she said.
"Certainly there is no evidence [Hutchins] held a shank - there were only two shanks involved," Judge Ryan said, adding Hutchins attacked with his fists.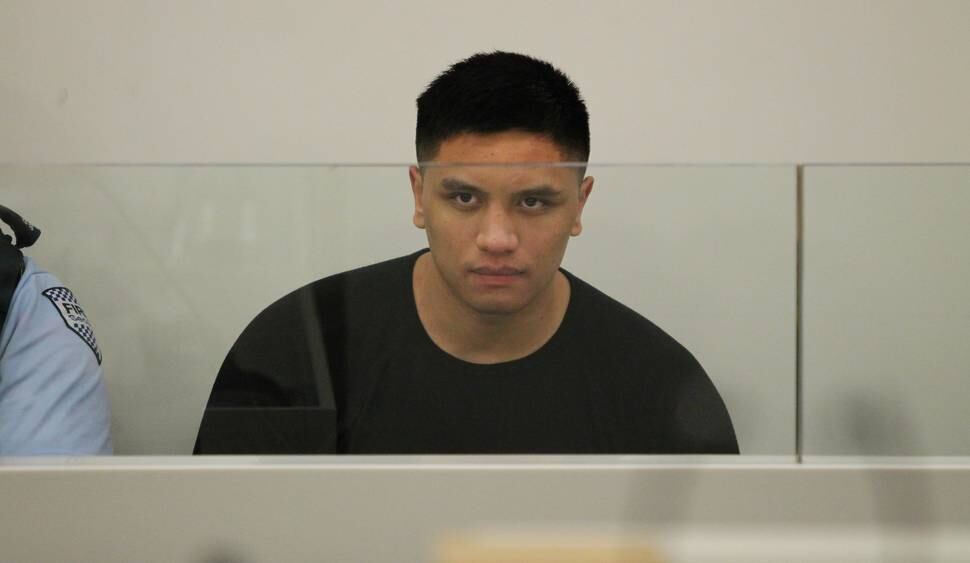 Faafoi said in a victim impact statement he was "pissed off and angry" and has suffered from several ongoing physical and psychological issues since the attack.
He said he hopes to return to work as a Corrections officer and has asked to be placed in an administrative role.
Hutchins has some 23 previous convictions, including injuring with intent to injure and assaulting police.
He was also due to be deported from Australia in 2014, the court heard today. However, there was a dispute over whether Hutchins had voluntarily left Australia.
The High Court jury found Faafoi not guilty of assault with intent to injure Angell after he was seen kicking the prisoner in the head three times.
Paikea was found not guilty of causing grievous bodily harm with reckless disregard after CCTV footage showed him kneeling down over the back of Angell's legs.
The Crown said Paikea deliberately bent Angell's ankle at a 90-degree angle causing a compound dislocation.
Devassy was charged with and found not guilty of wilfully attempting to pervert the course of justice after being accused of directing a CCTV camera away from the incident.
Supporters of the guards erupted in applause as the verdicts were read and the three guards set free on September 7.
Earlier in the guards' trial the High Court was shown the CCTV footage of the incident.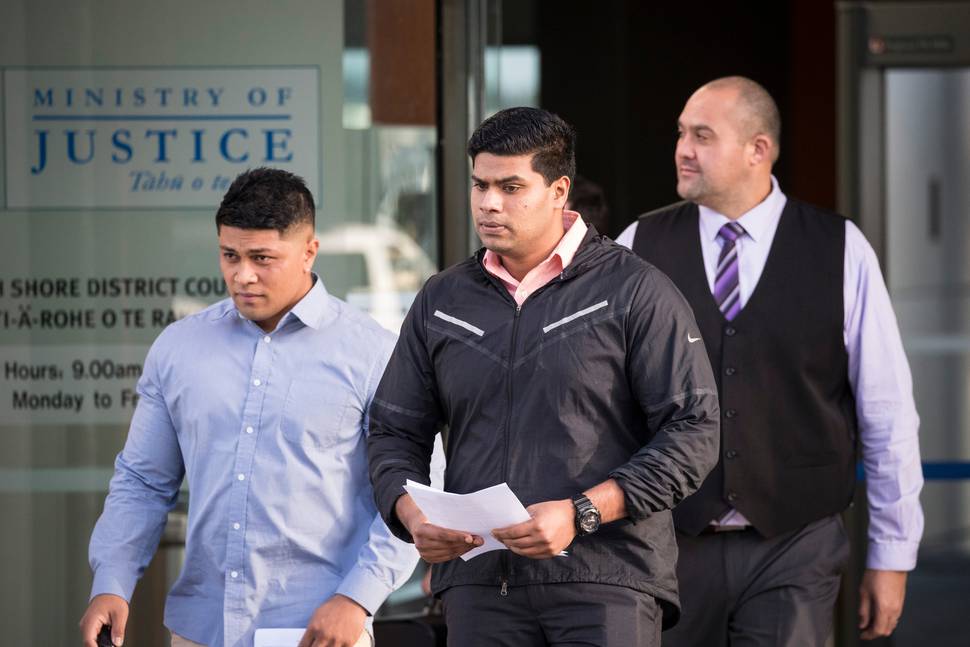 The video shows Wellington being wrestled by a Corrections officer near a stairwell, before Hutchins is tackled by Faafoi.
Faafoi can be seen bleeding heavily from his stab wounds, while blood is soon smeared and splattered over the walls.
Angell is wrestled to the ground and later a voice from an unknown Corrections officer is recorded on Devassy's body camera yelling: "Des[mond], Des, enough, enough, enough, enough ... camera, camera."
The three officers were all suspended after the charges were laid and remain suspended.