More than 8600 lightning strikes have lit up the North Island this morning and heavy rain is battering Auckland as wild weather moves across the region.
In Waikato, residents of Tokoroa have described seeing a flash and hearing a loud bang as lightning struck a tree and caused a fire this morning.
READ MORE:
• Watch: 'Sonic boom' as lightning strike sparks blaze
Meanwhile power was cut to parts of Manukau when a transformer caught fire in Cavendish Drive sending clouds of black smoke and large flames into the sky.
A Vector spokesman said 279 properties were originally without power.
"Our repair crew are on their way, so until they arrive I don't have any further information on the cause of the fault or how long the repairs will take."
By 11am power had been partially restored to those affected by backfeeding electricity from other local infrastructure. The number still without power currently was 56.
Police warned the outage was causing significant traffic disruption and motorists are urged to avoid the area this morning.
A witness at the scene told the Herald he was at work a block away when he saw black smoke everywhere.
"I went down and saw the box was on fire and everyone was running towards it," he said.
"Then about two minutes later the fire engines arrived, but it has drawn quite a massive crowd."
Fire and Emergency NZ said three crews had been sent to the blaze. The witness said traffic had been brought to a standstill.
Meanwhile in Auckland heavy rain has caused surface flooding in Bond St, Grey Lynn.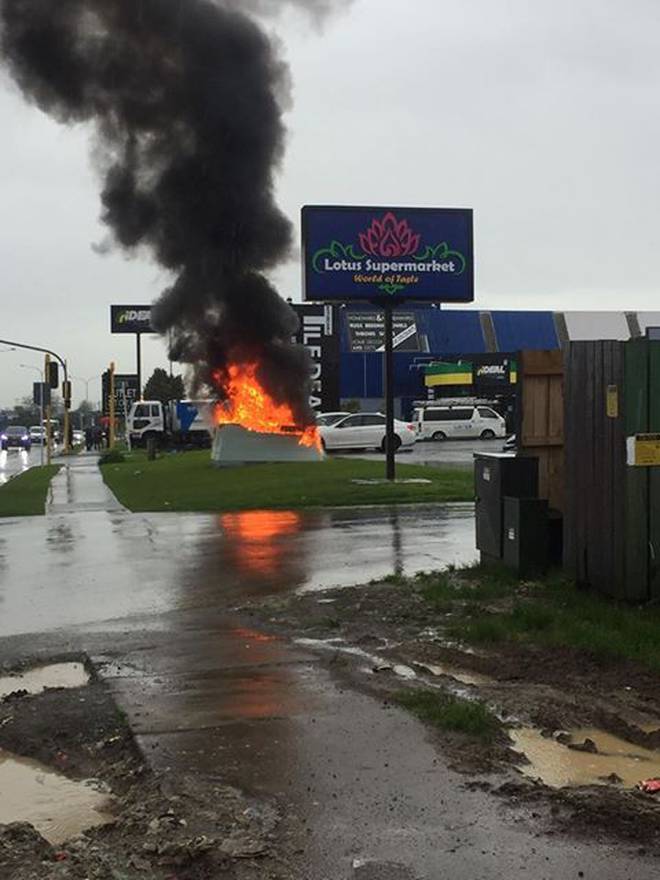 In Tokoroa, Kauri St and West Parkdale St in the Waikato town were closed following the lightning strike which felled a large tree and sent flames shooting up from the trunk.
"Actual flash and a bang inside. That was pretty radical. If I hadn't seen and heard it myself I wouldn't have believed it could happen," one person tweeted.
There was also a gas leak in the area.
A police spokesperson said they were assisting Fire and Emergency NZ at the scene and people were asked to avoid the area.
The North Island's west coast was hammered by about 8000 lightning strikes in the early hours this morning.
MetService meteorologist Tui McInnes said since midday yesterday to 8.40am this morning 8643 lightning strikes have been recorded.
"That is across the whole country, so that does include places in the West Coast and down in southern Otago, but the vast majority of the lightning strikes have been in the northern area.
"The majority have been offshore, but as lots of people have noticed this morning as the front spreads over the country, quite a few of those thunderstorms have spread on to the country with that," he said.
"The main areas that are experiencing thunder and lightning are Manawatu, Taranaki, Waikato, Auckland and Northland."
Earlier this morning MetService meteorologist David Miller said thunderstorms were concentrated on the coast from Kāpiti north to Waikato, with many occurring offshore.
The area was under a severe thunderstorm watch to 9am, with added potential for strong wind gusts over 110km/h, very heavy rain over 20mm per hour, hail and possibly one or two small tornadoes.
Miller said there had been no reports of tornadoes nor hail so far.
The thunderstorm potential would extend to Auckland by midday, and likely clear the country by this afternoon.
Auckland was forecast a high of 16C today with rain from mid-morning, and forecasts of a squally thunderstorm, easing to one or two showers early afternoon as northwesterlies turned southwest.
Behind the severe weather was a series of fronts and troughs moving on to New Zealand from the Tasman Sea.
Mt Taranaki, Tongariro National Park and hill country from Taranaki to Lake Taupō, including Waitomo and the headwaters of the Whanganui River were under a heavy rain watch to 2pm today.
There was also potential for heavy rain in the Tararua Range.
Meanwhile in the South Island, snow was forecast on many of the alpine passes.
MetService had issued road snow warnings for Porters Pass (State Highway 73), Lindis Pass (SH8), Crown Range Rd and Milford Rd (SH94).
The snow was coming with a southerly change moving up the South Island, Miller said.
"It will bring showers to areas as it passes through, but it won't be a complete write-off."
Despite the wild weather this morning, meteorologist Tui McInnes said there is an easing trend.
"There will be a bit of a clearing and things will improve this afternoon," he said.
"The contrast between the heavier rainfall this morning, and it easing off this afternoon will probably be quite stark – so it will feel like a nicer day.
"Unfortunately there is another front moving on from the west this evening which is likely to bring more showers."
Although, the rest of the weekend is looking a bit better.
A ridge of high pressure should lie over New Zealand on Saturday, bringing mostly settled weather.
Through this weekend up to 50mm of rain will fall, with the largest totals actually shifting to the eastern side of the country.
This ridge was expected to move slowly eastwards during Sunday.
Snow in the Southern Alps will have as much as 15cm through Sunday.
Temperatures generally around to slightly above average through Sunday - but colder weather next week will see average to below average temperatures spreading up the country for a time.
On Monday, a complex trough over the Tasman Sea was forecast to spread a moist northerly flow over the country, continuing through Tuesday.
There was potential for heavy rain from Nelson to northern Fiordland, and across the central North Island from Taranaki to East Cape.
Today's weather
Periods of rain from mid morning, chance squally thunderstorm, easing to one or two showers early afternoon as northwesterlies turn southwest. 17C high, 9C overnight.
​ Periods of rain from mid morning, chance squally thunderstorm, easing to one or two showers early afternoon as northwesterlies turn southwest. 16C high, 10C overnight.
Periods of rain, chance thunderstorm, easing to a few showers about midday as northwesterlies turn southwest. 15C high, 6C overnight.
​
Few showers turning to rain late morning, chance thunderstorm, clearing to fine in the afternoon as northwesterlies turns westerly. 16C high, 7C overnight.
New Plymouth Rain, with possible squally thunderstorms at first, easing to occasional showers about midday as winds turn westerly. 15C high, 6C overnight.

Napier Some light rain, clearing to fine towards evening as gusty northwesterlies ease. 18C high, 4C overnight.

Wellington Few showers, mainly in the north, clearing to fine. Showers again tonight as northwesterlies change southerly. 14C high, 7C overnight.

Nelson A few morning showers, then fine spells. Northwesterlies breezes. 14C high, 3C overnight.
Christchurch Cloud increasing during the morning and scattered rain developing in the afternoon. Southwesterlies turning southeast. 13C high, 3C overnight.

Dunedin Occasional showers and southerlies developing in the morning. Showers clearing in the evening. 10C high, 4C overnight.