Graffiti removal on the Auckland rail network has "largely ceased" after an Auckland Transport decision to axe its graffiti clean-up contracts.
The Auckland Council business unit has cancelled its graffiti contracts with the Manukau Beautification Trust and Civic Contractors from July 1 and says it is "looking at ways of getting better value for ratepayer and taxpayer money".
KiwiRail investment, planning and risk general manager David Gordon said no new contracts had been issued "as there is no funding available from AT".
"That work has largely ceased since the halt to AT funding," he said.
Public Transport Users Association co-ordinator Jon Reeves said commuters had noticed "a dramatic increase in graffiti across the Auckland network" in the past eight weeks.
"It's starting to look actually pretty bad," he said. "Word gets around between the low-lifes that no one is monitoring it."
A rail employee, who asked not to be named, said Auckland's reputation was so bad that "professional graffiti vandals are even coming in from overseas now to try and 'hit' an Auckland electric train".
"Two diesel trains were heavily graffitied on in the Pukekohe depot overnight last Sunday morning," he said.
"The graffiti vandals also often target the new electric trains while they are out in service on the network (with passengers inside) by pulling the emergency stop on the outside of the carriages which prevents the trains from moving off until a member of train crew resets the emergency stop.
"Train crews can't do this until it is safe to do so under the new Zero Harm law (and are not allowed to put themselves in a position of danger with approaching or challenging the graffiti vandals) - so basically have to just watch and wait until the vandals have finished."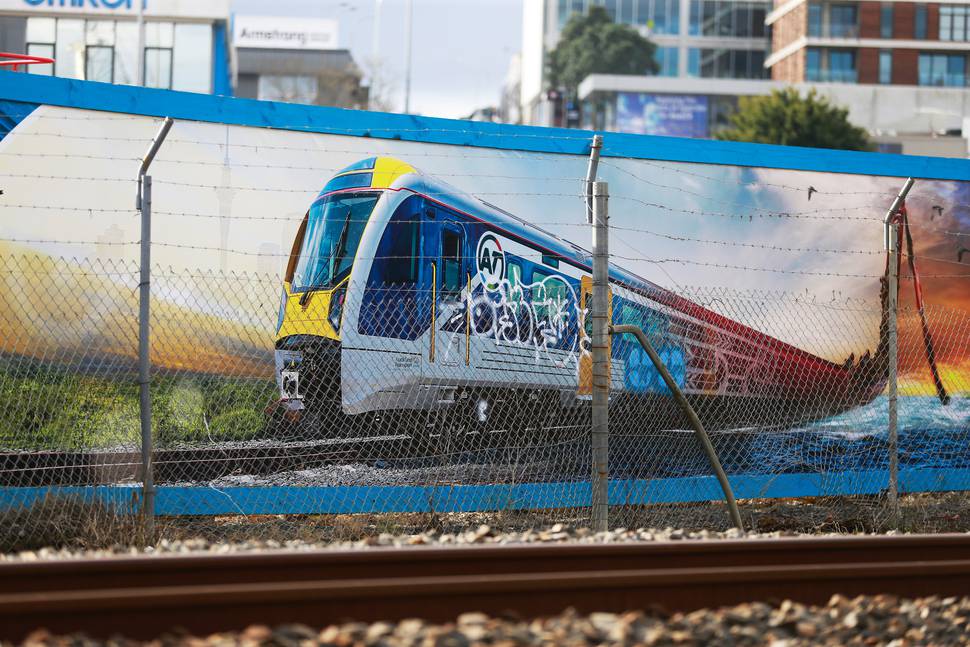 Manukau Beautification Trust's last annual report shows that it earned $282,070 from its KiwiRail contract in the year to June 2017, clearing rubbish off the rail tracks as well as cleaning up graffiti on the southern line.
Founding chairman Rev Mark Beale said that when the trust was started by former Manukau mayor Sir Barry Curtis, it employed unemployed people to paint out all tagging across Manukau. Any profits were used for environmental education projects.
"A private organisation is not going to do that, so overall the city or community loses when things go to private contractors," Beale said.
Civic Contractors, a private Auckland-based company, is believed to have held a contract to remove graffiti on all lines except the southern line.
Auckland Transport (AT) spokesman James Ireland said the total cost of the two contracts was $200,000 a year - "about $180,000 from AT and $20,000 from KiwiRail".
He said the contracts were not cancelled to save money and he expected that the cost of a replacement service would be "about the same".
"This is not so much about saving money as it is getting a better service," he said.
"It's to get the most value for money for ratepayers and taxpayers, which we were not getting before.
"It will go back out to tender once the details have been worked out about exactly how the funding will be put together and what the parameters of that contract will need to be."
In the meantime, he said, AT had asked City Cleaning Ltd, which has a contract to clean railway stations, to clean up graffiti on the network on "an as-needed basis".
Asked how long it would take to set up new longer-term contracts, he said: "We don't have a timeframe at this stage."
Ireland said the rail employee's account of train crews being unable to stop tagging was "accurate".
"The train support officer or train manager would call police in a situation like that," he said.
"It wouldn't be the appropriate thing for a train driver to deal with. We don't want them to get into a situation that could have potential dangers involved."
However AT has employed 55 "transport officers" with powers to fine people who don't pay train fares and Ireland said their numbers would increase to more than 200 eventually.