The heckling got started the moment Shanan Halbert, the Labour candidate, reached the microphone. "Communist! Sing the Red Flag! Quack quack quack! Go back to Russia!"
The hall was packed and he took it well enough, although there was one man in a suit who didn't. He leapt to his feet, jabbed his finger at the main heckler and shouted, "Shut the f... up!" The heckler laughed at him.
Welcome to the Beach Haven and Birkdale Residents Association meet-the-candidates' evening, a world-famous event in these parts. The meeting chair, Duncan Laidlaw, set out the rules: heckling is encouraged but keep it brief and please don't throw things.
He called the candidates in, one by one like it was a celebrity showdown. Rebekah Jaung from the Greens: she's polite, not a shouty person, and she received polite, not shouty applause. Stephen Berry from Act: much the same. Halbert got them whooping and hollering and then it was the turn of National's Dan Bidois. Grinning from ear to ear he strode to the front and jumped on stage, loudly endorsed by a big part of the crowd and loudly condemned by another, elbows working as he clapped himself all the way.
He maintained his grinning boyish enthusiasm for a good hour and a half, which was impressive. By the end, though, he looked blank and exhausted. They all did.
Paula Bennett was there, getting a few tips for the next parliamentary fracas, perhaps. Chloe Swarbrick was there, trying not to shout too much, because the Greens frown on that sort of thing.
Bidois grabbed the mic and wrenched it off his stand, just like a pro, and told the crowd he was "proud to call this electorate my home".
"You just moved here last week!" they shouted back.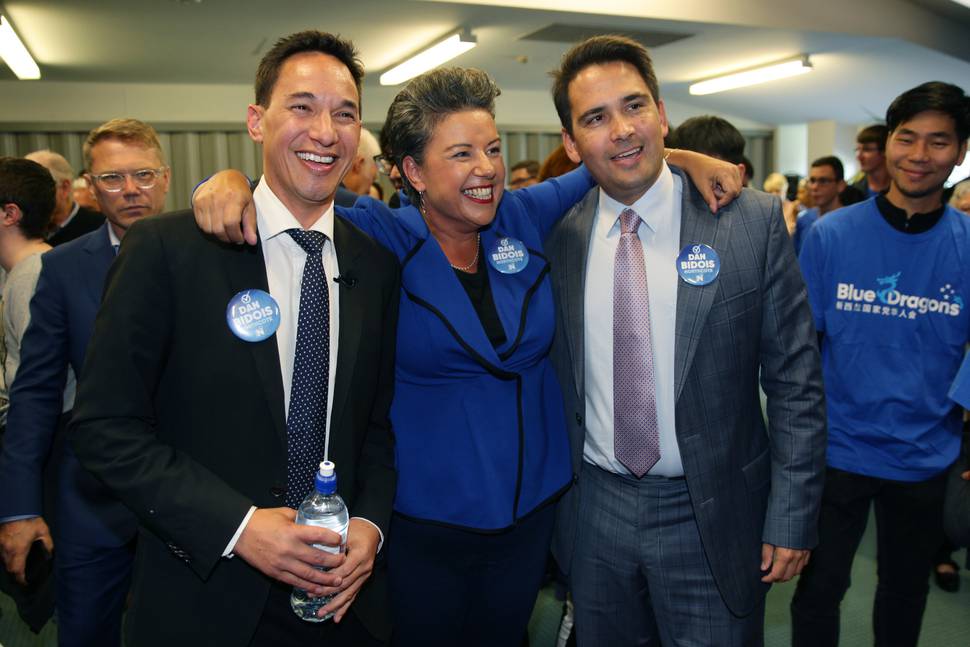 He used the phrase "obesogenic environment", which did strike a dud note, but only for a moment.
"Looking good Dan!" they called, and he told them he wanted more car parks, more money for schools and more police. "To be clear," he said, "we need to encourage public investment in public transport and not discourage the private vehicles."
Aiming at a definitive statement of intent, he declared: "I will say no to any new taxes for the people of Northcote that don't benefit them."
That's a tricky promise. Did he mean each small community should pay taxes only for the things that directly benefit them? This was Monday. At the other joint candidates' meetings last week, he did not repeat it.
Halbert loudly declared: "Labour MPs are the only ones who have ever taken action on transport on the Shore!"
"Communist! Go back to Russia!" Etc.
The ringleader in this was an older white guy who actually stood on a bench at the side of the room, grinning manically, very pleased with himself. Like an online troll, there in the flesh.
Stephen Berry, who works for Countdown, complained that the Labour Government was "driven by the trade unions". Many boos and many cheers.
"Pay a decent wage!"
"Go back to Russia!" The crowd was heckling each other now.
"National opposes a fuel tax they were actually going to implement," he said, "and Labour has nothing left in the kitty. They've allocated all the money already."
Then he unveiled his party's new plan, based on the Ministry of Works' old plan, to build a six-lane flyover from Pt Chevalier to Chelsea and bulldoze a motorway right up through the middle of the electorate, avoiding houses by snaking through all the parks. They're proud of their parks, Northcote, but that didn't stop him.
"We live in a heavily urban environment," he said. "We cannot have sanctuaries in every part of the country." Act, you may remember, once proposed a flyover above Meola Creek too.
Rebekah Jaung didn't shout but it didn't stop people shouting at her.
"Grow more dope!"
A woman jumped to her feet. "I'd like to hear her please so be quiet!"
"No! No!"
Jaung, who is a doctor working in the public health sector, said heath spending as a percentage of GDP had fallen under National.
"That's not true! Boo! Boo!"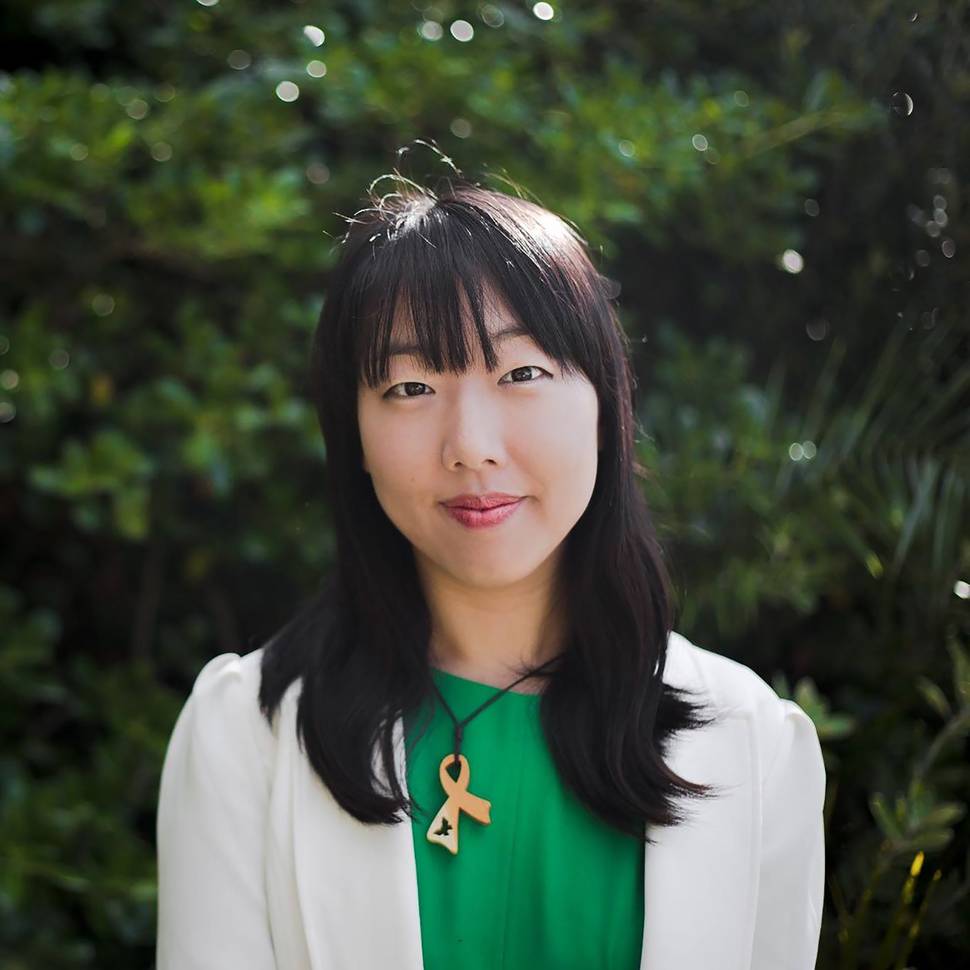 She said, "There is only so much you can do for your patients when there is sewage in the walls of your hospital."
"Lies!"
"Go back to Korea!"
"Smoke more dope!"
Shanan Halbert said it was "always difficult to discuss health in Northcote because interestingly enough it's the ghost that haunts our opposition". The former MP, Jonathan Coleman, who was Minister of Health, "did nothing about health for the electorate".
Halbert has been doing his best all week to blight Bidois with Coleman's record. There's a kind of aggro sneer lurking in his demeanour, which worked well on Monday night but not so much with an audience of social service workers on Wednesday or teachers on Thursday. The social services people, especially, seemed uneasy at Halbert's attack lines.
He projects exasperation: Bidois, he'd like everyone to think, is a golden-boy idiot.
Bidois doesn't bite back. He alternates between that boyish enthusiasm, which you can see has worked well for him so far in life, and serious face. He tells every questioner, "I respect what you're saying."
Mind you, he doesn't always help himself. On Monday, after mentioning his Harvard degree a few times, he put on the serious face and declared, "I believe that education is the way to get ahead."
Then he tried a more complicated approach. "I'm serious about crime," he said. "Now, crime is down," and he listed statistics to prove it. "What I want is more training [in prison], but I wouldn't relax the bail laws. That sends the wrong signal: do the crime and you don't have to do the time."
Did he know what bail is? It wasn't clear. He told the teachers on Thursday he wanted the school decile system reviewed, seeming not to know the Government is doing that right now.
On Wednesday he called for reform of the Resource Management Act so developers would find it harder to put up multi-storey apartment blocks. That's not at all why National wants to reform the RMA.
Halbert says some odd things too. He's big on the fact he lives in the electorate and will still be there long after this contest has finished. It's a poke at Bidois, who's just moved into a rental there, but it's kind of pointless. If Bidois wins he'll move in permanently and then he'll be living there long after the election too.
Halbert's also big on belonging to the party in power, which he says means he'll be able to get more done. But if Labour wasn't in power would he tell voters not to bother with him?
Both of them had some strong moments with the social service workers. Halbert spoke from the heart about working with unemployed young people not in education or training. Getting young people into education and training is what he does for a living. "Let's fix this together," he said. "Let's get some work done."
Bidois said, "I believe in strong community, it's a core value of mine." He named community groups he especially admired and that had touched his own life: Rotary, also food banks and the Child Cancer Foundation. Bidois had cancer as a teenager.
He talked about the Genesis Youth Trust, a religious initiative in south Auckland "run by my brother", and the disability services programme Enabling Good Lives, a trial started under the last government. "It gives people the money and they decide. It empowers them."
The Prime Minister, Jacinda Ardern, went walkabout in Northcote on Thursday. The people swooned just like they used to in the general election campaign. They always swooned over John Key, too, so it's not like this is a new thing. But it is a thing.
It's what the byelection is really about. Not the daily irritants of congestion on Onewa Rd or the road cones all around Northcote Centre. It's whether suburban Auckland, perhaps speaking for suburban New Zealand as a whole, believes she's leading a government worth sticking with.
Still, for Northcotters who don't care about that, there are other candidates in the race. Tricia Cheel from Democrats for Social Credit lectures everyone on the evils of pretty much everything. "I'm not telling you how to do your jobs," she told the teachers, "but what you're doing is breeding psychopaths." On the Monday, it was a chemical company conspiracy that's killing the kauri.
Then there's Kym Koloni, who stood for NZ First in Northcote last year, but they couldn't stand her and now she's with, or possibly just is, the One Nation Party.
Her slogan: "Drain the swamp!"
On Thursday she wore an enormous orange feather boa. On Monday she asked the crowd, "What makes you angry?"
They had their answer ready. "You! You!"
After four days advance voting in the Northcote byelection was up 77 per cent on the first four days in the general election. Byelections, you may recall, are supposed to have low turnouts. Polling day is next Saturday.