The interview was over.
"How are you getting back to the office," Victoria Carter, incoming Northern Club president, former Auckland City councillor and, most recently, owner of car sharing service Cityhop, asks.
"Uber," I say.
"I've been telling [Herald publisher] NZME to get Cityhop. There's two outside your building," she says with more than a hint of exasperation.
The photographer says, yes, he's seen one.
"There's two. Two," Carter says, pressing a Cityhop card into my hand.
On the card's bright green cover is a motto, simple and clear in white print: "Be a driver of change."
"Well, if we're going to change people's behaviour and get more people using public transport, we have to make sure they understand what the choices are," Carter explains.
It's clear Carter's always on, always working, always pushing forward. Even when she's saying goodbye, she's saying hello.
Two days ago the more than 2000 members of the Northern Club — the private club that opened its doors barely a generation after post-European settlement Auckland, but took another five generations to admit women members — voted to elect Carter its first female president.
There's no glass ceiling at the club's four-storey Princes St HQ, a 151-year-old Italianate-style, quarrystone building, which is on the New Zealand Historic Places Trust books as a category 1 building but is perhaps best recognised for its eye-catching Virginia creeper ivy-clad exterior.
But Carter has smashed a metaphorical glass ceiling, and it's already caught the attention of another ceiling-breaker, Prime Minister Jacinda Ardern, with whom Carter shared the expected outcome of the vote last month.
"Jacinda grabbed [partner] Clarke [Gayford] and she went 'Victoria's just smashed that ceiling at the Northern Club'."
It's significant that women now see an expectant mum in the country's top job, and it's significant that women also now see one of their own leading a club that long shut its doors to them.
"I'm a great believer that if you can see it, you can be it," Carter says, on why her achievement matters.
"I think the more women we see in lots of different places, the more younger women can see the opportunities and think 'I can do that too'."
Child model
I can do that too could be Carter's personal motto. She's been doing it, too, since she was barely out of the womb.
"My parents would both say that I'm a real organiser. I've tried to organise their lives for a long time. My mother would say probably since I was 2."
Carter's mother was pregnant with her second child, and suffering debilitating morning sickness, when her eldest took the initiative and unpacked the grocer's home delivery.
"I couldn't open the cupboards, but I put all the tins by them and I put all the fridge stuff by the fridge."
Later, after the family moved from England to Hong Kong, Carter worked as a child model to pay her school fees.
"It's sad actually, but it's what it was. It was a necessity."
Her father, who was in the army, had left Carter's mother for another woman. Her mother worked at the South China Morning Post but was paid a third less than her male colleagues.
"It was really tough for her."
Financial pressure prompted the family of three to emigrate to New Zealand when Carter was 6.
It was in her new home of Auckland that one of the major influences on her life, crusading journalist Pat Booth, came into her life when he married her mum.
Booth, whose work was instrumental in getting Arthur Allan Thomas pardoned for the murders of Harvey and Jeannette Crewe, died aged 88 in January.
"[The abandonment] was tough, but I now look at it as how incredibly lucky I was to have two fathers ... Pat's had an enormous influence on my life and I think one of the things he instilled was the sense of service.
"I do it in a different way [than journalism], but I think I still do some of that."
'This bloody place has gone mad'
Carter's first taste of governance was when the mum-of-two was asked to join the board of the Auckland Kindergarten Association, aged 30.
Rising to president, she put "huge energy" into pushing the Government to fund kindergartens the same way they did schools — based on a decile system.
She won.
Later she was elected to the Auckland City Council, serving seven, sometimes fraught, years, latterly under then-mayor John Banks.
At one meeting, where women protesters were eventually kicked out by Banks, via security, a woman's handbag was knocked over, spilling "her tampons, her lipstick — her life" in front of everyone.
When no one came to the woman's aid, Carter stood up, only to be told to "sit down" by Banks.
"I said 'I'm not tolerating this' and I gathered up all her stuff ... I looked at the council table and everybody looking at me and I thought 'this bloody place has gone mad' and I burst into tears.
"I felt like I'd suddenly gone into Nazi Germany. They'd forgotten what our job was. Because council politics is actually all about the people ... women need to have courage to speak up."
She served two terms before moving on, because "we all have a duty to do our job and then make room for someone else".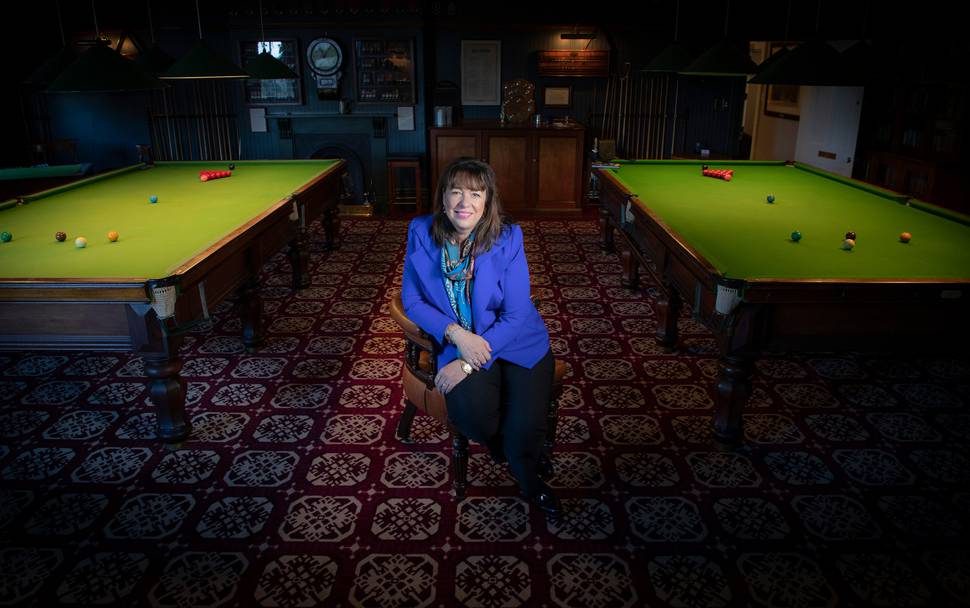 It certainly wasn't to put her feet up — as well as the various directorships, chairmanships and patronage she's held and still holds, she also always run her own businesses.
That work ethic and ability to multi-task earned her a New Year's honour two years ago, and a tongue-firmly-in-cheek new nickname from her husband.
She's an Officer of the New Zealand Order of Merit for her services to the arts, business, and the community.
And, at home, she's "Officer Carter".
'We're creating our history'
Carter isn't ordering the pink paint.
But change is on the way at the Northern Club, though she doesn't expect any problems.
A board member since 2001, three years after she joined, and longtime vice-president before this week's election, she understands the membership.
It's "always daunting" being the first at anything, but she's also had "so much encouragement".
"I think the day they let women in was the day that started to change. Nothing happens overnight, it's a process, and the whole world's changing."
She was anxious about talking to the Herald, hers is the first interview given by a Northern Club president.
"We're very private. We don't boast about who our members are, so I'm really sensitive [about this], but I'm also conscious of the fact this is a significant moment in the club's history and we really want to drive our women membership."
Encouraging young people and women to join is a major focus — she wants to increase the female membership from the current roughly 15 per cent to 20 per cent.
The challenge is changing mindsets, she says.
"Women don't join clubs. Men have a habit of joining clubs — the golf club, the squash club. It's cultural. We have to retrain people into thinking it's okay to spend that money."
Fees for the club, with its silver service dining room, various reading and socialising areas, billiards and hotdesking rooms upstairs and bistro and gym downstairs, are about $1250 a year, with a sliding scale based on age.
Candidates require the support of five club members in a nomination process that takes three months, but according to the club's website "admittance is NOT based on gender, wealth or ancestry".
Carter says her own, personal, membership drive had been inspired by immediate past president Derek Nolan, who got his daughters to join, continuing a family history of club membership that began with his grandfather.
She had since signed up her two sons.
"That's kind of an extraordinary tradition and history, and I don't have much of that, and women often don't have that sort of history.
"I said to my boys that, in a way, we're creating our history."